Your questions answered!


Read the answers to the most commonly asked Neopets questions this week in the Editorial section. Each week the most popular questions will be answered by one of the creators of Neopets, so keep checking back to stay updated.


---
Quote of the Week
There was no sensation, no thought, no dreams, or even memories. The void stretched on and on, or it would have stretched on and on, if such words had any meaning here. Slowly, like sunlight illuminating the depths of a dark pond, awareness started to flood into the nothing. Anger, fear, confusion swarmed the...mind. That's what it was called. Mind. A mind was something that held thoughts and controlled a body. Body. That was something different, wasn't it? If a body was something that the mind controlled, then a body was...what was the word? Real! A body was able to move, to feel. Feel. It wasn't the same as emotions, but the two were somehow tied. Feeling was something that was exclusive to a body.
---
| | |
| --- | --- |
| "Slothsmellsofdung". ACCESS DENIED. "Slothsmellsoffeet". ACCESS DENIED. "Slothsmellsofmold". ACCESS DENIED. "Slothsmellsofslime". ACCESS DENIED. "Slothsmellsofsocks". ACCESS GRANTED. WELCOME TO THE SPACE FAERIE FINDING, OBSERVING, (AND) LEARNING DATABASE (FOR) ENCOUNTERS (AND) RESPONSES. ABBREVIATED TO (THE SF F.O.L.D.E.R.). LOADING INCLUDED IMAGE: "What is your purpose?". PURPOSE OF DATABASE IS TO RECORD AND ANALYZE THE ENCOUNTERS THE SPACE FAERIE, MIRA, HAS... | Hello, I am Madam Kougara and I am a SEERER! What is a SEERER you ask? Well… it's a word I made up to describe my gift. My gift, you see, is very special; It allows me to look to the skies, observe the stars, and make predictions of what is to come. My predictions are usually accurate… except that time I predicted Faerieland would win the Altador Cup. I have been hired by the Neopian Times to do a series of articles where I share my observations of the sky in order to give Neopians some guidance in the upcoming months... |
Inspiring Awe in Your Neopet




Do you ever feel like the cosmic significance of the Neopian world is escaping your pet? Like, maybe they're starting to take all of Neopia's majesties and wonders for granted? You need some strategies. Awe-inspiring strategies. Try out some of the following tactics and see if your pet doesn't end up newly invigorated, in tune with the universe, and ready to take on the world. (And they might work for you, too. ;-)) Take a grand tour of the lands of Neopia. One of the most incredible things about Neopia is the wild diversity...
---
Other Stories
"Leaked Transmissions" by herdygerdy
THE FOLLOWING VIRTUPETS SPACE STATION INTRANET CORRESPONDENCE FILE HAS BEEN DESIGNATED -OBSIDIAN BLACK- CLEARANCE ONLY. IF YOU LACK THIS CLEARANCE, CEASE READING IMMEDIATELY AND DESTROY THIS COPY. CONTINUING BEYOND THIS POINT IS A CLASS 1 INFRACTION UNDER THE JURISDICTION OF THE VSSSF. -*- To: Valka, Commander From: Dalproxx, Councilor Commander Valka, I hereby offer my profound congratulations...
"The Sign of the Degenerate" by alli_draggy
The Haunted Woods have long been known for strange occurrences, spooky encounters with things completely unknown. Most of the land is still unexplored darkness, with tiny patches of light in the villages and known places, and even those still maintain an air of mystery. This is a tale set in the Haunted Woods, and one in which very strange and unknown, perhaps unknowable, things happen, but it is not about the darkness of the woods, but rather, the darkness beyond...
"Something Has Happened... In Space!" by black_skull725
Special thanks to folks at the NTWF for this idea. Mira paced around her space station room. She glanced at the clock and then shook her head. "Where is she? She said she'd be here five minutes ago," Mira thought to herself. Moments later, there was a knock at the door. "Come in!" Mira said. "It's me, Alana," said a soft voice. A tall fire faerie appeared at the door. Right behind her was a Mynci named Rails. Alana was known on the space station as the Code Faerie. She was responsible for all of the support systems...
---
Search the Neopian Times


---
Great stories!
---------
---------
---------
---------
---------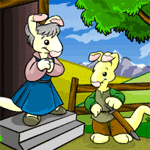 Brothers in Stars
"Okay, you can open your eyes now." The white Blumaroo lowered his hands from his eyes at the sound of the voice. When he did so, he found himself standing in the middle of a quiet village...

by precious_katuch14
---