Your questions answered!


Read the answers to the most commonly asked Neopets questions this week in the Editorial section. Each week the most popular questions will be answered by one of the creators of Neopets, so keep checking back to stay updated.


---
Quote of the Week
Rohane tried to mask his excitement as his mother pressed the sword into his hands. All his life he'd been safely harboured in the village, and now the time had come to venture forth and clear the land of the monsters that had made themselves far too comfortable.
---
| | |
| --- | --- |
| pring always hangs light and sweet in the air. As the cold starts to ease up and the snow gradually melts away — the whole world seems to come alive again, awakening from their long winter slumber. Spring is filled with so many resolutions – little sprouts push out of the soil inch by inch, buds slowly start to bloom petal by petal. Just like spring, our wardrobe definitely needs a bit of freshening up! What would you be depicting in your customisations this spring? | Ever wondered how to get that shiny golden trophy? Or chase up that elusive avatar? With guides abound, it has never been easier to get trophies. Everyone's writing down tips, but you still can't wrap your head around it? Talek will take you down the path towards the gamer superstardom. Follow this new series of "Talek's Trophy Tips", and every few weeks I will present you with a new tutorial how to make it to the top of the scoreboard. This article will provide a step-by-step tutorial and some advanced insight to reach that extra mile. |
Luck Around the World




This month of Running, we are feeling extra (un)lucky! There are a number of games and luck-based activities you can try, free and at a cost. To help point you in the right direction, we breakdown some of the best-known activities and games, talk about the upside/prizes, and whether it's worth playing or not. And as always with neopoint based games – know your limit, play within it!
---
Other Stories
"Reginald Acorn's Case 3 : Treasure " by dtrg
Neovia, on a Sunday, 14:03 I try to hold my tears as I read the letter in my hands over and over again. Mama wrote to me every weeks and now that the excitement of my new life has calmed down, I realise just how much I miss her. I miss her sweet voice, her cooking and how she used to pass her hands through my hair to make it all messy. She's the most beautiful faerie Gelert you'll ever find ! She also sent a package which contains some homemade cookies (mmmhh!!) and a new sweater she made herself. My name is Reginald Acorn, I'm 20 years old and I'm a grey Gelert ! Almost two months ago now, I moved away from my hometown Brightvale to join the Police Forces of Neovia, which had been a dream of mine since I was just a small pup ! I've already had quite a few adventures ! I came across a jewel thief that is plaguing the city but sadly, we weren't able to caught the guy just yet. Two weeks later, I met my first new friend Viktor Arnalds, and together, we solved the mystery of an enchanted book ! We almost ended up as Mortogs but it was so much fun ! I wrote all the details of those cases to mama just so she can support me from afar. She said she'd love to meet my boss because he apparently sounds like a fun guy. Mama is really good when it comes to see the true nature of neopets. I haven't had much to write to her lately as things have been really calm, I'll have to see what tomorrow brings.
"Rohane's Adventures in Neopia " by sarahnyy051
Rohane tried to mask his excitement as his mother pressed the sword into his hands. All his life he'd been safely harboured in the village, and now the time had come to venture forth and clear the land of the monsters that had made themselves far too comfortable. He looked at the blade she'd given him. It didn't look like much, but he could tell it weighed more that it seemed, and he could see that weight reflected in his mother's eyes, now starting to brim with tears. 'Be careful, son. That's your father's sword, and I know he would have wanted you to have it. Now, I can feel as though he's out there with you.' Rohane hugged her tightly, and tried to summon up as much courage as he felt he should possess as he said 'I'll make you both proud.' In truth, he'd never even held a wooden sword, let alone this gleaming and honourable one. He imagined the battles his father had fought with it, and tried to seep some of the strength from its aged blade. 'I'll see you soon, I promise,' he reassured his mother, and willed himself to believe it. A small crowd had gathered at the gate. Well-wishers and curious villagers, but he felt the pressure of them all to restore their once-beautiful home to its former glory. He gave them a smile as dashing as he could muster, and strode out into the wild.As soon as the gate closed he let out the sigh he'd been suppressing, and let it swallow up all his imagined bravery.
"Isolde and the Faerie Statue" by tsiegred
There's nothing really like Neopia Central when you're a young Neopet from the moon. The first thing Isolde the Shadow Aisha could remember about the land were the buildings. There were tons of them for every occasion or function imaginable, and each had its own shape. There was a hamburger-shaped building where Neopets could buy food, there was a building covered in chocolate for those who craved decadent sweets, there was a building that looked like a wizard's hat for Neopians who wanted to find prices for an item, and even a building that looked like a Kadoatie cage for those who wanted to feed Kadoaties. Then the Neopets. There were so many of them! Isolde had never seen Neopians crowding in the streets just to have conversations and laugh with each other. The city was a sprawling metropolis, a dense labyrinth of buildings and crowds and lights that seemed so alien from the dark, quiet, lonely moon of Kreludor. It overwhelmed her eyes and her ears and she had to take deep breaths to keep her composure. "You're going to capital L-O-V-E love it here, honey," her mother, Gertrude, said. Isolde looked around her, at the overwhelming array of Neopians and grooming items and weapons. She realized immediately, of course, that she would not love it, but grunted in assent to placate her mother.
---
Search the Neopian Times


---
Great stories!
---------
---------
---------
---------
---------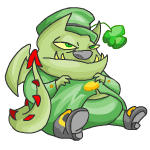 Luck Around the World
This month of Running, we are feeling extra (un)lucky! There are a number of games and luck-based activities you can try, free and at a cost. To help point you in the right direction, we breakdown some of the best-known activities and games, talk about the upside/prizes, and whether it's worth playing or not.

Also by kiwigoddesskimmie



by trubiekatie
---