Your questions answered!


Read the answers to the most commonly asked Neopets questions this week in the Editorial section. Each week the most popular questions will be answered by one of the creators of Neopets, so keep checking back to stay updated.


---
Quote of the Week
A chill wind blew through the thicket of the Haunted Woods, causing Fablar, a Royalboy Cybunny, to shiver and clutch a small written note closer to his chest. Although the woods were filled with trees and foliage, it managed to stay cold and foreboding. Fablar sighed, thinking to himself about how he even got here. Of course, his bad luck would kick in at the most inopportune moment…
---
| | |
| --- | --- |
| 10 Things To Do: Get Through the Neopian Winter! Winter can be a scary time in Neopia… blowing gales, icy streets – and worst of all, the Snowager is at large! Ahh! So, are you thinking of hiding out at Kiko Lake or Mystery Island through the winter? Maybe catch a cloud to Faerieland? These are the best ways to feel warm and free through the Neopian winter instead of shoveling snow to find the Scratchcard kiosk! This light hearted article can help you make the most of your time spent in Neopia this winter. However, like any time of year in Neopia, it is important that you set your own goals and bring them to fruition – of course this is the best way to spend your time in Neopia! | Ask yourself this: Do you want to be the trendy Neohome everyone hangs out at in 2019? Do you want to be acknowledged for your advanced modern decorating capabilities? Tired of everyone spending Holidays and Celebrations at somebody else's Neohome? Did you spend Buzz Day alone in your home last year? With the New Year already upon us comes new trends. Who doesn't want to have the trendiest house and be the one to host all your Neofriends at your place?! You may not have a lot of Neopoints to spend on renovation, but these 5 inexpensive items under 5,000 Neopoints for each item could make your Neohome look more modern right away and will guarantee to impress all of your Neofriends. So you want to show you have exquisite taste? Then without further delay, let's get started! |
The Puzzle Cube – a Guide to Solve the Unsolvable




28th of Hidding, Y17, a strange object popped up in Neopia. "Its for one of the greatest challenges!", they said. Well, I don't know where it came from, but I guess it was made by a very malefic mind – maybe some mad scientist who had nothing better to do with his time. The true is that when I saw that beautiful and colorful toy, I had to buy it. It seemed very fun, and my baby neopet Val always loved to solve puzzles. Spoiler alert: it was a terrible idea.
---
Other Stories
"Covert - Archives" by rs_rbn
It began with a letter, crisp and regal, the envelope a milky white; I read the writing multiple times just to make sure it was not mistakenly delivered to me. Yet there it was, my name, in the most pristine and smooth handwriting I had ever seen: Sir Vorack of Neovia You have been summoned to dine at Cedar House, this very evening. Wear your Sunday's best. No guests. And at the bottom, instead of a signature, was a stamp of an upside down question mark. How odd it was that I, a lowly archivist, getting such an invitation - and to an estate, no less! Quickly, I cleaned up, dressed in my finest silk suit, top hat and my good pair of glasses. Grabbing my bag, which carried my notebook, ink, quills and keys, I headed out into the fog. The night was colder and darker than it usually is at this time, and the fog was as thick as the moon was bright. The silence was eerie; not a noise could be heard other than the shuffling of my own feet. I couldn't tell where I was nor how long I had been walking, but I continued to head west, in the direction of the estate. Suddenly, a chill crept up my spine as a warm and shuddering breath spread across the nape of my neck.
"A World Of Grandiose Creature:Part Two " by luuuvmebabe
As someone who has spent his life discovering and investigating the wild inhabitants of Neopia, I, Randall, have had to risk my life many times. Last week I detailed out my time exploring Terror Mountain and how I got attacked by a family of irritated Snow Beasts. That was only one of many times I have had to go deep into a land of danger to try to obtain new information. Not all of my missions are successful, sometimes places are far too dangerous or far too shrouded in mystery. I've made countless attempts to visit Lutari Island, a place that was open only briefly for a very select number of visitors, a place that has since closed off and exists in only memories. My dream is to get there someday and play Coco Roller, a game famed on the island, one of the few things we know the inhabitants do for enjoyment. Until then, there are many more islands available for exploration, and not even far from home. --- I'm from Mystery Island originally, yes I know, so original for me to be an Island Kougra and be from Mystery Island. But I think it is important to get to know your homeland, as important as knowing the world around you.
"The Board Game Master:Part Four" by smoothie_king_xiii
Previously in The Board Game Master... Roobina battled her way to the top of the Armada preliminaries and qualified for finals, but experienced a bit more trouble in Geos. After losing in the final round she thought she would be out of the tournament but was able to qualify for finals through the wildcard spot for her great performance. A surprise to her though, her best friend Mazey also qualified for the Geos finals. The final tournaments are structured with 12 players battling bracket style. Six move on and six are eliminated from the tournament. The remaining six battle in twos, but the three eliminated in this round don't go home just yet. They each battle each other and whoever wins will re-enter the tournament as part of the final four. They continue elimination style until the last two face off.Kacheekers Final Roobina was still shaken up by the previous day's events, where Mazey came out of nowhere qualifying for the Geos final. She was trying to remain focused though, she could not have been happier to be a qualifying finalist in all three games, something that is almost unheard of for a first time competitor. She knew Kacheekers could be one of her easier days...
---
Search the Neopian Times


---
Great stories!
---------
---------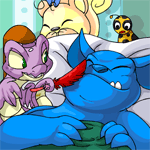 The Month Of Sleeping: Customization
It`s the first month of the year, The Month Of Sleeping. Time to clear your Neohome of holiday items, and perhaps go into hibernation? Whether you prefer to sleep in every morning, or take a nap in front of a roaring fire, there are different ways of customizing your pet in a theme of sleep and nighttime. Let`s take a look at a few different examples.

by aleu1986
---------
---------
---------
---