Your questions answered!


Read the answers to the most commonly asked Neopets questions this week in the Editorial section. Each week the most popular questions will be answered by one of the creators of Neopets, so keep checking back to stay updated.


---
Quote of the Week
It was rainy and cool on the morning Eunji first saw the Imperial City. Built on a flattened mountain top, the sprawling complex of buildings was surrounded by a thick wall, on top of which tall banners flapped imposingly. Below, the mountain dropped off in sheer cliffs, its roots hidden in mists that swirled around it and the other pillar-like peaks in this mountain range.
---
| | |
| --- | --- |
| The Altador Cup is officially underway: fans are going wild in the stands, slushie sales are up five-hundred percent, and Darigan Yooyu's are wreaking havoc on the participating teams match-ups. As expected, traveling to Altador is quite expensive this time of year, not to mention, the price of tickets to see the much anticipated events themselves is astronomically high. So, the common Neopet will have to be content watching the excitement from the comfort of their Neohome. Of course, just because you're watching from home doesn't mean you should have any less fun than those scoring goals on real Yooyuball practice fields, or those enjoying a slushie while watching their favorite team win as they relax in the stands! This comprehensive guide was put together to helping you throw a perfect Altador Cup party! Of course, first and foremost is a Neovision screen. Neovision will be covering all the Altador Cup action this year. It's also a good idea to have Neovision all the time anyway, there are lots of good shows out there). You can buy Neovision at your local furniture store, and if you desire, other accessories to enhance your experience, such as a Neovision stand, speakers, and a comfy couch to sit on while watching. | For this week's edition of Come Cook With Us, we've decided to take you to the heart of Altador and its culinary roots. With the Altador Cup is coming up very soon, we want to make sure that you know everything you need to know about how to prepare the best of Altador's favourite dishes. Serve any one of these meals and no one will care if their team wins or loses the cup, they'll be too distracted by your delicious cooking instead! Spinach and Feta Pie Who knew spinach could taste so good? Ingredients: 1kg fresh spinach, washed, dried, trimmed, and coarsely chopped 3 tablespoons Flask of Olive Oil 5 scallions stems, white and light-green parts only, trimmed and finely chopped 2 cups crumbled feta cheese (10 oz.) 1/2 cup finely grated Bleumaroo Cheese 2 large eggs, lightly whisked 1/2 cup finely chopped fresh dill 1/3 cup finely chopped fresh flat-leaf parsley 1/4 teaspoon nutmeg salt, to taste To assemble the pie: 1/3 Flask of Olive Oil for brushing Eighteen sheets of frozen dough, thawed and at room temperature Directions: Pre-heat the oven to 160C. To make the filling, sauté a large handful of spinach on medium heat in a pan until it starts to wilt. Keep adding spinach into the pan and cook until all the spinach is wilted and bright green. |
The Neoboards and YOU! - A quick guide to the boards




Over the years, the Neoboards have been a forum for the citizens of Neopia to gather and discuss whatever is happening on the site. Needless to say, the boards never completely covered all the possible topics, and they have grown to cover other topics than they were originally intended. That is not to say it is entirely unrelated from the description, but the boards have grown to encompass topics never envisioned when the descriptions were written.
---
Other Stories
"A Letter to the Freaky Factory Thief" by moonandflowers
Dear Purple Grundo Sir, Hello. I am a worker at what me and my coworkers have come to call the "Freaky Factory", one of Krelufun's toy factories. I have seen you there, on my shift, stealing toys from the line after I have just made them. I won't ask you why you do such things, I only ask that you stop. I implore that you please, please stop. For one thing, you're making my job a lot harder than it needs to be, and I am not the one you need to be punishing. I know that you think you're hurting Dr. Sloth in your thievery, but I promise you, he his not hurt in the slightest by your acts. You know who is? Me. And me alone. I am not your enemy, sir. I am just another cog in the wretched machine we call Dr. Sloth's Empire. A cog with bills to pay. A cog that you're actively trying to… throw… rust on? Okay, that metaphor broke down pretty quickly. You get my point. And let's talk about the margin you must be making off these toys. It seems like you've dropped a hefty amount of neopoints to go as unnoticed as possible in our factory. Painted purple, with an outfit that perfectly matches our piping system? I mean, that's some dedication, I'll give you that. But how much of that are you really making back by selling our figures? I know I personally shoo you off the line anytime I see you (distracting me from my work, I might add,) and I would assume my coworkers would do the same on their shifts.
"Neovia's Corruption:Part Two" by trishabeakens
"I never really knew how eerie the Haunted Woods was until now." Queen Nera commented as she followed King Altador through the dark forest. She didn't want to fall too far behind him. Who knows what was in these woods? It could be wraiths, dark faeries, or even worse...the Kiko Lake Team. Fyora knows how much Nera wanted to avoid that group. Running into them in the middle of the Haunted Woods would be awful. They were more terrifying than any wraith. Nera would rather be lost in the Haunted Woods than run into them ever again. Altador and Nera had already spent a long amount of time getting to the iconic forest. Now that they were finally here, they could make their way towards Neovia. It proved to be a very difficult task, but one they were more than prepared to tackle. The fate of Neovia rested in their hands or uh...paws. It seemed like the fate of someone was always relying on them. Guess that was part of the job of ruling one of the most powerful kingdoms in Neopia. People always need you to help them.Altador stepped over a decaying tree root that was protruding out of the ground. "Just stay close to me my dear." Nera snorted, still following him. "I don't know if I should. The last time you was here you ended up turned to stone." Altador stopped walking and turned to her. "Nera, this is no time for your smart remarks." "I'm just saying, I don't remember ever being turned to stone when I was helping someone."
"Hope For New:Part Three" by hazelsmartotop
"How did you...Toto….but Melissa…I thought that..." I had so many questions, and I couldn't finish a single one. "I knew you had a backstory, so I went back to the pound and asked Merisol a few questions, which, believe me, she wasn't so eager to answer. I tracked down Melissa and asked if she had a Neopet named Toto. She was shocked that I figured it out, and wanted to know why I asked. Trust me, it took a while to explain." Cherrie laughed. "Melissa said I could have Toto if I wanted, and paid a price—A large one, mind you. Toto took his books and Altachuck with him. And guess who else is here?" A teeny tiny croak was heard from behind Toto. "Milky? Milk Milk?" I was astonished. Milk hopped out from behind Toto and over to me and rubbed at my leg. "Melissa is so CRUEL! When I left I could already hear her calling the pound to see if they had any available animals. That stupid RUBY has been invading my personal space ever since he arrived, so I'm almost glad to be gone." Ruby had found his way to Melissa? It really is a small world. "Wow," I couldn't speak. Everything was spinning and it was all hard to process, so I took a step back."You know what we should do?" Toto had a mischievous look in his eye. "Go to the Pizzaroo to CELEBRATE!!!" We shared a laugh; even Cherrie, although she didn't know what we were laughing about, and we actually did go to the Pizzaroo. Milk got milk, Purrr got milk, Cherrie got pizza, Toto got pizza, and I got pizza.
---
Search the Neopian Times


---
Great stories!
---------
---------
---------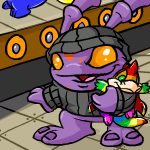 A Letter to the Freaky Factory Thief
Dear Purple Grundo Sir,

Hello. I am a worker at what me and my coworkers have come to call the "Freaky Factory", one of Krelufun's toy factories. I have seen you there, on my shift, stealing toys from the line after I have just made them. I won't ask you why you do such things, I only ask that you stop.



by moonandflowers
---------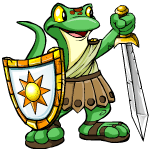 The Altador Cup Guide for First Time Players
Each Summer in Neopia brings the Altador Cup and we as Neopians need to prepare for it every year! However, if you have never experienced one you may not know how to prepare like veteran players! Well, look no further! I have prepared a guide for first time players and spectators!

also by 0bibi0



by indebtedness
---------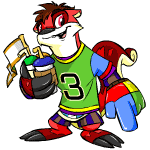 8 Meridell Themed Wearables for the Altador Cup
Once a year, since the rediscover of Altador, we are pleased with Neopia's greatest event: the Altador Cup! That said, it has become a tradition for a lot of Neopians to support their teams by customising their beloved Neopets with official clothing, trinkets and backgrounds made specifically for the event, such as team jerseys, flags, banners, make ups and many others. These items do a very good job when it comes to proudly baring your team's logo and color schemes.

by rafa_potter
---