Your questions answered!


Read the answers to the most commonly asked Neopets questions this week in the Editorial section. Each week the most popular questions will be answered by one of the creators of Neopets, so keep checking back to stay updated.


---
Quote of the Week
Late at night, thunder crashed around outside the little bars of my cage. The pound wasn't a nice place, let me tell you. Dr. Shtalker would make his rounds every day, collecting the pets who had been there for the longest, and taking them to his lab, cackling with joy, and every day I hoped I wouldn't be one of those pets who never returned.
---
| | |
| --- | --- |
| Welcome, dear reader. Speaking here is Dr. Rosalie Thompson, journalist and registered physician. In the last few months, I excavated the Neovian Printing Press and unveiled a conspiracy that might redefine all Neopians' conception of reality. Follow me on this journey of enlightenment. If you've been a citizen of Neopia for a long enough time, it's possible that you may have painted your Neopet using one of those infamous paintbrushes. Paintbrushes are highly sought-for items that retail for a large amount of Neopoints due to their apparent magical properties that allow a Neopian to customize their Neopet according to their tastes. But how do paintbrushes really work? How have they appeared into Neopia? Those are answers that will be answered today. Beware, disturbing content ahead. | In this article I will explain the Battledome oddity known as "10HP Movesets" and how it can be used to defeat the Giant Ghostkerchief with minimal stats and weapons. The term "10hp moveset" refers to a 1P opponent using the same specific move whenever your pet's remaining HP is 10 or less. One example of this mechanic can be observed with the Flaming Meerca: if your pet starts the round at 10HP or less, the Flaming Meerca will use his Stone Fire Body Basher + Forest Hat + Static Cling, round after round, until your HP goes above 10. Not all opponents have a 10hp moveset, but here is a list of the ones that do: Count von Roo: Auto Targeting Telescope + Supersize! + Halitosis Flaming Meerca: Stone Fire Body Basher + Forest Hat + Static Cling Mummy: Hand of the Mummy + Level 2 Bubble Beam + Irritable Minions |
Petpet rescue: a guide to getting that avatar




Hey there, if you're like me then you might be something of an avatar collector stumped by the frightfully high scores on some of these games. Fortunately, not every score is too high. Petpet rescue only requires a score of 250 from you, and it's very manageable after a bit of practice. I decided to celebrate my own achievement of this avatar by writing this little article, though I'm afraid the trophy for it is still beyond me.
---
Other Stories
"Through Everything" by diggingdeeper
"And so, you can easily argue that Hornington's theories do not stand up to current scientific standards, as well as entirely contradict the findings of Rosher in his study, "Swamp Gas Aishas in Their Natural Habitats." Therefore…" Twirling her spoon with one clawed finger, Rentiey was beginning to think that every breakfast would be like this now. Getting painted always changed a pet, and ever since her brother, Chartruse, had been painted Transparent, his confidence had risen exponentially. This also had the unfortunate effect of making him completely unbearable. She was too polite to tell him to go away. The Draik sighed and put the spoon down. "Excuse me," he said, eyes narrowed. "Are you even listening?" "Yeah, I am." Time to pick up the spoon again. Resume swirling cereal. "Well—good. Now, back to what I was saying." He opened his mouth to continue but was quickly interrupted by the slam of the door. His head whipped around to look at the second intruder on his very perfectly interesting monologue. "Ugh, do you mind?" The surly Pteri in the doorway flapped over to the table and perched on the top of a chair, ignoring him entirely. She leaned forward to pluck a juicy Tchea Fruit from the bowl. After chomping it down, she sat in silence, just watching. The Hissi scowled at her. "Are you finished, thank you very much?" "Char, no one cares about your weird science stories," she grunted back. His eyes widened. "How dare you? The work Hornington and Rosher have done for the scientific community is astounding, absolutely imperative—" "Yeah, yeah, Rash and Hornwhatever are real important and all. Fine." She cleaned between her feathers. "Just can it for a minute, will ya?"
"An Officially Unofficial Yooyu" by lissiekat10
I'm just your everyday, nondescript Petpet. My color is plain, the color that I was born with. I am not painted a special color and I'm okay with that. I enjoy all the same activities as any other Petpet: taking walks in the park with the other Petpets, being fed only the highest grade Petpet food available, and being pampered with toys, grooming items, and a nice cushy bed to curl up in at the end of the day. A comfortable and relaxed life definitely the life for me. That is all I want and all I will accept. Oh. You've noticed, haven't you? I am a Yooyu. This fact has many implications that I can assure you are not true. I do not like to be handled, I do not like the loud cheering of the Altador Stadium and I most certainly do NOT like to be tossed about like some sort of ball! It's just not in my nature. So, you may be wondering why a Yooyu would feel the way I do, and especially why I am making this known during the height of the Altador Cup season. Let me explain my past to you. I was a young Yooyu, just becoming large enough to be used as a ball but just under the standard size limit required for an official game of Yooyuball. Therefore, I was given to the children of a local school team as a plaything--the audacity, I know! But at the time I was actually ecstatic about being so important as to be used as a ball in such an important game, official or not! So I trained and worked out, practicing curling up into a tight ball and staying that way as I was tossed gently back and forth by my early handlers. It wasn't too bad, the landings were just a little rough. But I was ready to move on and hopefully size up so I could be considered for an official game. This kiddie game would be a breeze and then my real career would start!
"Neovia's Corruption" by trishabeakens
"My dear, the Kiko Lake Team poses absolutely no risk to the kingdom," King Altador spoke, stirring his hot cup of tea with a small silver spoon. Altador sounded calm and collected, as he always did. The man hardly ever raised his voice, but when he did, it was utterly terrifying. Thankfully, this wasn't one of those times. Neopians either feared or respected him, sometimes even both. Queen Nera sat across the table from the famous Lupe and let a soft sigh escape her mouth. "They don't necessarily pose a risk, they're just…" "A minor inconvenience?" The brown haired Xweetok nodded at the reply. "Al..they're always 'accepting' donations from unsuspecting Neopians. They're literally taking items without the consent of others!" Nera was right about the team. She didn't like talking bad about others, but after so many times of dealing with the team, she couldn't take it anymore. "Nera, please... we have already discussed this." Altador says, as he sat the small spoon on the table. He then lifted the cup to his mouth and took a sip. The rulers of Altador have had this same argument a many of times. Nera despised the infamous Kiko Lake Team, mostly because the queen herself has fell victim to their donation scheme. Basically, the team would appear out of nowhere and take a random item saying it was a donation, so they could attend this year's Altador Cup. It has tormented many Neopians for years. Queen Nera always wanted to punish the team for doing such things. Either excluding them from the Altador Cup for a season or deducting points, she wanted justice. Many other Neopians were also upset with the team. Most of the time when they buy an item, immediately it is taken by the Kiko Lake Team.
---
Search the Neopian Times


---
Great stories!
---------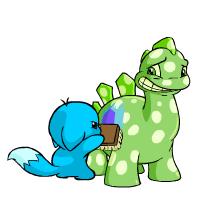 Snaw's Beauty Post: Shampoos That Shine!
Hello, my adoring, impressionable fans! Welcome to the first ever issue of Snaw's Beauty Post: Neopia's most trusted and highly acclaimed series of articles centered on the dos and don'ts of Neopian grooming products.

by downrightdude
---------
---------
---------
---------
---