Your questions answered!


Read the answers to the most commonly asked Neopets questions this week in the Editorial section. Each week the most popular questions will be answered by one of the creators of Neopets, so keep checking back to stay updated.


---
Quote of the Week
Marcia steeled herself. She didn't want the game to go into overtime. She wanted to get another goal and win by two points. But Thalia looked ready from the way she was sneering at the other team, so Marcia pumped herself up on the inside as well with thoughts of Xana DiLanche and how Marcia would play if Xana were watching.
---
| | |
| --- | --- |
| Petpets are totally cute and widely adored little creatures that we attach to our Neopet so they can have a pet of their own. They are generally jolly creatures, featuring large smiles like on Slorgs or curious eyes like on Walking Carpets. They love adventure and exploration and satisfying their Neopet owners, but at what point does it become exploitation? | As this year's Altador Cup beings with a bang, I decided to follow my journalistic urges to pursue an interview with the best team yet, Haunted Woods (of course, that's completely subjective, but still—HAUNTED WOODS FOR LIFE!). Despite their busy schedule, the team was more than willing to set aside time between rounds to sit down with a one-on-one interview. |
Best Souvenirs in Neopia




Welcome to the Terror Mountain edition of The Best Souvenirs in Neopia! This edition is sponsored by Taelia the Snow Faerie, in hopes that with more tourism brings more people in to do her quests! Terror Mountain may seem like a daunting place to go on vacation, but don't fear! As long as you stay away from the Snowager's cave, you'll have a dandy time in Terror Mountain! The whole place is covered in snow, and is a wintery wonderland to play in for days. It's non-stop fun, from Ice Skating to doing some quests for the Snow Faerie, you'll never be bored at Terror Mountain! But what if you wanted to bring some of that magic home with you?
---
Other Stories
"An Unexpected Treasure" by winterhome
"Alright, Scrap. We're home, " Rourke said as he pulled the keys to the small house out of his coat pocket and unlocked the door. The Gnorbu yawned and stretched his arms as he stepped inside, the captain following suit before he secured it behind him. He knew that it would take more than that to deter a thief, but it was better than nothing at all. He did not possess much, but the Ogrin still valued what he had and was loathe to lose any of it. Rourke had worked all his life to build a home for himself, believing that he needed no other company but his own. His eyes flicked over to Scrap, thinking of how wrong he had been. "Thank goodness! I'm exhausted, " the Gnorbu mumbled, immediately collapsing on a nearby chair. " I never knew so much effort went into sailing a ship." "Well, all that hard work is paying off. Your progressing quicker than most boys your age." "Thank you. That means a lot to me." "You're welcome." "Do you think I'll be as good as you someday?" "Perhaps. But you will have to continue to work hard." "I will, Cap. I promise." Rourke was about to remind him not to call him that particular name when he saw that Scrap had fallen asleep. With a sigh, he bent down and gingerly picked the child up, staggering a bit under the new weight. The young Gnorbu stirred a little, but did not wake. The Ogrin proceeded to walk towards the open doorway of Scrap's room, thankful it was not that far away. Rourke gingerly set him down on the bed and was going to go to his own quarters when he saw Scrap shiver out of the corner of his eye. His hands hovered over the covers for a second before he pulled them over the boy and exited the room. Once Rourke was in his own bed he let his thoughts drift to Scrap. The fact was that ever since he took him in Rourke had felt the bond between them grow from the state of friendship into that of a father and son. Father.
"The Creature" by beccamcq
Growing up in Faerieland had never been easy. Everyone around me was beautiful, sporting elegant wings and immaculate fur. It always seemed effortless for them. Not to mention, the faeries themselves were monitoring our every moves, making sure that the Faerieland citizens upheld their esteemed reputations. I never truly fit in around there. While the majority of my schoolmates lived in or around Faerie City, my mother and I lived on the outskirts of Faerieland. My commute to school was twenty minutes longer than everyone else, and I was always getting in trouble by my teachers for being late. I never invited friends over to my house. For starters, the only real friend I had at school was Dex, but he tended to be sickly and rarely showed up. I also didn't invite friends over because I didn't want them to know that my mother was unemployed. She was working for the Faerieland Employment Agency for the past decade until they laid her off because they were "downsizing." The whole situation had left my mother jobless and somewhat hopeless. The real reason I didn't invite anyone over was because I didn't want anyone to know that I don't have a father. He passed away when I was one. I don't really remember much at all from the time when he was alive, and my mother refused to discuss it. I think his passing changed my mother – she has never been the same since. While it seemed as though many things in my life had been going awry, I had one thing to look forward to. Once every Neopian reaches the age of 16, they undergo their own personal transformations. Depending on one's home location, he or she transforms into a Neopian of the corresponding colour. Since I lived in Faerieland, I would become a Faerie Neopet. The transformation, however, does not begin immediately. It is usually a somewhat awkward process, where our bodies and features slowly but surely take on a new identity.
"A Draiks Hero Tail" by hallie035
Kespri woke up. She looked around to see where she had slept that night. She had been flying around yesterday to find some place to sleep. She had run away from her family because she felt her home was somewhere else. It wasn't that she didn't love her family, it was just that they never went really far away. They always stayed close to home. If Kespri or her sisters and brothers went too far away, they might get lost. This was what their mother feared for the most. But Kespri wanted to see more of the world, she wanted to go exploring. Her family laughed when she told them about it. They didn't understand. That's why Kespri decided to run away. She ran as soon as her family was asleep. She flew away as quietly as possible. She made speed when she knew her family wouldn't hear her anymore. She flew around for a couple of hours and then found a place to rest. The world around Kespri was full of fog when she woke up. She couldn't see much of the world around her. But she could feel the ground was soft. To her left she saw mountains rising. To her right she saw a path going down. She was probably in a valley, somewhere on a mountain. She didn't think there were many Neopets higher up so she decided to follow the path down. The path was beautiful. Flowers grew and their colors were bright. Some flowers were still closed, waiting for the sun to warm them up. Some Neopets were already walking around. They didn't say anything to Kespri, they were still tired. It was early in the morning so they had just woken up. Kespri wondered if they were exploring with their owners or if they had no home just like her. Would they know where they were? Kespri asked to a passing Meerca where she was. She told her she had rested here the past night because she was tired. The Meerca cautiously looked up to Kespri and told her this was Mystery Island.
---
Celebrate PetPet Day By Picking Up One of Your Own!


This week's issue is brought to you by: PetPet Shop
Search the Neopian Times


---
Great stories!
---------
---------
---------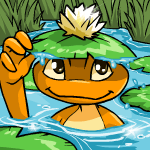 A Sunny Day On The Pond
Let me tell you about my favourite game on the entire Neopets website (Food Club aside, obviously, who doesn't like raking in thousands of NP a day?) Nimmo's Pond!

Also by applebella



by dissiechrissie
---------
---------
---