Your questions answered!


Read the answers to the most commonly asked Neopets questions this week in the Editorial section. Each week the most popular questions will be answered by one of the creators of Neopets, so keep checking back to stay updated.


---
Quote of the Week
A sovereign must never put into action an army motivated by rage; A leader should never start a war motivated by anger. Fight for those who cannot! Fight for those who give us hope to fight.
---
| | |
| --- | --- |
| A holiday to celebrate one of Neopia's most beloved royalty, yes, of course, it's Fyora Day. Many tourists travel to Faerieland to catch a glimpse of the popular queen. Some even to hear Queen Fyora deliver an annual address where she speaks about the state of her kingdom. | Everybody knows Fyora, she's the Faerie Queen of course! The beautiful and very pink ruler of Faerieland. You may have seen her in the Hidden Tower amongst all those goodies. Oh wait, I don't know if we are allowed to tell you that...it IS hidden after all. |
Q&A: Team Moltara




An unexpected phone call was made to our private line; only a selected few know our private contact information. Imagine our surprise when we recognize the familiar fiery voice. Aldric Beign himself, speaking to us; requesting our very presence to his beloved city. Our trusted reporter, Shen wasted no time in heading towards the heart of Moltara…. though, we probably should have mentioned the heat….
---
Other Stories
"Doubting Fyora" by juggal3tt3j
"Farren, COME ON!" Brujyh urged his reluctant friend to hurry up. "Fyora Day will be over if you keep this pace!" Bru had been waiting for the Ruler of Faerieland's special day for months already; it was torture waiting these last few hours on the way to the celebrations. He couldn't wait to see what new item would be released in Fyora's Hidden Tower and the new faerie themed items, let alone the celebrations in Faerieland. There would be beautiful poems, fantastic artwork, maybe even another Fyora themed avatar. Plus, he'd even heard rumor that the Queen was more likely to give her own quests on her day, and her quests were no joke! Bru counted the possibilities for the day's adventures, growing more excited by the minute. "You should be more excited Farren! You DO know that Fyora defeated the Darkest Faerie and saved all the lands in Neopia, don't you?" Bru tried desperately to get his friend pumped up. "Actually, I have a cousin who has an uncle that is brothers with a lupe named Tor, and Tor says that it was his sorcerer friend Roberta and him that defeated the Darkest Faerie because she had trapped Queen Fyora and turned the lands of Meridell and Brightvale dark. He says there's even a game that shows the entire event in some other land." Farren replied to Bru's enthusiasm with skepticism as usual. Even though he had doubts about all the stories surrounding the Darkest Faerie and didn't know what to believe, Farren did love getting quests from the Queen since she was so generous with her rewards. A bump up in level, four hit points and four strength points saved hours, even days for some pets, of training time. "Well, that's obviously just a tall tale. You said yourself it's from some made up world, the truth lies right here in Neopia." Bru answered with unwavering loyalty that impressed Farren.
"An Unexpected Discovery" by daingtwins
"I have some guests visiting tomorrow," Fyora says. "The castle needs dusting and tidying up." "Certainly," Celandra replies. She wipes her paws on her lilac apron and retreats from Fyora's study. As she makes her way back to her own chambers, she can't help but reflect on all the years she's spent serving the Queen. After quitting an unfulfilling job inflating faerie bubbles, she had come across an unusual listing at the Faerieland Employment Agency. She still remembers the wording of the job description: "Discreet and resourceful home cleaning agent wanted. Previous experience not necessary." That had been more than ten years ago, and time had only proven that Celandra was just as loyal and hardworking as she had promised she would be. Shaking herself out of her reverie, Celandra returns to the task at hand. Walking over to the supply closet, she removes a feather duster from the shelf, leaving a flurry of violet feathers in her wake. She makes her way up to the library at the top of the tower. The vast collection of books still amazes her every time she steps foot inside. She's always loved reading, and the Queen is kind enough to let her read all the rare books in Neopia to her heart's desire. Noticing a few books in disarray on one of the bookshelves, she starts to put them back in place when she notices something behind the bookshelf. "What's this?" She pushes the bookshelf to the side to get a closer look, revealing a small trapdoor. Always a curious one, she opens it and climbs through. Celandra is greeted by a courtyard that looks like it hasn't been maintained in years. Sighing at the fact that this is another addition to her workload, she returns to the supply closet to grab the proper tools to pull the weeds.
"Reunion" by cephalioupod
The weathered double doors swung open with a loud creak and a gust of wind rushed between them. It landed in the middle of the floor with a splatter of dark mud, twigs and dead leaves. All movement ceased and a hush fell over the great hall. Even the fluttering of wings had been snuffed out like a candle flame. The light faerie closest to the puddle dropped her tools and cast a magic shield around the intruding mud. Beneath the shimmering bubble, bright lines came into view, as if they had been traced in the mud all along. They formed a single faerie rune. "A distress call," the light faerie told the rest of the assembly. "It could only have been sent by one of our own!" said an air faerie who had come closer. "I'm not so sure." Chatter erupted in the hall once again, but died down almost immediately when an athletic earth faerie entered and slumped against the doors. "Breach," she said breathlessly. "North-west perimeter." This time, the faeries in the hall looked at each other uneasily, too hesitant to react. The piles of broken things waiting to be reenchanted, the remaining rubble and debris, and the innumerable cracks in the walls were too much to ignore. Only one week had passed since their entire land had fallen from the sky. A tall faerie all in purple rose to her feet at the back of the room; all heads immediately turned towards her. Queen Fyora's clear voice rang through the hall. "I will investigate the breach and the source of this message," she said as if it was the simplest thing in the world. "All of you will remain here and continue our repairs." Most of the faeries in the room turned back to their tools and scrolls, relieved; but the sentry walked up to the queen. "Majesty, we won't have enough sentinels left around the border if we send a party to escort you..." "The sentinels are to remain at their posts and continue their rounds. But I will not wander into the woods alone, of course," Fyora added with a reassuring smile.
---
Celebrate Fyora Day In the Place She Calls Home


This week's issue is brought to you by: Faerie City
Search the Neopian Times


---
Great stories!
---------
---------
---------
---------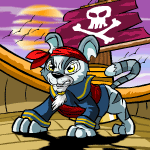 Captain Karen
Why would an Heiress to one of the Largest Trading and stock Market business owners in Neopia want to sail away on a pirate ship?

by cyber1ofkakoradesert
---------
---