Your questions answered!


Read the answers to the most commonly asked Neopets questions this week in the Editorial section. Each week the most popular questions will be answered by one of the creators of Neopets, so keep checking back to stay updated.


---
Quote of the Week
"Children are tricky things if you're not used to them," Terra said. "They definitely operate differently than adults, and I think that's why a lot of adults lose patience with them so easily. But your heart was in the right place, so don't worry about it. It just takes practice."
---
| | |
| --- | --- |
| Dear Neopia, In this week leading up to the annual and vastly overrated Grey Day, I feel that it is my obligation to inform you positively primeval peasants that you've been duped. I'm talking about your precious little grey faerie, Baelia. Not that I'm the slightest bit surprised. The incredibly boring and incompetent lot of you are always so quick to side with the victim, especially when that's the only story you've heard. But no one has ever asked me for my side of what happened with Baelia, that sneaky faerie. | It seems like my last article garnered such adoration that even Chadley is jealous! I'm back again people and this time I'm coming at you with some advice for games, Daily Dare, and even a little bit of fashion! So grab your controller and let's get going! These questions were all gathered anonymously, Neopians far and wide shouting at me on the street hoping to get some advice on their most pressing issues. I'm not an expert by any means but I do what I can! |
NC Spring Wearables




Some love the cold weather though and of course it can be very satisfying. Since there is little else to do on winter, most Neopians spend their time on working hard and collecting their precious Neopoints and Neocash. But enough of winter! The spring is here and this article is exactly about how can we start it off on the right foot.
---
Other Stories
"The Silence of the Stuck" by thebusterbell
"I'm sorry boy, but at least here you'll have others to keep you company." Plewo the Gelert wilted at the sight of his owner shutting the pound door behind him, and quietly followed the yellow Techo that ushered him down the hall. Plewo was so distracted and despondent that he hardly noticed that they had been walking for quite a while, until finally the Techo shooed him into a cage at the end of the hall. As he took in his surroundings, he realized it was eerily silent for what he knew to be a crowded place. His cage was tucked into the corner, and he could only see a small patch of wall beyond the cage bars. The air smelled moldy, and his enclosure was cramped. Plewo lay silently for what seemed like days until suddenly a small voice spoke out, "pssst! I see you got unlucky too pal!" Plewo listened for the source of the voice, and figured the Neopet talking was just a few cages down. He didn't bother trying to respond however, when he had been a few years younger he had caught an illness that permanently took his voice. His owner had thankfully cured it quickly, but he had never been able to speak again after that. "Psst!" The voice quipped again, "you hear me buddy?!" Plewo stayed silent and tried not to let the other pet hear his sniffling, but the voice persisted, "okay, so you don't wanna talk? Fine, but at least make a sound so I know I'm not going crazy." Plewo sighed and tapped the bars once.
"A Color to Match" by warriorcats
The morning sun broke through the window, landing on my face and startling me awake. Yawning I stretched out my four limbs, trying to cherish the feelings left over from my dream before having to join the rest of the world in wakefulness. Padding over to the mirror hung up on my door I stared blankly at my reflection. A mutant Lupe stared back, jarring me silently to full wakefulness. The memories of my dream fresh in my mind washed over me again. It had been about the first time I'd ever opened my eyes. I remember blinking harshly in the light of the new world, the first thing I was able to see was my owner's face as she smiled widely. "I'll name him bloodfur_208" she chirped happily. The feeling of melancholy grew as I stood staring back at my gruesome appearance, pushing away the good vibe of my dream. A day didn't go by that I wasn't grateful and overjoyed that I was not only brought into the world but that I was lucky to get an owner such as Rellexia, who gave everything she had to her family which motivated me to do the same. Yet still every morning I woke up, and every morning I stared at the mirror before going downstairs with the same feeling ached in my heart, the same thought popping into my head. I hate being a mutant!
"A Curse on Meridell" by _the_spardel_queen_
Aphridite was born for the throne, she was raised to be Queen. Yarce on the other hand, the second sister, would always be just a princess. She didn't have much interest in balls, fancy dresses or politics in the court anyways. Her true passion was gardening. While Aphridite was in her classes learning five different Neopian languages, performing in piano recitals and reading in her diplomatic relation lessons, Yarce was usually found outside in the the fields, digging up dirt to plant seeds. Her parents were horrified at her behavior, Yarce would show up to her own classes covered in dirt, with mud in her thick, blonde braids. She showed up to her own birthday ball in torn jeans and gardening gloves because she forgot the date. The townspeople and neighboring kingdoms all knew of the rebellious princess and constantly made a mockery of her. But she didn't care, there was something special about being outside with the breeze flowing through her hair and she felt like nothing could make her quite as happy as seeing a flower that she had planted, bloom. Her parents eventually understood, and knew that Yarce needed to find her own path in life. Many many years later, after Aphridite was crowned the Queen and their parents took off to keep up relations with other kingdoms around the world, Yarce began to feel troubled. Her small plot of land she was allotted would not grow anything.
---
Don't Miss Out On All These Spring Goods!


This week's issue is brought to you by: Spring Shop
Search the Neopian Times


---
Great stories!
---------
---------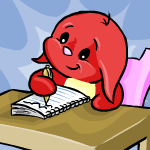 Dear Fippinator: Daily Dare Edition!
These questions were all gathered anonymously, Neopians far and wide shouting at me on the street hoping to get some advice on their most pressing issues. I'm not an expert by any means but I do what I can!

by fippinator
---------
---------
---------
---