Your questions answered!


Read the answers to the most commonly asked Neopets questions this week in the Editorial section. Each week the most popular questions will be answered by one of the creators of Neopets, so keep checking back to stay updated.


---
Quote of the Week
Merida bolted for the door to desperately try and pull it open again. Had it been an earthquake? Magic? What caused that awful, awful shaking? To her surprise, the door opened easily, but what was beyond was nothing like the long dark hallway from which she and her comrades entered. At first, all she could see was orange. As her eyes adjusted to the daylight, she could discern different shades of orange, but still the color was everywhere. The air was stagnant but carried along an almost sweet smell. The light suggested late afternoon into the evening. She stepped out onto the ground. The room she left behind was part of another one of these sunset orange buildings. The late light of the sun reflected off them in an unusual way; sort of as if they were made of glass…
---
| | |
| --- | --- |
| 14th day of Sleeping, Y19. Arguably, one of the best days of the year. Sloth Appreciation Day. The one day of the year where Dr. Frank Sloth, infamous evil scientist and leader of Virtupets Corp. gets the attention and admiration he deserves. So sit back, grab a notebook, and prepare to take notes on the best ways to celebrate Sloth Day in style! | From the peaks of Terror Mountain to the jungles of Mystery Island, each week Neopians everywhere rush to get their copy so they can read insightful articles, enjoy sidesplitting comics, get lost in beautifully written short stories, and stay informed with questions in the latest editorial. These are Neopian Times fanatics, and that's why we're here today! |
Wheel of Extravagance




It wasn't your fault, really. It was that crafty Tonu - he always knows just what to whisper to lure you into his shady little corner. All you wanted was some exotic fruits or bread to spice up dinner; one minute you're making a beeline for Qasalan Delights, telling yourself, out loud, over and over, this time he isn't going to get you - and the very next thing you know, you're letting go of the side of the wheel, chanting BIG MONEY BIG MONEY!
---
Other Stories
"ALL HAIL SLOTH" by grimmbones7
"We have the perfect job for you," Naia said. Mira couldn't believe how happy her voice sounded despite the lack of color in her face. "It's called 'Jelly Bean Counter'. You see, our dear Sloth wants to win the prize at the Sloth Borovan Coffee Shop, so he needs a dedicated Neopian like you to count the exact number of Jelly Beans in the jar. The reward for this job is a limited edition Sloth keychain!" The Haunted Woods was the same at least.. Except for the big massive advertisements for Sloth products or Anti-Faerie spray in between the broken and rotting trees. The screen flickered to the Fairgrounds and she began to weep. The Test Your Strength game was now run by a Mutant Grundo and featured a mallet hitting her face! The Coconut Shy was hosted by a Robot Lenny and you threw rocks to knock over coconuts painted to look like various faeries! She gasped. To win the grand prize of a Dr. Sloth plushie you had to knock over the 'Space Faerie' coconut. "I've failed Neopia. I couldn't protect them when they needed me most" Mira cried. Helplessness washed over her. Her thoughts raced to all the innocent Neopets, even the poor petpets and petpetpets, crying out her name! Crying out for help, mercy from Sloth's evil!
"A Priceless Gem" by winter_pony4
Her bedroom door swung open. Lillille looked up to see an angry Royal Bori looming over her. "... Greetings, Mother." Lillille murmured. The Queen narrowed her eyes. "Lillille, is it true you snuck out of the castle not too long ago?" she demanded. "Of course not! I've been asleep!" Lillille lied. "Then why are your hooves so dusty and dirty? Our castle is supposed to be spotless!" the Queen retorted. "Ok, so maybe I went out for a late night stroll in the garden. I haven't been sleeping well lately." "Are you so tired as to forget proper etiquette? You are supposed to wash up after… frolicking in the dirt. Look, you've even soiled your rug and the bed with this awful dust! What kind of Uni even lets herself get so filthy? You are 17, for Fyora's sake, have some pride in yourself! You are going to the bath this instant!" Lillille sighed as she was marched to the bathroom. At least she didn't suspect me going out into town… She sighed. But I can't l can't live my life in fear of talking to people! Mother wants me to take the throne someday, but how can I rule over a town if I'm forbidden from getting to know anyone? She looked back, where Crystalluxe was watching Lillille in confusion from her bedroom door. Maybe it's time…
"Like, Totally Goth" by downrightdude
Scary place her hands on her hips. "What's your point?" "Those who place value on material goods have destroyed the spirit of Christmas," said Gerald. (Well your atrocious attire is destroying my eyesight), Scary thought. Despite the clothing, however, there was something about Gerald she couldn't help but feel connected to. "So...what are you interested in? Music?" Gerald nodded. "Have you heard the newest Jazzmosis album? It rocks." "You like Jazzmosis too?" Scary gasped. "No way! All my other wannabe friends prefer Yes Boy Ice Cream over Jazzmosis–though I personally like them both." "At least Jazzmosis write their own songs," Gerald countered. "Those boy band Shoyrus can't even play instruments." The longer she and Gerald talked–discussing music genres and their hatred for the color pink–the closer Scary felt towards this 'Goth dude'. Despite his distaste for boy bands, Gerald felt like somebody she could bind with and actually (enjoy) the company of, too. (Maybe this n00b isn't as bad as I thought,) Scary mused. (He definitely has more interesting taste than Sparkles!)
---
Search the Neopian Times


---
Great stories!
---------
---------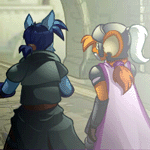 Southward Bound: Part Two
"I've always heard rumours that he'd had a secret base at the South Pole, but I never dreamed they were real!" said Osa. "This is not good. There's no way we could take on a whole Sloth base by ourselves!" said Brynn.

by kaioti
---------
---------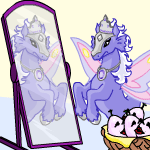 A Priceless Gem
She sighed. But l can't live my life in fear of talking to people! Mother wants me to take the throne someday, but how can I rule over a town if I'm forbidden from getting to know anyone? She looked back, where Crystalluxe was watching Lillille in confusion from her bedroom door. Maybe it's time…

by winter_pony4
---------
---