Your questions answered!


Read the answers to the most commonly asked Neopets questions this week in the Editorial section. Each week the most popular questions will be answered by one of the creators of Neopets, so keep checking back to stay updated.


---
Quote of the Week
"Excuse me but are you alright?" Ramona was stopped in her tracks looking at a Yurble and jelly Shoyru standing before her. It was the Yurble that had addressed her but they both looked concerned. Seeing them, Ramona could not hold back her pent-up emotions any longer. She told them the entire story. When she finished, the two strangers did not hesitate. "There is no one that knows Terror Mountain than I do. I will search for Jace and Ellie. I will bring them back here when I find them," the Yurble said, nodding to the inn that they happened to be standing in front of before racing away.
---
| | |
| --- | --- |
| What would you do if you happened to be browsing around Neopia, only to realize you had actually won the Neopian lottery? Scream and shout? Jump up and down, much to the delight of your pets and neighbors? Dash off to the National Neopian Bank and quickly deposit it all? | Get ready for a cold winter! This NP clothing guide will help you choose the perfect clothing items especially made for your pet's species. Handy prices are estimated to help you determine which is best for your neopet. |
Challenging Neopets




Whether you are new and looking to conquer the challenge of challenges or an old hand at Neopets who wants to tackle the unique troubles of living with a truly difficult Neopet, this list is sure to provide you some excellent ideas of pets which fit the bill.
---
Other Stories
"Kindness in the Works" by iswimmings
A Spotted Lupe, flustered and sweaty, bulldozed his study table of loose paper and engineering books hoping to find his blueprints for his mechanical robot. Polarjet let out a small whelp when nothing emerged from the clearing. He dropped to the floor, scanning and overturning each textbook for the possibility that his precious document may surface. He even took off his Brass Gear Goggles for a few seconds just to double check if his eyesight was not playing tricks on him. Dawncrest, his older brother and a Pirate Grundo dressed in his metallic blue Grundo Resistance outfit wrapped in a Space Grundo Belt, knocked thrice on his opened door. He held up an Explorer Backpack with a scroll of blue parchment sticking out of of the corner, but there was no response from the panicking Lupe. Dawncrest knocked once again on the door but the Lupe was too entranced with the search to be bothered. "Is this what you have been looking for?" smirked the Pirate Grundo as he lifted the backpack up towards the lantern lighting. The Lupe's ears pointed upward like an electric jolt from a Tesla coil.
"The Morning Paper" by applefaerie99
J eronie the blue Yurble was reading the large ad in the morning paper. Jeronie called over to her roommate, "Horeseay, listen to this, the grooming shop is having a hair stylist in their beauty salon next week for free consultations. If you decide to have it cut and styled like they recommend, it is all on sale. I have always wanted to have my hair styled by a specialist. Maybe I will get a whole new look." I went on, "what do you think?" Horeseay looked at me over the sports pages, "If that's what you want, go ahead. I hope it's nothing too far out." When I stopped by for an appointment, I found out they were filled up and had to settle for a place on the waiting list. I remembered back to another incident years ago when I received a free "hairdo" and it made me laugh thinking about it. At the time we had been in our new home in Neopia Central only a few years. My younger sister, Cami and her roommate had recently moved to Roo Island where she taught math. We really enjoyed being able to get together often. "Come over for the weekend," Cami had written in a note to me, "I found a great place where we can get our hair done on Saturday morning and it doesn't cost anything!" At that time having our hair done at a beauty salon was a special treat, reserved only for special events. So we were ready early Saturday morning when we walked to town for our free beauty services.
"Christmas Miracles" by butteredwings
As she trudged down the slope, a piece of paper nailed to a pine tree caught the periphery of her vision. Curiosity getting the better of her, she shuffled over to the tree, and studied the words scrawled on the crisp paper: "To whoever sees this, I'm in need your help. Please bring me some twigs from the peak of the highest tree — I desperately need it for my spells. Many thanks! — Taelia." "Well then, I'm sure some other Draiks could help," Jen muttered. "After all they are the ones who can fly…" As if on cue, a shadow Draik and pink Draik circled above Jen, waving to her with a smile on their faces before landing softly beside her. "Hey Jen, what are you…oh, that?" the pink Draik shook her head as she caught sight of Jen staring at the paper. "It's been here for awhile. But really, it isn't worth all that trouble — after all, the highest tree is kind of hard to reach even for us, you know." "Couldn't you just fly there?" Jen asked. The shadow Draik shook his head. "Not really. At such a high altitude, it's kind of hard to maintain flight." Patting Jen on her back, the shadow Draik gave a small smile. "In any case, you shouldn't worry so much — it isn't something you would be able to help out with." "But…" Jen started, just as the pink Draik raised a hand to stop her. "I know you wish to help, Jen. We would if it was an easier task. But really — what Taelia wants, as you know, is quite insurmountable even for us… let alone you."
---
Treat Yourself With Holiday Goods


This week's issue is brought to you by: The Holiday Shop
Search the Neopian Times


---
Great stories!
---------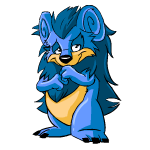 The Morning Paper
"Horeseay, listen to this, the grooming shop is having a hair stylist in their beauty salon next week for free consultations. If you decide to have it cut and styled like they recommend, it is all on sale. I have always wanted to have my hair styled by a specialist. Maybe I will get a whole new look." I went on, "what do you think?"

by applefaerie99
---------
---------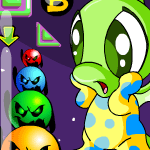 Attack of the Marblemen: a Trophy Guide
The purpose of this guide is to give you the strategy and information to get a trophy, specifically a gold trophy, as easily and quickly as possible. This isn't a walkthrough; there's 70 different level designs and that would be way too much. Instead of focusing on individual levels, I'm going to lay out what I did to set myself up to play for the trophy.

by sargelw
---------
---------
---