Your questions answered!


Read the answers to the most commonly asked Neopets questions this week in the Editorial section. Each week the most popular questions will be answered by one of the creators of Neopets, so keep checking back to stay updated.


---
Quote of the Week
Fire flowed out of her in torrents, a wave of flame. The monster shrieked, but it was a thing of slime and snot, and ultimately the only harm she'd done was set the library on fire. "Oh my faeries what monstrosity is this--" The Hissi tugged on her tail. "Hey worker bee? We need to go, now."
---
| | |
| --- | --- |
| Did you patiently (or possibly impatiently) await a Project X reveal since Daily Dare Y18 way back in the Month of Eating? Have you played AAA's Revenge and want to get better? Do you want to hone your skills to the point of being able to get an avatar or trophy? If you answered "YES" to any of the above, then this guide is for you buddy pal. Keep on reading for all the juicy info you can imagine on Aristotle A. Avinroo's latest yoyo slingin' scheme. | Because the Month of Celebrating is approaching quickly, and the weather in Neopia is starting to get quite chilly, this reporter has been drinking more than her fair share of coffee lately – and not just because it's the only thing that keeps her pen on the page! As a Blumaroo owner, I've visited the Coffee Cave at its new Roo Island location a lot, and as a result, I've come to know Delilah, the perky Shoyru who runs the little café, quite well. |
Good Things That Are Paradoxically Sad!




I think it's hilarious that rather than celebrating our ownership of 20 pets, with the maximum of 4 on each account (and ignoring the extra one that could be had by having Premium), we often bemoan our full accounts, and try to figure out which pet(s) we should give away!
---
Other Stories
"What We Found in the Storm" by misfitmarie
It was a particularly cold morning on Terror Mountain, not to imply that the weather was ever warm. Even in the summer, Terror Mountain had snow on the ground. But at least in the summer, a fuzzy scarf could keep you warm enough or an all-day adventure through the beautiful mountain caves: ice-skating, snowball fighting, and (my personal favorite) a trip to the Slushie Shop for a cheeseburger slushie! But on that day, since the brunt of winter was a mere month away, the average Neopian would have to be far more prepared (and careful) for a trip to the very tippy-top of Terror Mountain. Especially for a little Pteri like me, the wind can become too difficult to fly in. It was a fiercely stormy day, and the icy rain nipped at my tail as I clutched to my owner, Marie. I shielded her face with my wing as we carefully made our way up the rocky steps of Happy Valley. Wealthier Neopians could afford the ski lift, but we had to adapt to climbing the uneven stairs. The voice of my younger brother Joboro, a blue Ixi, chimed in from behind us. "This is terrible, ma! I want to go home!" he cried. "It's cold and wet and freezing and rainy and cold!" I sighed as Marie stopped to look back at him. "We're almost there, Joboro. As soon as our bags are full, we will return home. And on the way, I will take you and Judi to Roo Island for some kabuggle mochas from the Coffee Cave and a ride on the Merry Go Round." Joboro sighed loudly. "Now, I want to go now." Marie continued forward, winking at me. "Judi," she whispered. "thank you for being such a good sport and a good example to your brother. The more of us there are, the more items we can take back home for our little store." I nodded enthusiastically. I then quickly looked back at Joboro and stuck out my tongue. He glared back fiercely, his four hoofed feet stomping loudly against the ground. "I hate this," he whined. "I don't even have my lucky scarf!"
"Being Special" by geneames1
MrTibbles gazed into the mirror and sighed despondently at the fuzzy little petpet who gazed back at him. As far as Tyrannian Meepits went MrTibbles knew he was entirely average. Not especially big or small; fur no more luxuriant than the millions of others who looked just like him; big eyes no more or less unblinking than any other Meepit in Neopia. He wished there was something special about him - something that made him stand out from the crowd, but there wasn't anything that he could see. He sighed again. "MrTibbles!" His head whipped around - his owner Yadkin was calling for him! MrTibbles hurried to the kitchen, which was where the cry had emanated from. He poked his head through the door, and his eyes widened in surprise as he stared at his owner. The Island Poogle stood elbows deep in a bowl of flour, a puff of powder in the air around his head and a helpless expression on his face. As soon as he saw MrTibbles staring at him Yadkin smiled in relief. "Milk!" cried Yadkin. MrTibbles frowned slightly in confusion, and scratched his head with his right paw. "I am making a loaf of Peachbread," Yadkin elaborated, gesturing at the bowl in front of him with a thrust of his chin and wiping a smear of flour off his cheek with the back of his left paw (unknowingly leaving a new smear of flour in its place) "and I just realized I am out of milk. I can't finish the recipe without it! Please take some neopoints out of the petty cash jar and run to the Neopian Grocery for me. I need one carton of Kau Kau Farm milk. You can take enough extra neopoints to buy yourself something from the chocolate shop as a reward, but be quick about it. I don't want my dough to dry out!" MrTibbles nodded, sketched a small salute in the air, and hurried to the cash jar which sat on a low bookshelf in the living room. He took 400 neopoints and tucked it carefully in the tiny money belt he wore around his waist. Trotting outside he gently closed the door behind him.
"Never Give Up!" by extreme_butterfly
Ollie the blue Pteri loved the fact that he could fly. It was a trait that wasn't out of the ordinary around Neopia, because a lot of pets and of course the Faeries could fly. However, Ollie was different. When Ollie was a baby Pteri, he was really curious and liked exploring.His parents would often find him just randomly flying in circles around their Neogarden. Once he had learned to fly, he was unstoppable. A few days after he first learned to fly, Ollie grew bored of his same old flying route. He decided he would change it and explore a bit more. As he flew off, he noticed all the lovely scenery below him. It was beautiful! During his flying, he managed to fly into the Haunted woods. It was such a dark and spooky place. Every noise that he heard startled him. There was glowing eyes in every corner and he realized he was lost. He knew he had to keep flying to find his way back home. While he was flying, he wasn't paying attention when he heard a noise behind him, he turned to look behind him and he ran into a tree branch. Ollie fell to the ground and looked at his wing. He noticed that it was broken. Alone and scared, he crawled and sat against the tree that he had hit unsure of what he was going to do. Ollie was in pain but through his tears he managed to all asleep. When he opened his eyes, he was at the healing springs. "Good! You're awake!" The healing Faerie said. "How did I get here? My wings, are they ok?" "I did the best that I could. Unfortunately, I couldn't heal it all the way. It will still have a hole in it and you're flying will be slower, but you will be fine! You're parents are on their way to get you. Fyora knows them, and contacted them after she found you."
---
Search the Neopian Times


---
Great stories!
---------
---------
---------
---------
---------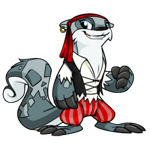 Chasing Treasure: Part Seven
It took them three days to reach the island. They could have gone faster, perhaps, but after losing two map pieces to the Comte's crew (if the lupe and elephante had in fact been working for the Comte, which seemed likely) Bannok was being cautious.

by aethelar
---