Your questions answered!


Read the answers to the most commonly asked Neopets questions this week in the Editorial section. Each week the most popular questions will be answered by one of the creators of Neopets, so keep checking back to stay updated.


---
Quote of the Week
While walking past the kitchen, Mago saw Seneca sitting there, chewing slowly, eyes glazed over, and stopped to laugh. "Looks like Ally did a number on you!" Seneca grimaced. "I'm glad to help her out, but I've got to admit this is more work than I thought it'd be." "That's ghosts for you - they don't have any concept of stamina!"
---
| | |
| --- | --- |
| Neopia is a fantastical world, filled with wonders and excitement. However after a while you realize that doesn't mean it's free of worries. Whether you just heard tales or had your own experience, Neopia has many malicious monsters and grim ghosts hiding around the corner. However we have ways of fighting off the daily terrors such as the Pant Devil or Shadow Usul. But those are evils we know about, what about the ones we don't? Or, more specifically, we did know about? With so many monsters some were bound to vanish from the public eye. What happened to them? Where are they now? And can they become a possible threat again? | Hello dear readers. This article was specially written for the Ghosts and Monsters issue and therefore features some of the most legendary villains in the entire Neopia world. The purpose of this article is not to criticize or demean Neopia's villains, instead it's written for admirers of these creatures. If you are not a fan of spooky beings you would better stop reading from this point. Still with us? Great, then read on to hear the backstory about six great evil characters. And since Halloween is very near, this article also contains some suggestions on how to customize your pets based on these infamous characters. Grab your Evil Popcorn and start reading! |
Shadowy Writing: An Open Letter from the Shadow Usul




Note: The following was found on a scrap of paper attached to the bark of a tree near Neopia central. It has been posted here for informational purposes. Be aware, we are not sure of its truth, as the events depicted are difficult to confirm. However, if true, it paints a chilling picture.
---
Other Stories
"The Seekers Get Spooked" by tudorrose1558
Professor Lambert was at his wits' end, and with as much wit as he had that was a place he rarely found himself. All day he had been interviewing applicants for a job sorting books in the Seekers' library. No one who had come in so far seemed right for it. The last applicant had actually walked in eating Cheesy Neos, and Lambert had had to frantically prevent him from touching anything with his messy fingers. Having shooed the fellow out, the Gnorbu sat at his desk and wearily buried his head in his hands. "Er, may I come in?" asked a female voice. "Yes," Lambert replied. He couldn't help but wonder why she didn't simply knock like everyone else. "Oh, hello. I'm Cordeilla Earnshaw." The professor looked up, startled by the sudden nearness of the voice; he hadn't heard the door open. Standing before him was a young Ixi woman... and she was a ghost. He wasn't scared, just shocked. He was intelligent enough to realize that ghosts were generally harmless... it was the zombies you had to worry about. "I hope you don't mind that I didn't knock," the Ixi continued. "I tried to, you see, but I had a little trouble. Me hand went right through the door!" She let out a loud guffaw. Lambert gave a nervous chuckle and a small, uncomfortable smile. "Er... what can I do for you, Miss Earnshaw?" "I'm here to apply for the book sorting job you advertised in The Neopian Times." "And in what ways do you feel you are qualified for the position?" "Not much to be qualified for, is there? I know how to put things in order. I can read and write and all that. I learned that when I was in school in Neovia. I'm originally from there, y'see. I was in theatre but me career got cut short. I've always been a bit bookish, though, wantin' to learn. Oh, and there is one other thing I feel I must mention."
"Mutts & Mystery: The Petpet Detective Book 2" by pedigree_chump666
Estebon sat reading the Neopian Times in the reception area of the Petpet Laboratory waiting for his turn under the zapper. He was currently in the form of a blue Kadoatie fresh from his last mission at the Kadoatery, and despite all of the pampering he was very much looking forward turning back to his original self for a while. "Estebon," the receptionist called, "the Scientist will see you now." "Would you like me to come with you?" asked Hendro his owner, a shadow Shoyru and a detective for the Defenders of Neopia. "No, I can focus better alone, thank you." Estebon walked to the chair as he had done many times before and waited for the zapper, concentrating on his true form. He was the only petpet in all of Neopia that could choose which petpet he wanted to be turned into at the lab ray, as long as his cause was noble. "Hello again, Estebon!" said the Kookith. "You know the drill. Zapping commences in three… two… one…" "STOP!" Shouted detective Hendro rushing in. The Kookith jumped back in surprise, knocking over a box of tools with a claaang. "Sorry to startle you. Estebon, I have just received a call for urgent assistance. There have been reports of strange goings on in the Haunted Woods. Well, stranger than usual anyhow. This past week there have been mysterious occurrences reported all over, and now a pet is missing." "And what is it that you require of me?" Estebon asked. "Much of the strange activity seems to occur at the Spooky Petpet shop; each morning the cages are found askew and the petpets are running amuck. I'll need you to stake out the place overnight while I investigate the pet's disappearance."
"The Monster Inside" by spidermanfan234
"I have a riddle for you, Master. Do you think that you can solve it?" No, the answer sought could not be found in books— His wits strewn—he threw them from the shelf, While the mirror asked a question dared by none. "Riddle me this, Thade: What have you become?" Rage exploding, glass shattering—he looked, And saw a reflection of himself. Broken, twisted, ugly . . . but not quite dead; Only darkness left inside his head. Darkness was everywhere. Thade took comfort from the darkness. It had consumed him. Numbed his pain. Negated poisonous thoughts like: accepting defeat and making amends. It had brought him solace when nothing else could—when he had even failed himself. And the darkness had made his choking insanity seem less . . . insane. His life was darkness now, and it was just fine. Most of the time. Thade left his library and roamed the house. The nice thing about being dead was that he no longer had to walk through each room to get places. He WAS the house. Well, to be more technical (and less cool-sounding), his undeparted spirit inhabited and controlled the house. Either way, it definitely came in handy when scaring the wits out of foolhardy adventurers who entered. He took joy in frightening them to the point of crippling terror. And he never failed to cackle with glee each time their speech crumbled to incoherent babble. For some reason, entertainment like that never got boring.
---
Feeeeeed Mmmeeee


This week's issue is brought to you by: The Esophagor
Search the Neopian Times


---
Great stories!
---------
---------
---------
---------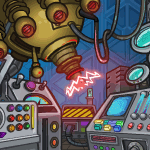 KATIPO I: Restart: Part Six
Her footsteps fall light in regret. She's tasting her mistakes on the back of her tongue. All she can do to keep the shame from bursting through her ribcage is cross her arms and count her steps — three, four, five, six..

by theschizophrenicpunk
---------
---