Your questions answered!


Read the answers to the most commonly asked Neopets questions this week in the Editorial section. Each week the most popular questions will be answered by one of the creators of Neopets, so keep checking back to stay updated.


---
Quote of the Week
A bedtime story?! Go sleep, the lot of you! I never put your father to bed by telling him bedtime stories. Eh? You can't sleep if I don't? How on earth do your parents raise you children?? Taking advantage when they're out tonight, aren't you? Hey, what-? Oh, very well. Shush child, don't cry. Your grandfather doesn't like that. A fine thing it'll be to tell my friends that my grandchildren makes their grandfather do things he never does… Let's see... I don't know much about those faerie tales you've heard from your mother and father, so I'll be telling you the only story that your grandfather knows. I'll tell you all the tale of "The Sweepers". What are "The Sweepers" you ask? Ah, patience; my little grandchild. That tale is about to begin …
---
| | |
| --- | --- |
| At dusk, when the last of Krawk Island's pirate inhabitants make their final rounds at the docks of Neopia's largest port, their song begins. The constant cry of the onomatopoeically named Weewoo fills the cool night air with a gentle but eerie sound. The melody can be heard all the way into the great waters as if bidding farewell to the late night travellers leaving their shores. Wee – woo, wee – woo Not much is known about the majestic Weewoo, but tales of this nocturnal petpet have still managed to spread all throughout the far corners of Neopia. They are not a rare sight to behold, especially in their native home in Krawk Island, but the mystery behind them is still there. From being symbols of peace, to their involvement with the post office, the more we learn about these fantastic creatures the more questions we end up asking. | Every year, all of the faeries gather at a central location in Faerieland for a celebration. One would have to travel far back in history to find the origins of such an occasion. In early Neopia, there was not a Kingdom of Faerieland. Instead, the faeries had built a powerful empire, known as the First Faerieland Empire that spanned far and wide in Neopia. Historians believe the festival was originally meant to commemorate their successes on the battlefield. That great empire eventually fell to darker forces which you may know as wraiths. The Faerie Queen at that time created a type of magic that kept the Wraiths at bay, allowing the Second Faerieland Empire to materialize. The Second Faerieland Empire pursued peace and the faeries liberated much of the land the First Empire had conquered. |
50 Reasons To Write For The Times




Oh dear, oh me, oh my! Fifty Neopian Times issues have passed yet again and the battle for the coveted avatar is on. It's time to slap on that thinking cap and get writing. *rubs my grubby hands together* Time to get my hand on that sweet, sweet box of pixels. It is no wonder why Neopians are rushing to get in entries and banging out amazing stories left and right, but what about writing for the rest of the year?
---
Other Stories
"Shortfall" by xxskyisfallingxx
"We're doomed!" Sulvi wailed. The baby Aisha rocked back and forth in the darkest corner of the lounge, unable to meet her brother's apprehensive gaze. "Doomed is a pretty strong word," Zypea the pea Chia observed her distress calmly from his position on the sofa. "We're just in a bit of a pickle. A spot of bother, if you will. A temporary setback." "Enough with the synonyms," Sulvi groaned, holding up one paw in a half-hearted attempt to silence him. "No amount of wordplay can fix this mess. It's a disaster! A catastrophe! It could spell the ruin of us all!" "It might even be bad." Sulvi groaned again. "This isn't the time for jokes, Zypea." The pea Chia deflated almost instantly. His jesting was usually enough to cheer Sulvi up, but her current demeanour suggested it was now achieving the exact opposite. Besides, he knew she was right; they were in serious trouble. "Look, there's got to be a way to fix this," he insisted seriously. "We just have to think." Sulvi shook her head sadly. "It's no use. Sky worked so hard on her story for the special 750th issue of the Neopian Times. And now, thanks to us, it was all for nothing." "Don't blame yourself," Zypea tried again to reassure her. "We just wanted to help. Who would have thought that starting a five-part series in Issue 745 would make it end in Issue 749? It's not our fault the math didn't want to cooperate." Sulvi managed to choke out a laugh through her tears. "That's a stretch, even for you. Everyone knows that you would have had to start the series in Issue 746." "Not everyone, apparently," Zypea sighed. "If there's anyone Sky should be mad at, it's me. I was the one who submitted it too early." "But it was my idea to submit it for her in the first place," Sulvi argued despondently. "We're both in hot water." They sat in silence for a moment, stewing in their thoughts. Not for the first time, Sulvi wished that Sky had never decided to attend Brightvale University. Then she could have submitted her own story and they wouldn't have gotten themselves into this mess. More than that though, Sulvi missed her other flatmate. It hurt to think that their ill-fated scheme might drive a wedge between them.
"A Strange Necessity" by drifbilim
It was altogether a rather strange experience. Addie couldn't have foreseen it. Nobody could've. She was altogether very average, very plain, easily missed. She volunteered for the Soup Faerie, she donated her unused belongings to the Money Tree, and was sure to thank anyone for their kindness. Nothing remarkable, or noteworthy. She could—and did—live with that. It was fulfilling, and the kindness she received in turn made it worth all her while. Which made the golden ticket in her paws all the more strange. Addie stared. A ticket to the Annual Chocolate Ball, her full name written in a neat cursive script. The enclosed ticket came separate from her regular mail, someone presumably had knocked on her door and left the ticket waiting on her doorstep to find late on Sunday evening. It was something right out of a faerie tale, something she might've been inclined to read to her long gone brother Enzi, back when he still lived with her. Addie would've said he moved on to greener pastures, but his recent Neomail suggested that he was in the Lost Desert for some reason or another. She had already sent him a baffled Neomail with a picture of the ticket as an attachment, but it would be a few hours yet before he got back to her. In the meantime she wasn't sure what to make of the invite. It was most definitely a prank, although she wasn't sure who would bother to prank her as only a pawful of people knew where she lived and had her full name, and all of those people knew her only on a strictly professional level. And she certainly could not see any of them—the Soup Faerie for one—going through the effort of writing up a fancy looking ticket when there was so much to be done, like feeding the starving hordes of Neopets lined up outside her door, for example. The ticket proclaimed that the event was a week today, and that it would be held in none other but the Chocolate Factory. It had no dress code, but it would be foolish to go in anything but her Sunday best. It was one of the most anticipated events of the year, despite how few were actually invited. She was to RSVP at her earliest convenience, which Addie knew to mean as soon as possible.
"All in the Cards" by opossumman
Moltara City was the same bustling subterranean metropolis it had always been, thought Stealth, a brown Grundo. It was just another day for him. He woke up, panicked at his once-again-missed alarm, ran out of his apartment screaming, and while his arms flailed and his roommate covered his ears, he managed to get to the obsidian quarry on time against all odds, avoided causing any stirs at work, and collected his share of neopoints for a job well done. Pay day had been progressing as usual. While Stealth's roommate, best friend, and more responsible half, a Christmas Kacheek named Jacob, was more reclusive and did tinkering jobs out of their own apartment, Stealth was much more socially geared. In their apartment, that meant he was usually responsible for groceries and other such things. He didn't mind. After picking up some dinner at Molten Morsels, he headed back home...until he saw a storefront he hadn't seen before. The building's facade was adorned with a "Grand Opening" banner and sales were advertised across all window panes. The door read "Moltara City Card and Game Shop." Taken by curiosity, Stealth went inside. A cheery Quiggle bounced toward him. "Welcome, sir! How may I be of assistance?" "Just checking the place out for now," said Stealth. "Brand new store, huh?" "Oh yes," said the Quiggle. "Our previous locations in Neopia Central and Roo Island did well enough to allow for expansion." "Glad to hear it!" Stealth said as he browsed the store shelves. He had a small bonus this week, so he wanted to pick something up. Help the local economy while providing oneself entertainment? It was a win-win. "NeoQuest II has been popular recently," said the Quiggle in an attempt to help. "No thanks," Stealth said. "My roommate and I don't really have the time needed to enjoy that kind of game." An idea struck the amphibious clerk. "If it's a time issue, I can show you a game that's best played in short rounds. It's been sweeping Neopia lately. Come, follow me." Stealth followed the Quiggle to the counter, where he took out a box. Adorning the front was a logo that read "Dueling Decks" in a vibrant font. "Dueling Decks?" asked Stealth.
---
Search the Neopian Times


---
Great stories!
---------
---------
---------
---------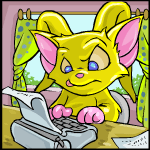 50 Reasons To Write For The Times
What is the true motivation for Neopians to consistently write year round? Well, my friends, I am here to rattle off fifty – yes, FIFTY – reasons as to why writing for the Neopian Times is a brilliant idea. Let the rambling *claps* begin!

by xxsicklullabiesxx
---------
---