Your questions answered!


Read the answers to the most commonly asked Neopets questions this week in the Editorial section. Each week the most popular questions will be answered by one of the creators of Neopets, so keep checking back to stay updated.


---
Quote of the Week
It all began - interestingly enough - with one single neopoint. The golden coin in question was currently being held tightly in the hand of a smartly dressed young Ogrin who wore his camouflage colouring with the jaunty confidence of a born leader. His name was Kadar, and he was currently alternating between throwing the shiny neopoint up into the air and casually rubbing his thumb across its surface in an absent, loving sort of way whenever it came back down.
---
| | |
| --- | --- |
| The wearable backgrounds they come up with are just stunning and the Fall Shop at the NC Mall is expected to get busy during the months of September, October and November - This season sure does draw attention! With these guide articles I want to put my thoughts and opinions on the items I think are the best among the over two thousand you can find all over Neopia. With these guides I hope I can motivate and inspire you to create wonderful and outstanding customizations for your pets! - Sit back, grab something to drink and enjoy the falling autumn leaves while reading this great article. | It's time for the....*drumroll* Chocolate Ball! So get ready to plunge in delicious, rich, creamy chocolate pools while taking a bite out of that chocolate tart made by premium Brightvale chocolate! Anyways, me and Corealez know that choosing chocolate can sometimes be hard. Especially when it comes to the yucky ones...with fruits! What kind of a person ever thought of adding fruits and nuts to chocolate bars! Who has time to taste and test the flavors of different chocolates, though? So me and Corealez decided to do a taste test on different types of chocolates in Neopia, so you can choose your chocolates for the Chocolate Ball! |
Top 12 Seasonal Avatars




Hello, and welcome to my seasonal avatar guide which shows you some of the best avatars to sport during each season! What better way to celebrate Autumn than with spooky and ghostly Halloween-related avatars? Or if you don't want to take that route, how about an Autumn-related avatar with a cozy feel? And what about some snowy and chilly looking avatars to celebrate the Winter months? And basically the opposite of those avatars to show some love to the Spring and Summer months? If you're looking for variety, then keep reading, because this is the guide for you!
---
Other Stories
"Naia and the Maraquan Moehog" by erikakaiser
The whispered comments, the giggled gossip, the sidelong glances – Naia heard and saw it all. She would love to be bold, to say she didn't care, but it wasn't true. It bothered her, at least a little, that the other Faeries didn't take her job seriously. If she had more of that infamous Fire Faerie spark, she'd snap back. I mean, come on, the Light Faeries spent all their time hoarding cards for, what? Vague, wishy-washy visions of the future? To her, the present was more important. You could shuffle cards and prophesy all day, but if you weren't trying to affect change, what was the point? But she was a Water Faerie, and she was the one who got the snickers and the eye rolls. Her fountain didn't repair cracked buildings, didn't build houses for homeless Faeries, didn't feed Faellies or Boweens. Marina's Healing Springs didn't do those things either and still managed to get less grief, despite all the times Naia had seen a wheezing and exhausted NeoPet get rewarded with nothing more than an Exploding Snowball. Not that it was necessarily Marina's fault – most of the young Faeries had an element of surprise to their spell casting. They would pull their magic, focus on the outcome, and certainly do their best, but whatever came out was what came out. It took years of practice and learning to cast blessings as thoroughly as Faeries like Aelia or Mira. Naia wasn't a very old Faerie herself, but she had learned to focus her abilities into the already naturally magical waters of the Rainbow Fountain, and in this way could fulfill requests very specifically.
"The Prettiest Peophin" by blackghoulmon
I slowly woke up from my nap, feeling quite content and comfortable. But as I looked around, still half-asleep, I realized something. "Wait, this isn't my bed!" I thought. Now fully awake, I looked around some more, trying to remember where I was. And then I remembered: I had fallen asleep on my owner's lap! I felt myself start to blush as I looked up into the kindly gaze of my owner, the adult man we all called BG. "BG, you didn't have to sit here and let me sleep," I said apologetically. "If you had things to do, you could have woken me up and told me to move." "I don't have anything pressing to do right now, Urasina," he replied. "Ming's got things under control. I can spare the time to let you nap." I blushed more as I stretched, yawned, and rolled onto my back, staring up at him adoringly. As he began to rub my belly, I thought about how he was the best thing that had happened to me in all my nine years of life. We both heard the front door of the Neohome swing open, then shut again. Then one of my adopted sisters, Nayrem the Christmas Peophin, came gliding into the room, looking excited. She had a piece of paper in one front hoof. "I'm not interrupting anything, am I?" she asked. "No worries, Nayrem," I responded. "I'm just cuddling with BG." She handed the paper to our owner. "I was just getting ready to come home from work and one of the other librarians handed this to me," she said, sounding eager. "A beauty contest for the Peophins of Sahkmet, eh?" BG replied. Nayrem nodded eagerly. "I'm glad it's not for Unis AND Peophins," I chimed in. "I can't hold a candle to you, Nayrem." She blushed a little. I'm a Speckled Uni mare, but my patterns are unusual and I have dragon wings, not feathered wings. So I'm hardly the epitome of beauty.
"The Not-So-Great Terror Mountain Expedition" by gumgum101230
Every second we climbed, I wanted to turn back. But I couldn't let Kyle know that. He was always about adventure: the danger, the risk, the reward. The unknown. Back home on Mystery Island, I never took any risks. I brushed and flossed my teeth every night, I always left way before I had to be anywhere. It was Kyle who always had the crazy ideas. He was the one who convinced me to get a Spotted paint job for a while, and to enroll in the Mystery Island Training School. Now, we were on another adventure-- a pointless adventure with little hope for success. Our adventure began when Kyle burst through the door, into my room. He was panting, but there was a gleam in his eye that told me he had yet another of his crazy plans. He was a yellow Kyrii, and he practically bounced up and down as he spoke. "Al," He began. "Snowager, Al." He threw his arms up as if he had just unveiled a mystery of the universe. He collapsed into one of my beanbag chairs while I stared at the floor. "The Snowager?" I repeated dumbly. "YES," He grinned and raised his eyebrows. "Think about Al, he's gotta have treasure in there, man! He's a giant ice… thingy. He has to have treasure! And, here's the important thing, Al. People go in, and they only grab one thing. One thing, Al! We can go in, and just, like, take as much as we can carry!" I wish I could say I put up more of a fight, but within the hour I was packing a heavy coat, galoshes, and getting tickets for the earliest ship to Terror Mountain. The initial trek was a breeze. "All we have to do," Kyle had said, "is walk through Happy Valley, climb a small rock wall into the Ice Caves, and make our way through to the Snowager's Lair."
---
Search the Neopian Times


---
Great stories!
---------
---------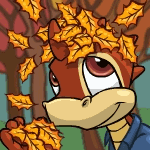 Top 12 Seasonal Avatars
Hello, and welcome to my seasonal avatar guide which shows you some of the best avatars to sport during each season! What better way to celebrate Autumn than with spooky and ghostly Halloween-related avatars? Or if you don't want to take that route, how about an Autumn-related avatar with a cozy feel?

by flustre
---------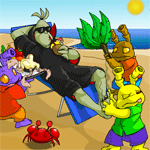 How To Give Your Neopet a Great Vacation!
Summer is winding down, and many of us have taken nice vacations while our pets waited patiently for us to return. If you're looking to treat your neopet to a nice vacation experience, here are some fun ideas you can try!

by tessahcamille
---------
---------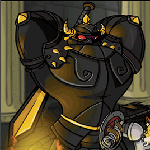 The Spirit of Black Keep: Part Seven
Kass merely stood by, looking utterly confused, while Celice's jaw was slack with astonishment. "Pharazon—" she sputtered. "Are you quite sure you know what you're doing?" He grinned in embarrassment. "I told you already, I'm not quite sure of anything. I'm just doing what feels right instead of waiting around for fear to drive my actions."

by cosmicfire918
---