Your questions answered!


Read the answers to the most commonly asked Neopets questions this week in the Editorial section. Each week the most popular questions will be answered by one of the creators of Neopets, so keep checking back to stay updated.


---
Quote of the Week
The alien's house is a castle-like mansion, perched on top of an empty mountain in Shenkuu like the nest of a lone Vullard. It's got cream-coloured walls and tall, red-framed windows with dozens of horizontal panes jutting through them. It's about three stories tall with what looks like a garden on the roof — there are some red flowers on vines tossed over the edge of the building, the shade of the petals awkwardly bright against the windowframes. The whole place is very gothic. It's definitely got the feel of some evil villain's reprieve. A modern-day, spruced-up Castle of Eliv Thade. There are pink poppies in wooden planter boxes lining the path to the house. There's a wreath of dead branches and fake Beekadoodles hanging on the door. You have the keys, so you let yourself in.
---
| | |
| --- | --- |
| Just in time for Draik Day, I bring you another edition of my Neopets A to Z series. This time we look at the amazing, brave and dashing Draiks! Let`s get started! A Avatars Other than the default Draik avatar which is available to all players automatically, there are four others you can earn. Draik – Hathced, HT Richest, Escape From Meridell Castle and Mutant Draik – Back Off! Altador Cup Players Draiks represented in the AC include: Cawley Embith, yellow male playing for Altador, Crade Talvos, male wraith playing for Haunted Woods and Luvea Trivon, red male playing for Lost Desert. | In the heart of the Neopian shopping district is Kauvara's Magic Shop. The owner and shopkeeper of Neopia's most popular Magic Shop is the titular Kauvara. Kauvara works tirelessly to open the doors of her shop each morning and provide Neopian consumers with top quality magical items and potions. She provides Neopia with highly sought after items. But one has to wonder who is the kau behind this shop? Who is she? What is she like? How'd she get here. |
Four Things to Consider When Cross-Painting Your Pet




Cross-painting opens up a whole new world of working with your Neopet to develop the perfect style or look. While many will only cross-paint, others are only beginning to explore the idea and trying to figure out what works and what don't for their pets. Whether you're a cross-painting veteran or a newbie, here are some tips that you should consider when you're looking to cross-paint your Neopet for the very first time.
---
Other Stories
"The Gobbler's Egg" by merrick_twoford
The lake was a quiet, peaceful place. Situated at the edge of a thick, leafy forest, with the glowing lights of the city in the distance. Perry, a stray Gobbler, had lived here for a while now, feasting on nuts, berries and roots from the trees and fish from the lake. By now autumn had arrived, and the forest was a sea of red, brown and gold. Perry was hungry for fish, but when it came to the lake's edge he found something else instead. An egg. A large, solitary egg. Perry ducked into the shrubbery, nervously glancing around for the egg's mother. He was only small, after all, and the last thing he wanted was to be attacked by a protective Neopian mother. But time ticked by and nobody appeared. Perry braced himself and then flung himself into the open. Still nothing. Cautiously he approached the egg. Pressing against the sturdy shell, faint noises could be heard from within. There was a baby in this egg - a baby that would not survive if left on its own. Perry looked around again and then hastily assembled some twigs and leaves to make a nest. When the mother still failed to show he flapped his stubby wings and settled himself on top of the egg. There and then Perry decided that he would care for this egg. He would make sure the baby was okay. They would get through the coming winter together.
"They Called Him Dr. Death" by erikakaiser
His name hadn't always been an omen. It was hard to remember it now, and trying felt strange, the syllables foreign and distant. He could see who the name belonged to, picture himself, a young Techo, bright-eyed and eager. Scooping up injured Puppyblews, sneaking into the Kadoatery with a bag full of treats, even splinting an Alkenore's tail after it had gotten slammed in a doorway. Finding them homes afterward, taking great pride in finding the right home, a place they could be happy and safe forever. He'd always felt like there was a great well inside of him, an emptiness of sorts, and the only way to fill it was to give back. He used to painstakingly craft care sheets – what sorts of cheeses Drackonacks prefer, temperature preferences for Magmut, and how to keep a Slorg's slime coating in the best condition. Always at the library, or making trips to The Neopian Hospital, absorbing as much knowledge as he could, watching interactions and asking questions. It was never enough. Helping, growing, learning. Filling the well. But it wasn't just PetPets. For every box of abandoned Gruslen pups and every carelessly cracked Hippalop fin, there were Neopets. Equally homeless, equally abandoned, equally hurt. Maybe not physically, but hurt nonetheless. Their wells were empty, too, but they didn't know how to fill them. They had no one to help them. He could help them. He could. He would.
"The Happy Crystal" by icygirl2005
Dessinere gazed at her own reflection in the mirror, which was crystal clear. She sighed and wiped the tears which were falling from her eyes. She had never expected such a mishap to take place. In the reflection stood an Aisha, unhappy looking. She was full of gloom and darkness, grey from top to bottom. But there was a bright, rosy pink patch which cancelled some of the gloom from her. It was what she called her 'healing scar.' It helped to heal her wounds and stopped her tears eventually. It was the only component which supported her in her life of darkness. But how did she get this pink patch? Rather, a more accurate question would be-how did she become so grey and miserable? No Neopian would ever be able to digest the fact that the depressed Dessinere was once the happiest Neopian alive, four years ago. She used to be gracious, smiling and full of gaiety. She even won the Miss Neopia award. Until something disastrous happened, which left her life shattered. Dessinere's mother knew the most powerful magical spells in Neopia. Lord Darigan wanted her mother to teach him these, so that he could conquer Neopia. When she refused, he got angry and cursed Dessinere to become a Grey Aisha forever. He imprisoned Dessinere's parents in his dungeon. And that was when all the happiness was washed out of the Faerie Aisha. All she had now was a mistress, Rosemary to look after her and her expensive mansion which she resided in. All the glitter and glamour in her surroundings had no effect on her gloom.
---
Hatch Your New Friend Today!


This week's issue is brought to you by: The Draik Nest
Search the Neopian Times


---
Great stories!
---------
---------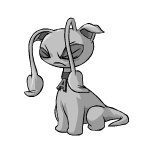 The Happy Crystal
Dessinere, who was once the happiest Neopian, was now downtrodden with showers of gloom and misery falling all over her.

by icygirl2005
---------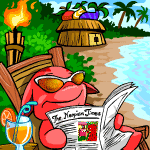 The Price of Greatness: Part Four
The hulking Gnorbu advances rapidly, visceral cries of rage oozing from his misshapen lips. Despite the imminent danger, your first thought is to question whether or not mutants brush their teeth. Your companions are cowering behind you, too paralysed with fear to move.

by xxskyisfallingxx
---------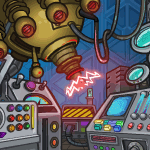 KATIPO I: Restart: Part Two
The alien's house is a castle-like mansion, perched on top of an empty mountain in Shenkuu like the nest of a lone Vullard. It's got cream-coloured walls and tall, red-framed windows with dozens of horizontal panes jutting through them.

by theschizophrenicpunk
---------
---