Your questions answered!


Read the answers to the most commonly asked Neopets questions this week in the Editorial section. Each week the most popular questions will be answered by one of the creators of Neopets, so keep checking back to stay updated.


---
Quote of the Week
"It's right over there, on that island ahead." They had flown around a maze of islands until they seemed to be in the middle of them all. As the three of them reached the beach, the Peophin stopped short and tilted its head towards the shore. "I can't go with you, but it's right over there. You'll know when you find it."
---
| | |
| --- | --- |
| For those of you Neopians who are burnt out or tired from tending to your shops, taking part in dailies, and participating in the Altador Cup, why not consider taking your Neopet on vacation? Now, I know what you're thinking: there are so many places in Neopia to visit, I can't choose! This article will provide you with a list of the ten best potential vacation spots in Neopia. | I would gladly plunk down a few dollars to buy them in real life, and take a few thoughtful bites just to see what they taste like. I'm probably not the only curious player, either! So here's a list of all the Gross Foods that don't seem to be gross at all! I hope you enjoy reading this list, because it was pretty fun to compile it! |
Is Your Chia a Fruit Yet?




Chias are known all around Neopia for their particular essence. A funny looking, somewhat potato shaped Neopet that is the only one, along with Kikos and Blumaroos, that you can't really compare to any sort of living creature in the real world. A Chia is indeed a charismatic partner, ready to be there for you in all of your adventures on Neopets; but what is it that makes them so especial?
---
Other Stories
"Invisible" by madidogs88
I am invisible. And I don't mean that in the sense that I'm one of those shy, insignificant, or soft spoken pets. I mean exactly what I say: I am literally Invisible. I have that Fyora-forsaken Lab Ray to thank. My name is Koda, and I used to be a perfectly content Christmas Kougra. I had a pretty good family; my owner wasn't the most attentive, but she made sure we were fed and entertained. And my siblings were alright; other than the occasional squabble we got along just fine. It was a good life- simple, predictable, satisfying. Nothing like my life here. Where is here? The Pound, of course. Where else would an unwanted, unloved, and unseen pet reside? It's hard to connect with someone you can't see. I've come to terms with it, though. I mean, if I were an owner in search of a new companion, I wouldn't want me either. I stopped there and held the page up to reread what I had written. I heard a squeal from the front of the cage. "Would you cut that out already! The flying pencil is bad enough, but now a floating piece of paper? You're scaring all the good owners away! If I wasn't stuck in this nut cage, I would be spending my days in the lap of luxury! The Royal Neopian, Faerie Castle, maybe even the Presidential Palace would be my home!"
"Farewell to Lynwood" by cosmicfire918
From the moment Suhel Caradoc laid eyes on the Lynwood School for Girls, she knew she did not belong there. The little Christmas-coloured Lupe poked out her snout from the window of her carriage, eyeing the grounds with distaste. The lawns were immaculate, the stately trees devoid of low-hanging branches for climbing, and the school building itself was the most boring grey monolith Suhel had ever seen. Even her parents' house was more interesting because they liked to buy expensive things to show off, but Lynwood seemed to scream dullness—or rather, to whisper it politely. Suhel's dark green ears drooped. Barring holidays, this was to be her home for the next seven years of her education, and she felt a pit of dread well up in her stomach. "You're slouching," her governess said. Suhel stiffened and clenched her paws in her lap, shooting an exasperated glare at the aging, thin-lipped red Blumaroo who sat across from her. She and Miss Matilla had never gotten along, but Father paid Miss Matilla too much for the governess to quit. "I can't help it," the Lupe muttered. "These boots pinch my toes and make my paws hurt. And you've braided my hair much too tightly." Sitting up straight was just too much to ask on top of all of the other discomfort Suhel was experiencing. Her long, curly black hair hung in two glossy plaits over her shoulders, although a few bits of frizz had managed to defiantly sneak their way free.
"The Malevolent Candy Vampire" by jhudora96
Tulse, by very nature—as he was a most fluffy Marshmallow Grundo—always loved all things sweet. In fact he dedicated his life to sweets and eventually opened up his own bakery where he handcrafted every delectable sweet he could dream up! When Tulse wasn't snacking on cakes and pastries, he was preparing them for all his customers in the heart of the Neopia market! And it was his love of sweets that inevitably led him to Wilburt the Candy Vampire, an evil little creature he discovered in a bag of candy corn and decided to make his very own petpet, despite the ominous sharp teeth and hateful glare. "I'm not sure this is a good idea," Tulse's owner had warned her pet while side eyeing the piece of candy corn with impossibly sharp teeth, but Tulse could not be deterred. He was in love with his strange little petpet. Only…despite Tulse's best efforts to appease the delicious but evil petpet, Wilburt was, as some would say, bad to the bone. At least once a day, Tulse would be busy at work in his bakery only to discover that a bunch of ingredients—usually the rare and expensive ones—were missing. He would later find Wilburt relaxing in the back pantry with gourmet chocolate smeared on his mouth and a smug expression across his face. Wilburt also had a tendency to scare away customers. One of his favourite games was to hide in the display jar of candy corn Tulse set out in the front shop for young Neopets to snack on while they ordered. Wilburt would wait for a pudgy little paw to reach down eagerly in the jar, and then would sink his sharp, unruly teeth in. The Neopet would burst into scream or cry and the owner, in horror, would immediately scoop their pet up and claim to Tulse, "I won't be coming back here!"
---
Read a Book This Summer!


This week's issue is brought to you by: Magical Bookshop
Search the Neopian Times


---
Great stories!
---------
---------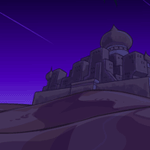 Desert Requiem: Part Six
The Temple of a Thousand Tombs was an extensive underground network of crypts that forked beneath large tracts of the desert, including Qasala. There were several entrances into it from the surface, including one that was located within the Palace of Qasala itself.

by kalnya
---------
---------
---------
---