Your questions answered!


Read the answers to the most commonly asked Neopets questions this week in the Editorial section. Each week the most popular questions will be answered by one of the creators of Neopets, so keep checking back to stay updated.


---
Quote of the Week
Brendon groaned. He had just been dragged into the middle of the one desert in Neopia that happens to be experiencing a blizzard as part of his sister's daily rituals, and now he had to save the world? This was not his day.
---
| | |
| --- | --- |
| The fun yet stressful Daily Dare is finally over! Everyone's hard work should now be rewarded with that shiny gold trophy if you have successfully beat AAA's score in all twenty games. To cap off this year's Daily Dare, let us recall some of those toughest challenges that had us on the verge of tears! | Are you perhaps on of the lucky Neopian who have access to the Rainbow Fountain? I have decided to compile a guide on what you can use your Rainbow Fountain Pass for. Regardless of whether it is your first fountain access or if you are a veteran fountain visitor, this guide is sure to provide you with some ideas to utilise your Rainbow Fountain Pass meaningfully! |
How Well Do You Know Tyrannia?




So, it's finally Month of Hunting in Neopia. Do you know what happened during this month in previous years? Tyrannia was finally able to beat the invaders during a tough skirmish and bring peace to their home. That's definitely a day to be celebrated. However, in this guide I'm not discussing the war event itself, I'm trying to disseminate Tyrannia's fascinating culture. Let's get started!
---
Other Stories
"Dixie's Wings" by she_chose_love
Did you know that faeries are not born with their wings? They have to work hard to earn them. It's crazy right? When everyone thinks of a faerie they immediately think of huge, gorgeous, colorful wings. In reality, most regular people do not know how much hard work and effort it takes for a faerie to actually earn their gorgeous and colorful wings. Let me tell you the story of how Dixie earned her wings. It was a day like any other, Dixie was playing with her friends after neo-school. It was bright and sunny, the sky was a clear crystal blue, birds were chirping, children were laughing, everything was great. Then there was a loud, ear shattering scream. It sounded like the world had stopped spinning. All of Dixie's friends froze, no one had ever heard a noise like that before. They all knew something had to be very wrong. "What was that horrible sound?" Dixie wondered, her thoughts were quickly interrupted by another ear shattering scream. She didn't even stop to think, before she knew what was happening, she found herself running. Dixie did not know where she was going, but she knew that she had to get there fast. She ran for what felt like seconds, but in these moments, she covered a lot of ground. Looking around, Dixie realized that she was running through a forest. She kept running and running, somehow she knew right where she was supposed to go. As Dixie kept running she knew that she was close to the place she was running to. Suddenly Dixie saw a rushing river up ahead, with a little blue Poogle standing right beside the river. The Poogle had a terrified look on her face. Dixie ran over to the Poogle and asked her if she was okay. The Poogle said that she wasn't okay and upon further conversation, Dixie learned that her name was Tawny and she was the one screaming.
"A Beautiful Blumaroo and her Mystical Treasure" by _brainchild_
"Good morning, young Neopet," Naia the Fountain Faerie greeted Tivlia the Blumaroo. "Have you found the item I asked for?" "Certainly!" replied Tiv. "One Gypmu!" She placed the petpet in the palm of the faerie's hand. "I hope it doesn't bite." "It won't," stated Naia. "Gypmus are very timid." She set the petpet aside. "May I please have my reward?" asked Tiv. "Sure," answered Naia. "Which color would you like?" "Maraquan," Tiv smiled eagerly. "Of course." Tiv stepped into the fountain and grinned as the wondrous waters swirled around her. Rainbows danced across her skin as it changed color. However, something wasn't quite right. When the process was over, Tiv was horrified to find that she had been painted Maractite, not Maraquan. "What gives?" Tiv blurted out. "I asked for Maraquan!" "Maraquan?" replied the astonished faerie. "I'm so sorry! I thought you said Maractite, not Maraquan!" "Could you please repaint me?" requested Tiv nervously. "I would, but the magic has run out!" frowned the faerie. She thought for a few seconds, then added, "Raincheck. Please come back tomorrow when the magic has been replenished, and I'll repaint you. I'm so sorry about this!" "Okay," replied Tiv. She left, somewhat disappointed. However, the problem wasn't devastating to her because she knew it could be fixed the following day. The next day, Tiv returned to the fountain excitedly. "Good morning, Tiv," the faerie greeted her.
"The Hidden Treasure" by redken9x9
I rode down to the river one morning to see the spring blossoms bloom. My eyes were focused on the ground there, with each step a piece of earth crunched under my feet and the grass bent toward my way. Bending for an old Gnorbu, life and vitality bowing to time-worn straits. Upon that morning, it was my usual habit of looking down the river towards the Springs when I noticed something odd and out of place. I strode up to this peculiar articulation of disorder, some poor Acara kneeling down upon the ground in a state of distress. She seemed withered from grief, and bound to collapse - so I stayed close. Asking after her, I inquired if everything was alright. She told me that nothing was alright – that her little brother had no means to sustain himself and no support to address his want. I asked after her again, to which she redirected my attention to her little brother. I assessed that this Acara, though smartly dressed and neatly put together in character and charm, must have found herself in dire circumstances if she was so desperate as to confide in a total stranger about her affairs. I accompanied her for the rest of the morning, and sat tenderly by her side as she told me of the trials she and her brother had endured.
---
Celebrate Our Victory!


This week's issue is brought to you by: Tyrannia
Search the Neopian Times


---
Great stories!
---------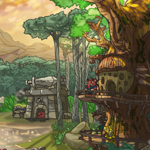 How Well Do You Know Tyrannia?
That's definitely a day to be celebrated. However, in this guide I'm not discussing the war event itself, I'm trying to disseminate Tyrannia's fascinating culture. Let's get started!

by mazaii_3
---------
---------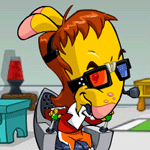 The Three Hardest AAA Challenges for Daily Dare 2016
The fun yet stressful Daily Dare is finally over! Everyone's hard work should now be rewarded with that shiny gold trophy if you have successfully beat AAA's score in all twenty games. To cap off this year's Daily Dare, let us recall some of those toughest challenges that had us on the verge of tears!

by feedthefrog
---------
---------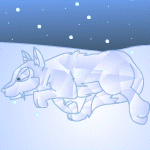 Reign of Ice: Part Two
Brendon groaned. He had just been dragged into the middle of the one desert in Neopia that happens to be experiencing a blizzard as part of his sister's daily rituals, and now he had to save the world? This was not his day.

by neolikepets
---