Your questions answered!


Read the answers to the most commonly asked Neopets questions this week in the Editorial section. Each week the most popular questions will be answered by one of the creators of Neopets, so keep checking back to stay updated.


---
Quote of the Week
Five to midnight, and I was standing outside the hospital with a hulking big ladder under my arm. Not how I usually spent my Saturday nights, let me tell you.
---
| | |
| --- | --- |
| As the weather begins to warm you might be ready to step away from slow cooked, hearty stews. You might fancy a picnic in the crisp, clear sunshine with some seasonal fruit and veg. Or, when those little April showers soon hit, you might still want something a little warming to keep you toasty! | We've all had times when we are so busy we barely have time to eat and sleep, let alone find time to feed and play with our Neopets. Rather than let our accounts languish, there are some things that you can do to keep your account moving forward, even in the busiest of times. |
Character Re-Introductions: Topsi




Welcome to Character Re-Introductions, a spinoff series of my Character Introductions series! While in Character Introductions I interview newly introduced characters to the site, in Character Re-Introductions I interview an already established character who had recently came back to everyone's attention. This time I'm interviewing the Cybunny who's been the host of the Festival of the Neggs for the past two years now: Topsi.
---
Other Stories
"Emergence" by alioldman
"What an eerie place," she mumbled under her breath. She was a young adult Flotsam, and said "eerie place" was the Neopia Central Pound. "Now don't be rude, Mist," chided something that had chosen to look like a small star hovering over her shoulder. "We don't want to insult our guide, do we?" "I don't think you can see what I see," the Flotsam, who did go by Mist whispered in response. "I don't. But I think I have some idea. Cages in disrepair that go on forever, none empty that you can see. Something like that?" "You're way too calm about this," Mist muttered. Her companion apologized as best he could. "Sorry about the mess," the pink Uni leading the way said. Common consensus was that her name was Rose, but almost no one bothered to ask her whether that was correct. "I keep telling them that we need better construction and supplies, but they haven't done anything but install more cages since they built the transfers department – and that was years ago now." "Time flies." "I'll admit, it's really hard on the Neopets that live here – and even the others who work here," Rose continued quietly, as they walked past another cage containing a green Korbat leaning against the wall of their cage. "Poor Dr. Death seems to have snapped, now that he knows that pets left with him will never have someone lined up and waiting to get them out quickly again."
"The Rise of Altador" by kittenbags3
A day came, a day like no other. A day that could not have been foreseen, not even by the most talented oracles that have been forgotten deep within the lost desert. Neopia was no longer a place of joy or adventure. Twas no longer a place where the innocent could roam freely and do as they please. The invaders had taken all of that away. No other moment had united Neopia in the way that the invaders did. The danger undeniable, the solution was clear: unite or die. And so it was that all of Neopia stood united, united against the invaders. It was the Grundos that first warned the rest of the lands. Above the atmosphere, working within the Virtupets Space Station, the advanced Grundo technology detected the invaders long before they arrived. No one knew before then just how brave the Grundos truly are. That noble species evacuated every non-Grundo from the station, sending only the Grundo children back down to the surface. After warning every nook and cranny of Neopia's surface of the coming catastrophe, the Grundos sprang into action. It was known that the Grundos were smart, that could never be denied. But it was known by few how prepared they were, how selfless. With a few buttons pushed and switches switched, the Space Station transformed. Within moments the seemingly harmless satellite had become a weapon. A battle ship of the cosmos. Flashing lights of every
"Confessions of King Skarl's Hair Stylist" by redken9x9
I've been told that many people would – What? I can't say that word? Fine. I've been told that many people would MURDER to have my job. I say – YOU CAN HAVE IT! My name is Marcel Picklesby. Like anyone else, I was foolish enough to think that working for royalty would land me in the spotlight and get me featured on the Neopian Times for my dazzling artwork and suave sense of style. Instead, I'm featured on the Neopian Times for completely different reasons. I'm here to clear up the confusion behind my departure from Meridell Castle and I want all of Neopia to know the truth. I came on board shortly after all the drama with Kass concluded. The hair stylist before me disappeared after a fatal encounter with Kiss the Mortog. Poor thing! I do believe the Mortog's are responsible for more fatalities than Darigan and Snow Roller combined. It's gotten so bad in fact that a new swamp is forming right on the borders of Meridell! What is that majestic green pond you ask? Why, it's none other than a myriad of a Mortog guts and Avvie Collector tears! But I digress. Dear friends, the real reason I'm speaking to you today is for the sole purpose that you do not fall victim to the senseless mind control that Skarl is not only inflicting upon the inhabitants of Meridell, but on the whole of Neopia itself.
---
Come Challenge Us!


This week's issue is brought to you by: Daily Dare
Search the Neopian Times


---
Great stories!
---------
---------
---------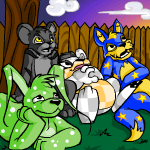 Finding Time For Your Pets When Life Gets Busy
We've all had times when we are so busy we barely have time to eat and sleep, let alone find time to feed and play with our Neopets. Rather than let our accounts languish, there are some things that you can do to keep your account moving forward, even in the busiest of times.

by katehoughtonbeckett
---------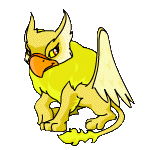 Emergence
"Sorry about the mess," the pink Uni leading the way said. Common consensus was that her name was Rose, but almost no one bothered to ask her whether that was correct. "I keep telling them that we need better construction and supplies, but they haven't done anything but install more cages since they built the transfers department – and that was years ago now."

by alioldman
---------
---