Your questions answered!


Read the answers to the most commonly asked Neopets questions this week in the Editorial section. Each week the most popular questions will be answered by one of the creators of Neopets, so keep checking back to stay updated.


---
Quote of the Week
Chloe had been disoriented from the start, but now she was sure she'd gone off the deep end. She'd been teleported to some unknown location, chased by guards, found a room filled with the most ridiculous data she'd ever seen, and now she was confronted by a Pteri who looked too much like a much older version of her brother for comfort. She kept her blaster trained on him, just in case he made any sudden moves. "Huh, you recognized me. I didn't realize you saw enough of our family to recognize us after all this time," the Pteri said. Chloe almost asked what he meant by that, and then realized that she was currently Morphica, not Chloe. Her family wasn't in on that secret yet. She frowned and said, "I don't know what rubbish this is, but Bluejay is a kid and you're not. Now, I want out of this facility, and you're either going to help me, or you're going to take a nap while I find my own way out."
---
| | |
| --- | --- |
| It began so insidiously. I signed in just to do a few dailies, mostly just for the fun of it: Fruit Spin (because I was eternally hopeful for an Eventide Paint Brush), Tombola (because the Tiki Tack Man missed me if I didn't pay him my daily visit, and occasionally he tossed a nice codestone at me), and Coltzan's Shrine (because who in her right mind wanted to miss out on free stats?). I made sure that I collected my paltry interest each day with the reasonable anticipation that my meager fortune would grow. And of course, I visited the Shop of Offers. The fifty or a hundred Neopoints I got weren't what motivated me to go there. Mainly, it was because that smiling Slorg who always greeted me was just so cute. Then along came Anchor Management and Forgotten Shore and (dear blessed Fyora!) a chance to win a Draik egg or a morphing potion. From then on, you couldn't pay me to stay away from those two dailies. The first time that glorious and conveniently placed little shovel in the sand at the shore resulted in a Draik egg I knew that I was hooked. | Oh Valentine's Day. The day that so many of Neopians look forward to. Does the sight of all those hearts make you feel sadness? What about all of those people talking about love? Don't you just adore all the hearts and romantic gestures of love? No? Then read on. It may seem like everyone but you is receiving flowers, cards and chocolates today. Who decided that's what Valentine's Day was all about anyway? What happens when you hate Valentine's Day or feel nothing but apathy towards it? Well this is a guide for you! Here are some ways to spend your day and beat those Valentine's Day Blues. |
Valentine's Day Gifts For Your Neopet!




Valentine's Day is all about celebrating with those you love, so why not splash out on your Neopets this year, to show how much you appreciate them. In case you may be falling short of some ideas of what to get your pet this year, here are some great ones that you can't go wrong with!!
---
Other Stories
"Super Secret Club: The Valentine's Venture" by xpninja
In the garden of number forty eight, Rainbow Lane, Neopia Central, stands a tree house. But this is not just any treehouse. This treehouse is the headquarters of the Super Secret Club. It's Super (of course) and Secret (naturally) and the Club risk their lives on difficult, dangerous missions, like retrieving the ball that fell into Mrs-Jenkins-Next-Door's garden, and taming the wild Warf that somehow managed to crawl through the hedge. There's no mission too big, no task too terrifying. They will work tirelessly to ensure that justice prevails in the garden. Until nap time, that is. Now that Christmas is over, the tinsel is down. Ornaments have been packed away for another year. Snow has transformed into rain. Everything is back to normal. Well, it was, until about a week ago. The shop owners of Neopia Central seem to have conspired together. Now, the streets are exploding with hearts, bunches of flowers, and reams of red and pink fabric and lace. The Chocolate Factory has been shipping out their most luxurious delicacies in box upon box. Pairs of residents walk hand in hand, seemingly overcome by a seasonal affliction.
"A Watery Reunion" by light_faerie382
It was a stormy night in the Month of Awakening. Even at this time of the year, the last vestiges of winter were displaying their full force across Neopia. Thick blankets of snow covered the lands near the poles, and even along the equator there were strong blizzards and icy winds blowing at freezing temperatures. Krawk Island was no exception. In fact this whole month nothing but heavy black clouds had filled the skies in that part of Neopia, drenching the whole island in a constant downpour. "Month of Awakening indeed," the Usul thought. This particular character was no ordinary character. He had been hailed as a war hero, he and his crew celebrated for the saving of New Maraqua. There had been a big celebration, lots of feasting and plentiful riches and rewards. Instead, he turned his back on the offer of a life of luxury in Maraqua in favour of a life of adventure, sailing the seas and plundering for even greater treasures. Fame and fortune had been his, even getting an article in the Neopedia and a spot in the Gallery of Heroes. However, instead of lapping up the fame he went off to continue his life as a pirate. He had all but disappeared from public eye ever since then, yet kept an ever-watchful eye on Maraqua.
"Valentine's: A Day of Companionship" by sha2196
A lone Aisha sighed as she rocked herself on the swing. Valentine's Day… She thought morosely. Valentine's Day was a day of companionship, but she had no one to spend it with. She stood up and slowly trudged home. On her way home, she caught sight of the Wishing Well. Now, the Aisha had always believed that wishing wells didn't work, but well… She stared at the 25NP coin she had, and tossed it into the well. She looked around her quickly to make sure that no one else was around, and said aloud, "I wish that I would have someone to spend Valentine's Day with." That said, the little Cloud Aisha blushed and scurried away like she was running away from embarrassment, desperately hoping that she hadn't just made a fool of herself. Unknown to her, a Fire Faerie that was passing by heard her. The Fire Faerie's name was Gloria, and true to her name, she was a romantic at heart. "No one should have to spend Valentine's Day alone. I know! I'll help that little Aisha!" Gloria rubbed her hands together and began planning, a wide grin on her face. The next day, the Aisha found a mail in her mailbox. She stared at the pink letter, with a heart-shaped sticker sealing it. She rubbed her eyes, and was sure that she had just smelt perfume. She blinked again, looking around her, as if the culprit would still be standing around. When she saw no one, the Aisha sighed and tore open the envelope. She pulled out a rose-pink letter with flowery red writing. "Is this a joke?" She asked aloud, and read its contents.
---
Search the Neopian Times


---
Great stories!
---------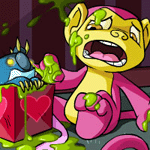 Valentine's Day: A Guide to Survival
Oh Valentine's Day. The day that so many of Neopians look forward to. Does the sight of all those hearts make you feel sadness? What about all of those people talking about love? Don't you just adore all the hearts and romantic gestures of love? No? Then read on.

Also by dutchese159



by krispykritter6
---------
---------
Super Secret Club: The Valentine's Venture
Now that Christmas is over, the tinsel is down. Ornaments have been packed away for another year. Snow has transformed into rain. Everything is back to normal.

Well, it was, until about a week ago. The shop owners of Neopia Central seem to have conspired together. Now, the streets are exploding with hearts, bunches of flowers, and reams of red and pink fabric and lace.



by xpninja
---------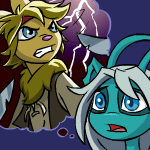 A Watery Reunion
It was a stormy night in the Month of Awakening. Even at this time of the year, the last vestiges of winter were displaying their full force across Neopia. Thick blankets of snow covered the lands near the poles, and even along the equator there were strong blizzards and icy winds blowing at freezing temperatures.

by light_faerie382
---------
---