Your questions answered!


Read the answers to the most commonly asked Neopets questions this week in the Editorial section. Each week the most popular questions will be answered by one of the creators of Neopets, so keep checking back to stay updated.


---
Quote of the Week
I was a squire before him, you know. Four whole days. I mean, I guess that doesn't seem like a lot... but it is, I swear. I trained officially with my sword before him, and I got sent into those disgusting sewers before him, and I woke up at the crack of dawn before him, and I think I might have even been Master Torak's favourite before him — I swear. But, you know, the day he came in, there was this... aura around him, like he was constantly surrounded by light motes. I mean, he did seem to always be carrying motes around, and have them equipped to his weapons and all that, but that's not what I mean. I mean he just seemed special, you know? Like he was meant for great things. He had a hero's glow before he was even a hero. I really, really, envied that.
---
| | |
| --- | --- |
| Another year has gone by, and Y17 certainly gave us a lot of nice Neopet colours. It saw the release of a brand new Paint Brush, and most Neopet species were treated to two lovely new colours at the Rainbow Pool. Looking back through the entire year, at all the new colours, I have chosen my favourites from each month. So not all colours and species will be represented in this list, which is just made up of my personal opinions. They`re not ranked, simply listed in order of release. | Hello, Neopia. My name is Claire, and today I've ventured into the Haunted Woods to have a chat with everyone's favorite Kacheek: Eliv Thade! He's been nice enough to lead me safely through his castle (so far) to the library, where I now sit by a warm fire on a very dusty couch—but I'll write that off for his lack of servants. While Thade prepares himself for my questions (he mentioned something about tidying his bandages), I try to make myself at home. |
Celebrating Kacheek Day as a Newly-Morphed Kacheek




But what is a Kacheek to do on Kacheek Day when one has only recently become a Kacheek? Ponder no longer, my newly-turned-Kacheek readers, for I have created a handy guide to celebrating our signature holiday.
---
Other Stories
"Zapped and Pounded" by light_faerie382
Drip, drip, drip…. I looked up at the ceiling. Water dripped from a newly formed crack onto the stone floor. Great. Another problem to make my life in here more miserable. I looked around my cage. There was no way to tell if it was day or night, not in this dark, windowless space. The only furnishings the room held was a small cot and a sink in the corner. My food and water bowls were empty, not that they were very full to start with. Three stone walls surrounded me, my only connection to the outside world being through the rusty bars of the cage. The pink Uni walked by my cage and stopped in front, giving me a sad smile. "How're you doing, One?" I regarded her wearily. She was a kind soul with a gentle heart, but even so, there was only so much she could do, only so far her kindness could spread over those of us at the Pound. And there were so many of us. "My ceiling is leaking." She peered up at the dank, dark ceiling. "Oh dear. I'll see if I can find a bucket somewhere." "Thanks." I settled back with a sneeze. "Still no luck with a cure?" "Afraid not. I'm sorry One. The pharmacy only has so many Magic Cookies…" I sighed. "It's okay. I didn't have high hopes." I never have high hopes for anything now.
"He'd Have To Wait" by jrayeb3
The foliage was springy underpaw as Lopez stepped through the jungle, a camera strung around his neck. After a pawstep, the leaves would jump right back up to where they had been a second before. As the Kougra walked on, the sun grew fainter and fainter, the surroundings growing dark. Bright green plants changed into dark bushes as he walked on. The Blugar on his shoulder made a soft purring noise in his ear, as if to reassure him. Muttering soft, soothing sounds to the petpet, Lopez continued to walk into the increasingly dark area. He turned his head. Behind him was where he had started. The sky bright colors, sand, palm trees... vaguely visible in the distance. Here, everything looked wilted. The trees were curved, the shrubs were dying, and the ground was black and hard. Vines covered his face, which he used his large paws to move away. Thorns pierced his fur, which stung, but he kept walking, the camera bouncing on his chest. He looked up. He had arrived.
"Tallydepp and the Imperial Exam" by Tallydepp
Tallydepp, the Royal Uni, galloped home from school, full of nervous excitement. "Woah!!" exclaimed her mum, as Tallydepp came hurtling through the door. She put the Uni cake she had just baked in the oven on the kitchen table and wiped her hooves on her apron. "Whatever has happened?" she asked. Uni cake was Tallydepp's favourite food and usually the sweet aroma would stop her in her tracks, but today the excited Uni didn't even notice. She pulled a letter from her school satchel, her hooves shaking slightly. "Look! Look!" she cried. "I've finally been selected to try out for the Imperial Exam!" Tallydepp's mum gasped with delight. "Oh my dear Uni daughter, I know how hard you've worked for this and how much it means to you!" She pulled Tallydepp into a tight embrace. "I'm so proud of you!" Tallydepp laughed nervously. "It's only an invitation to try out for the exam, Mum. I might not even pass and get in. I've still got lots of studying to do yet. I've only got two days to revise all my spellings." "I'm sure you'll do fine," Tallydepp's mum said encouragingly. She cut a slice of Uni cake. "Here, have some cake to celebrate."
---
Search the Neopian Times


---
Great stories!
---------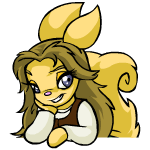 Hannah's Adventures: the Kreludor Caves
You control Hannah – and this time, unlike Ice Caves, it's only her – and your mission is to collect treasure chests around the map, and when you are done, enter the door. If you have ever played Pirate Caves or Ice Caves I am sure you know that even though it sounds simple, it isn't.

Also by guik44



by saudadesdagripe
---------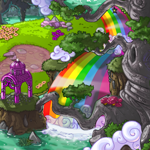 Y17 In Colour
Another year has gone by, and Y17 certainly gave us a lot of nice Neopet colours. It saw the release of a brand new Paint Brush, and most Neopet species were treated to two lovely new colours at the Rainbow Pool. Looking back through the entire year, at all the new colours, I have chosen my favourites from each month.

by aleu1986
---------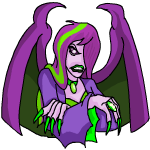 Unconventional Uses for Jhudoras Fingernails
If you've taken a look at any of the Jhudora-themed wearables lately, you will have noticed the hideousness of the Jhudora Fingernails. To be fair, there are some good Jhudora wearables out there, but as a general rule, these fingernails aren't the classiest of the bunch.

Also by 0123kl



by bha288
---------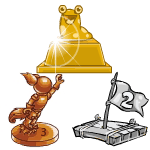 Judging the Best and the Worst Game Trophy Designs
Not all trophies were made equal however. Some are quite beautiful, in both design and representation, while others don't quite meet the mark, or a plain eyesore for the typical to even want to glance. After carefully judged all the available trophies, and a few cups of tea, a team of experts have come up with a list of trophies that will add… visual spark to your User Lookup.

Also by lute248



by xiaolin10413
---------
---