Your questions answered!


Read the answers to the most commonly asked Neopets questions this week in the Editorial section. Each week the most popular questions will be answered by one of the creators of Neopets, so keep checking back to stay updated.


---
Quote of the Week
In her room, Philesia threw the trophy to the corner of her room. She couldn't believe she had ever felt pride for receiving it. It was only a second-place trophy, after all. She stalked back and forth, wishing she could punch something. She had entered the Beauty Contest countless times. She had advertised as much as she could, she had talked with voters. And Thunder, who had never entered the Beauty Contest before in his life, who had never shown even the most basic interest in beauty or fashion, had beaten her. The brightly colored Orange Kreludan Bed caught her attention. She stared at it in disgust. It was no better than the silver trophy, and she had been content to settle for it as well! There was a light knock on her door, but Philesia continued to pace and ignored it. After a few moments, when it was obvious she wasn't going to respond, Lina pushed the door open. "Philesia? Can I come in?"
---
| | |
| --- | --- |
| The month of celebration is a time to be merry, eat, give, and be together with loved ones. My favorite time of the year is almost upon us and I can't wait to celebrate this festive occasion with everyone. People celebrate the month of celebration in different ways. You can decorate your neohome and garden with festive decor, colors and lights. It's time to dust of your Christmas tree in the back of the closet, get out all your Christmas ornaments, untangle your Christmas lights and garlands, and start thinking of all the gifts you'll be giving your loved ones. If you love it as much as I do, here are a few things you can do to start the best month of the year. | The Month of Celebrating approaches and with it comes a warm (or cold!) atmosphere between fellow Neopians, followed by several activities of merrymaking and gift-giving. This is the time of the year to sit back and enjoy a warm cup of borovan as you listen to different Neopets singing soothing songs, and it is also the time to be going out and chucking snowballs at your friends! There are just so many things to do all month long, so I've decided to create a list to help you and your friends make the absolute most out of this merry month. You can choose to do one activity per day, do everything in one go, or do everything again and again every day! |
Unordinary Holiday Colours




It's the Month of Celebrating and all over Neopia (especially in Terror Mountain) Neopets are being painted Christmas and Snow while others are hoping to be zapped Ice by the Lab Ray. But what if your Neopets aren't the type who wants to be festive 24/7 or can be easily melted at room temperature? You still want them to be painted for the upcoming holidays but the immediate choices aren't your style. With so many Colours available there must be one that will help you celebrate the holidays while also fitting to your Neopet's personal tastes.
---
Other Stories
"Pay It Forward" by purpledaisychain
Being a newbie in Neopia isn't all it's cracked up to be. Between my little yellow Aisha JessaBlessa (Jess for short) and I, we barely had two neopoints to rub together. Usually our days involved little more than a tour around Neopia, visiting the tombola and taking a chance at the Poogle races. But every so often we struck out on an adventure, something unusual or exciting… Our biggest adventure started out like an ordinary day – at the giant omelette, scrounging for a spot of breakfast. "You know, I'm not entirely convinced this is hygienic." Jess commented, staring up at the mound of egg and cheese in front of us. "I mean it's out in the sun all day roasting away and we just go up to it and pull a piece off? How do I know it's not going to give me some illness?" "Jess it's magic." I explained patiently. "But by all means, if you'd rather starve, I'm quite happy to walk away." "Hey let's not be too hasty…" Jess replied quickly. I laughed as her stomach gave a huge rumble. Sounded like hunger had won out over any concerns she had. Together we took a few steps forward and tore a handful off the giant omelette. Cautiously, we gave it a quick sniff – despite all my reassurances that it was safe we had got a rotten omelette in the past. Today it looked like our luck was in though; it smelt like bacon.
"Inside the Bottle" by frenchleijon
"Here you go kid – I guess you earned it." Rough hands reached into the large blue bag and grabbed the earth faerie's bottle and a codestone. Both were immediately placed into another set of hands. "Oh boy, theses will sell fantastically! Wait until I get home to show mom!" the young Kougra exclaimed, and took off towards his home. Aethia bounced around in her bottle, having been shrunk down to a little over the size of an apple. It was difficult to see out of the green tinted glass, but she watched her bottle being placed on a shelf next to bottles similar to hers. A small white sticker was then placed on the glass, over most of her field of vision. Aethia struggled to make out the letters – 100 neopoints. Aethia never meant to get caught up in this mess. She didn't even really remember how it happened. She remembered running off to play in the forest, wanting to pick flowers to bring home to her friends. Natalie, a water faerie, never got out much to really enjoy the forest. Aethia would trade her flowers for coral, which she made all sorts of cool decorations out of. It happened before she realized it, but suddenly Balthazar had her corked up tightly in a bottle.
"Spacerocked! Exposed" by vanillafilth
Deep in the bowels of Kreludor incessant chattering permeated the air, radiating from a small nondescript building. Within said buildings walls was a cozy meeting room, plush seats lining the long ovular table, a small portable heater cranked up to a cozy medium despite the absence of any cold. The chatter came from a gathering of Grundos, each seated in one of the aforementioned chairs. Most of their shared words were nothing but small talk about the not-weather, while a few discussed the latest jet pack upgrade. All voices ceased when a looming figure entered the room, door slamming shut behind them. With a flourish of his dark cape, Dr. Sloth strode to the front of the room with a grace afforded by the grandiosity of his evil. Or so he chose to perpetuate. "I'm sure the lot of you wonder why I've asked to meet with you," he drawled, booming voice reverberating off the walls. One of the Grundos whimpered. "I'm aware of a game the lot of you play, one in which you slingshot rocks with the hope of taking down my spaceship."
---
Search the Neopian Times


---
Great stories!
---------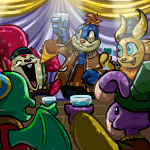 20 Things To Do this Month of Celebrating
The Month of Celebrating approaches and with it comes a warm (or cold!) atmosphere between fellow Neopians, followed by several activities of merrymaking and gift-giving. There are just so many things to do all month long, so I've decided to create a list to help you and your friends make the absolute most out of this merry month. You can choose to do one activity per day, do everything in one go, or do everything again and again every day!

by milestrong
---------
---------
---------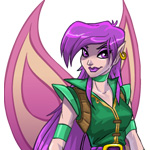 Inside the Bottle
Aethia bounced around in her bottle, having been shrunk down to a little over the size of an apple. It was difficult to see out of the green tinted glass, but she watched her bottle being placed on a shelf next to bottles similar to hers. A small white sticker was then placed on the glass, over most of her field of vision. Aethia struggled to make out the letters – 100 neopoints.

by frenchleijon
---------
---