Your questions answered!


Read the answers to the most commonly asked Neopets questions this week in the Editorial section. Each week the most popular questions will be answered by one of the creators of Neopets, so keep checking back to stay updated.


---
Quote of the Week
We walked a couple hundred of metres inside the hallway after arriving at the DoN before I heard someone call out my name, and that person did not seem too happy, judging by the sound and tone of his voice. Immediately, I knew that it was my boss, but I still turned around to face him, wondering what he wanted with me. After coming up to me, he demanded why I was not working with the 'low-life scum' LPD. I guess the LPD was furious at the insult as Solar Flare, dressed as the Meridell hero, Jeran, immediately went over to him and told him that I was on duty before threatening to take him to Judge Hog if he insulted them again. After silencing my boss with the threat, we continued on our way to one of the boardrooms.
---
| | |
| --- | --- |
| Halloween is just around the corner, and many Neopians enjoy getting into the spirit by dressing up their Neopets, creating spooky avatar and font combinations, or decorating user lookups. While these are all fantastic ways to celebrate the occasion, Neopians often overlook their 2.0 Neohomes. It's time to rest easy, Neopia; this article is here to help you with your Halloween decorating needs, no matter your financial situation. Listed below you will find expensive "splurge" items paired with great, affordable "steal" alternatives that fit even the smallest budget.* | It's that time of year again: the night seems a little bit darker, the air seems a little bit colder, and pets are dressing up in costumes to celebrate Halloween. While you are trick-or-treating this year, keep an eye out for one of these Neopian figures who are wicked, dark, or just plain evil. Without further ado, here are 12 famous spooky characters that make some of the trendiest Halloween costumes this year. |
Spooky Foods – A Guide for Partygoers




Do you feel a sense of dread when friends invite you over for a traditional Halloween party? Does your stomach turn just thinking of Spooky Food? Fear not, this article will help you discern delicious treats from suspect meats as you navigate your way through a Spooky Foods buffet without upsetting your host
---
Other Stories
"Like Clockwork" by xxskyisfallingxx
Frequenting haunted houses is not your idea of fun. Yet, for reasons you cannot fathom, you find yourself creeping up the rickety stairs and slipping inside before the door creaks shut. The darkness is pressing; almost suffocating. You shuffle forward a little, arms outstretched to prevent any potential collisions. Even once your eyes have adjusted to the gloom, it's nearly impossible to see anything further away than a few paces. Dust billows around your ankles in little puffs as you move forward. Each step is a journey into the unknown. As you inch closer to the centre of the dilapidated lobby, you can just make out the vague shape of its furnishings. Everything is covered in ghostly drapes, but that doesn't stop your mind from filling in the blanks. Is that really furniture? What if someone's hiding under the drapes? Did that Lupe-shaped bundle just shift? You're not sure, but your heart quickens all the same. As a Chia – and a yellow one, no less – the idea of encountering a Lupe fills you with dread. But this is just a fairground attraction, right? At least that's what you tell yourself. The place has been abandoned for years, so nothing bad could possibly happen.
"Super Secret Club: Halloween Havoc" by xpninja
Summer has passed Neopia by: The once-green leaves have been replaced by a rainbow of reds, oranges and yellows. Carts of vegetables line the streets, peddled by stallholders who have ditched their sunglasses and sandals in favour of scarves and the occasional woolly hat. Shop after shop is bursting with seasonal decorations. Yes, it is most definitely autumn in Neopia Central. It's also autumn at number forty eight, Rainbow Lane. The Super Secret Club are hard at work, creating Spyder webs with glittery glue, hanging papery ghosts from the ceiling, and sampling just a few pieces from the groaning bowl of chocolate and sweets (pre-wrapped, of course.) on the coffee table. Al munches on one of his new favourite pumpkin spice cookies, trotting around to admire his friends' handiwork. "This looks super great!" he enthuses, giggling at the enormous rubber Spyder stuck to the window. "I can't wait to go Trickle-treatin' tonight!"
"Friday: Therapy Session II" by vanquishee
After reading the Neopian Times and seeing the rave reviews about Neopia's famed Psychologist who could explore anyone's underlying behavioural and socioemotional problems about themselves, The Neo-citizen took it on himself to see him. Initially, The Neo-citizen never believed in psychology - to him it was just another money-grabbing scheme, but after reading the reviews and seeing a familiar tyrant, who was known in Neopia Central for raining on people's day, profusely apologizing and trying his best to rectify all the wrong he had done in the past, he figured he'd try it out. The reason being was because The Neo-citizen desperately needed a good night's rest. Due to his lack of sleep, his quality of work had declined and his employer was getting fed up.
---
Spells, Potions and much, much more...


This week's issue is brought to you by: Edna's Tower
Search the Neopian Times


---
Great stories!
---------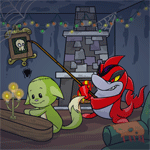 Splurge or Steal: Neohome 2.0 Halloween Decorating
Halloween is just around the corner, and many Neopians enjoy getting into the spirit by dressing up their Neopets, creating spooky avatar and font combinations, or decorating user lookups. While these are all fantastic ways to celebrate the occasion, Neopians often overlook their 2.0 Neohomes.

by a_ramsell
---------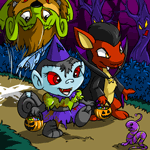 Halloween Costume Ideas: 11 Spooky Characters
It's that time of year again: the night seems a little bit darker, the air seems a little bit colder, and pets are dressing up in costumes to celebrate Halloween.Without further ado, here are 12 famous spooky characters that make some of the trendiest Halloween costumes this year.

Also by 1_ricky_1



by sacados
---------
---------
---------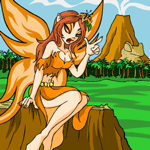 Fire-Born: Part Five
"That's right, you understand now, don't you?" Eithne said. She brought the hand with the stick backwards, and then whipped it forward. Vineti flinched, bracing herself for impact, but it never came. She opened her eyes again and saw that the stick was now lit, Eithne looking Smug. "Just as I thought."

by goodsigns
---