Your questions answered!


Read the answers to the most commonly asked Neopets questions this week in the Editorial section. Each week the most popular questions will be answered by one of the creators of Neopets, so keep checking back to stay updated.


---
Quote of the Week
"Toodles!" I called out. "Toodles" was just one of those words you had to say from time to time.
---
| | |
| --- | --- |
| Since the birth of the Royal Paint Brush in Year 6, Neopia has been blessed by the grace and charm of many species of royal pets, 49 to be exact. Without them, there would be none to rule except the Faerie Queen, but come on! Doesn't the Faerie Queen need help reigning and looking beautiful sometimes? If you told her the latter, though, I don't think she would be very happy. But I digress. What I've noticed over the years, especially on the Pound Board for the few times I dared to venture into the stormy sea of trades, is that some noble-pets are favored more than others... | I am many things– a first pet (eldest sounds so... old), once a Gelert, now a Koi, once Halloween, now Ice, once a Battledome neophyte, and now plunked in the middle of a Battledome plot. Before we go any further, we should say that we don't mind losing. Yes, we can hear all of you with perfect records slapping your foreheads and going Eww, gross! And that's okay; we fight for the thrill of it, not for the points. We're not trying to tell anybody how to do the 'dome, so please don't neomail us with better suggestions. We already know that we don't know what we're doing! |
Paint Your Chomby!




Thinking of adopting a new pet? How about a Chomby? Well, it is Chomby Day, after all! What color do you have in mind for your prehistoric friend? This is just my opinion, but I think these are the cutest Chombies around!
---
Other Stories
"On the Outside" by spiderwax
Mazz had found the green Kyrii potion while cleaning out Spider's gallery. It had a green theme, and the human had decided there were too many green things in Neopia to collect. It had been tucked neatly behind a collection of snot items, that no one had wanted to touch. As usual Mazzard shook her head at her family, and got down to business. It wasn't like you couldn't wash the snot off...
"There Are No How-To Books for Aspiring Ninjas" by serissa98
The shopkeeper grinned, "There are no how-to books for aspiring ninjas. That's something you only learn by training, first on Krawk Island, then on Mystery Island. After that, I've heard rumors of a mysterious school deep in the jungle that takes red codestones, but I don't know more than that, only that it's very, very secret and very, very expensive..."
"Salt Water and Soy Biscuits" by cc_coffman98
Colors are so bright on the surface. Too bright, like a stick of artificially flavored high-fructose-corn-slobber hard candy, shades of eye-searing yellow and lime. Underwater, every hue is pleasantly saturated and dimmed, suitable for your large eyes with their permanently-dilated seadweller pupils. And that's just one of the things you can think of that makes the surface...
---
Home of Pie (Need We Say More?)


This week's issue is brought to you by: The Bakery
Search the Neopian Times


---
Great stories!
---------
---------
---------
---------
---------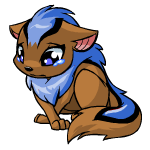 The Right Family
"Ok, so for your birthdays this year, I have got very special presents!" my owner, Saybia, said when we were eating breakfast. My identical twin, a blue Xweetok name Charlotte, squealed excitedly.

by emilyjosie11
---