Your questions answered!


Read the answers to the most commonly asked Neopets questions this week in the Editorial section. Each week the most popular questions will be answered by one of the creators of Neopets, so keep checking back to stay updated.


---
Quote of the Week
Cleaning may sound like a mundane task, but in fact, it involves many dangers and risks; worst of all, cleaning has an 87% chance of increasing your weekly load of dirty laundry!
---
| | |
| --- | --- |
| Your pet is likely to go on scores of mental side-steps, breaking down each character in the story and attributing aspects to their personality. So the wizard from Entry 8 doesn't like Brightvale... Brightvale is the center of all learning. This means that the wizard is too ignorant to be trusted with any Negg of vast importance, so they definitely aren't going to be the ones grabbing the Clockwork Negg. The blacksmith, similarly, was stupid enough to knock a branch onto his own head and injure himself... even without knowing he takes the Sand... | This year's festival brought a new face to Neopia in the form of an orange Yurble who claimed to be the real Negg Faerie. And while Kari had Neopians searching for the plastic Neggs that she had hidden, the real Negg Faerie had hidden mini plastic Neggs. Upon finding one of the mini Neggs, one zap from a Handy Negg Enlarger would enlarge the Negg and give out a fabulous prize! But for the Neopian on a budget, which prizes are worth your time? Well, that's why we're here! Here, in no particular order, are what I feel were the ten best prizes released... |
Successful Spring Cleaning




You can't clean unless all that junk strewn across your living room floor is put away! Spring cleaning is the perfect opportunity to get rid of old, useless items and reorganize the things you do want to keep. Celandra, Queen Fyora's royal maid, once told me that, "cleaning is just putting your belongings in less noticeable places." Her wise words are that of a true cleaning master and should be adhered to, to the letter, by every...
---
Other Stories
"Strangeness in the Air" by amsurito
Nutterberry sighed. He hadn't meant to cause so much trouble when he applied for this job- really, he hadn't. But it was only the second working week, and he'd already spilled iced borovan all over a brass gear belt, popped two of the strings on an elegant punk guitar (yes, Cog actually sold those), and destroyed several other objects. Nutterberry knew that it would be better off for Cog- and the customers- if he just quit altogether...
"The Lupe With the Horrible Name" by krazykiddo5
For the purpose of telling her story, we shall refer to her as "Unprintable". She was a plain blue Lupe, and had been abandoned right after some mischievous soul had created her. She did not understand the concept of a loving owner, and assumed all pets were immediately sent to the pound. She was fed three times a day, let out to exercise once a day, and sometimes people would walk by her kennel and laugh...
"A Better Way" by sporty2443
Hanso strode through the streets of Faerieland with a jaunty step and a smirk on his face. He had nearly forgotten what it was like to walk out in the open daylight without fear of being recognized and chased by guards, and it was just a bit strange to think that this was something most people could take for granted. For that matter, the Ixi had never known what it was like to walk out into the open daylight and find himself...
---
Search the Neopian Times


---
Great stories!
---------
Strangeness in the Air
Right now, he was staring down at a series of clockwork springs and spinning wheels that were inside of a compass bracelet, trying to fix the cheap thing. But, of course, he had no idea what he was doing.

by amsurito
---------
---------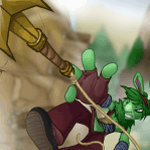 To the Top of the Mountain: SW1 and SW2
Princess Terrana, younger sister of the infamous Princess Lunara, hopes to prove herself worthy of the title "Shenkuu Warrior" by racing her way up some of Shenkuu's tallest mountains armed with nothing more than her wits and a shiny grappling hook.

by iamduffan
---------
Another Day
The blue outline of a Shoyru hovered just outside the lost city, her eyes darting back and forth between the skulls and dilapidated houses scattered about. The odd Petpet would call out in an eerie shriek, and the Sketch Shoyru shivered a bit.

by yoseikuga
---------
---