Your questions answered!


Read the answers to the most commonly asked Neopets questions this week in the Editorial section. Each week the most popular questions will be answered by one of the creators of Neopets, so keep checking back to stay updated.


---
Quote of the Week
Why did they call ships "she"? Ships didn't look like girls. Ships looked like elaborate buckets.
---
| | |
| --- | --- |
| You wouldn't want your Lutari living all alone out in the wilderness of Neopia. Now that you have such a special and coveted Neopet, you might be wondering "how in the world am I going to be able to dress my Lutari?" Never fear, Lutari owners and customizers, for there are a number of fashionable outfits that are Lutari specific and range across different styles for every Lutari personality type and color... | As the 2014 Festival of Neggs draws to a close, a single question is on everybody's mind. That is, once all of the pets in Neopia have had their share of chocolate neggs, cookie neggs, maple syrup neggs, and countless other varieties of neggy delicacies, what happens to all of those poor, neglected negg stems?! What's that you say? That question has never come to your mind? Well, it has come to everyone else's mind... |
Light and Dark Items




We decided to interview two of the most contradicting Neopians: Hades, a Halloween Grundo, and Faye, a Faerie Uni. We thought of five questions, each one asking the two participants to pick an affordable and an expensive item of their own liking, and called them to set the time and place for the interview. We decided to use a neutral meeting point, something that no one out of the two would feel uncomfortable with...
---
Other Stories
"All That Glitters is not Green" by spiderwax
"No one said anything to me about needing to be painted something," the green Skeith replied. The other girl ignored her, as she noticed the buffet. Gichi frowned, and made her way to the dressing room. It was decided right then and there not to mention that to Spider. She was a noisy human, and tended to cause upsets when she felt one of her pets had been insulted. The Skeith glanced into the mirror, her dress glistening in the light of the dressing...
"Effistella the Perfect" by dorotheasansa
I was born on the streets of Neopia Central. For the first few years of my life, I stole what food I needed, starved more often than not, and did what I could to avoid the pound. No one looked twice at me, a hungry, dirty Usul with small eyes and a skill for hiding. I was never named, never having had an owner, but developed a moniker after a few months of being shouted at by shopkeepers desperate to stop me from thieving. "Off!" they'd yell at me...
"The Edge of the World" by emrozi
I used to live on the edge of the world. The world was smaller and more metallic for me, back then. I didn't know about trees, or snow, or the sea; I thought laser lights and plastic tubes grew organically. If you'd told me I lived on something called a space station, orbiting a planet called Neopia, I would have looked at you blankly; if you aren't a Grundo, I may well have run away. Non-Grundos rarely strayed from the centre of the station. In fact...
---
Search the Neopian Times


---
Great stories!
---------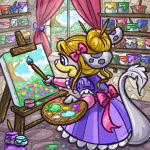 The Painter: Part Two
Mostly, other than maids stopping to give her food, she was left alone, which suited her just fine. Every morning, she would wake up from her peach toned bed with white rustling silken sheets, and she would watch the sunrise. It would inspire her, and then, she would stray to the paints that lined her wall.

by rrooaarrrr
---------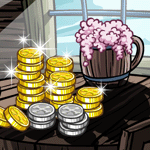 A Krawk Tale
By candlelight at night, she would sit and read through her various books about the different lands, dreaming of the day when she could go and explore them...

by jeancgirl
---------
---------
---------
---