Your questions answered!


Read the answers to the most commonly asked Neopets questions this week in the Editorial section. Each week the most popular questions will be answered by one of the creators of Neopets, so keep checking back to stay updated.


---
Quote of the Week
People always stared at her when she passed. Plushies rarely wandered the streets on their own. She knew most of them were looking for her owner. Truth of it was, so was she.
---
| | |
| --- | --- |
| In any case, Dice-a-Roo hates me and I hate how it won't keep giving me things forever and ever. But I do like avatars or rather, I like how getting new avatars makes my count go up. For some reason, I keep thinking that having that number become one higher than it was before is reason enough for enduring the crushing disappointment of not getting the silver dice. But I still try. Again and again. Here is how I yet again stunningly failed to get the avatar... | What do you get when you put a Kacheek, a Lupe, a couple of petpets and a paddock together? That is right, Extreme Herder, the game! In this fun and adventurous game, you play as Samrin the Kacheek. He is a simple herder enjoying life on a beautiful farm in Meridell. Lately a Lupe who steals the petpets from his field is terrorizing him. This Lupe is also known as Balthazar the Bounty Hunter. Normally he fills his time with hunting down faeries and... |
Birthday Celebrations!




So if it is your birthday and you go online on Neopets, you will feel a sensation of delight when the site has a bright quirky background as it celebrates your birthday. What about your neopets? They have birthdays too and it is important to treat them. Maybe your neopet is 100 days old. Maybe it is 1000. Maybe it is 4000. However many days old your neopet is, maybe it is a number that you should celebrate. As I was checking my neopet's...
---
Other Stories
"Agree to Disagree" by cactusthorn2151
The building sat dark and empty. I approached the Kyrii, a question written on my face. He simply gestured with his eyes to a slightly crooked sign hanging from the window. "OUT OF BUSINESS," it read. Below it, in cheap pen ink, was scribbled, "Next time, try getting your meals from a ruthless corporation," almost sarcastically. I suddenly thought of my small business, to which I was headed right now. What would happen if a ruthless corporation descended upon it?
"Infinity" by blueys45
Nestled away in an isolated cave in a far corner of Moltara was the aptly-named City of Lights. Lamps and lanterns of all shapes, sizes, and colors adorned the walls of the cave. By far the brightest place in all of Moltara, one would not be criticized for wondering if darkness even existed in the city. But while the artificial lights made it the envy of the other tribes and cities, it was the citizens themselves that earned the city its name. Everyone in that city was a Glowing Buzz. They were the Fireflies...
"The Coffee Wars" by smokingurl05
I had entered the Art Centre and made my way through the Deep Catacombs, with nothing on my mind but a simple Purple Juppie Java. The minute I entered the Coffee Cave, however, that Purple Juppie Java was wiped clear from my brain by the sight that met my eyes. There seemed to be a full out war going on, with coffee cups flying to and fro so fast that they were nothing but blurs. Every few seconds I could hear one of mugs shatter over the din of shouting Neopets and their...
---
Search the Neopian Times


---
Great stories!
---------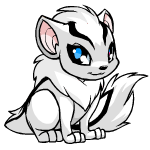 Mirror Opposites
Laizabel grumbled, slouching down in her chair and crossing her arms as she began glaring at the desk again. The new girl, Brittney, shot her one last look...

by warriorcats
---------
---------
---------
---------
---