Your questions answered!


Read the answers to the most commonly asked Neopets questions this week in the Editorial section. Each week the most popular questions will be answered by one of the creators of Neopets, so keep checking back to stay updated.


---
Quote of the Week
I could tell his brain was working faster than a Meerca chasing a Negg, but apparently not coming up with anything he thought would be good enough to write about. Writers are so picky.
---
| | |
| --- | --- |
| If you're a Chia, know a Chia or know of Chias, you'll know the terror that they face on a daily basis. Other Neopets' cares revolve around not getting Sneezles, having more toys than their friends and winning the Beauty Contest, but Chias live in constant fear of being snatched up as a snack by a passing Lupe. It has long puzzled me why this is tolerated, but my attempts to contact the Defenders of Neopia for a quote on the issue failed. I did, however, receive a huge, hefty bag of neopoints the next day with an attached note saying 'be quiet'. I do hope that I'm typing this softly enough for my mysterious benefactor! | We all know that Valentine's Day is the time where all the members of Neopia give romantic gifts to their special somebody and show their appreciation for having such a someone in their lives. But what if your Neopet doesn't receive said gift from said special someone on said special day? Well, all four of my Neopets received no roses or chocolates from any secret admirers this year, and I must say they all had different reactions to what had occurred on that fateful Tuesday. So I have decided to share my experiences to assist those who may also have a Neopet that got no Valentine and show them... |
Mynci Wearables!




First of all, 'tis the season to say happy Mynci day to all Myncies and their owners! As many of my articles suggest fashion tips for your Neopets, this one is no different, except now I bring you the Mynci edition. While I'm sure your Mynci would be just as satisfied with a bundle of bananas as they would with a new outfit come their special holiday, I highly suggest indulging in a new outfit to surprise your Mynci with! They will appreciate...
---
Other Stories
"The Fate of Dust and Fire" by macana
"You are the Darkest Faerie, if I am not wrong," he said calmly, convinced he was completely in control. The faerie nodded. "I am," she replied, her voice steady. She had seen many like him before and she had learnt patience. Razul looked at her and for a moment, his face broke into a wide, insane grin. "At last! At last I have you here in front of me!"
"Bully" by allison_kitty11
I didn't really care. She wasn't my problem; I didn't even know her name. She was just another face in the crowd that constantly surrounded me in neoschool. Me? I'm a maractite Usul, one of the most popular pets in the middle school. Everyone knows who I am, and they all envy me, because I'm beautiful. Well, on the outside. Inside, I'm not so sure...
"Letters to Rachel" by arty32097
Guess what? It happened. Momma finally painted me Rainbow today. Can you imagine it? Me, a Rainbow Xweetok! I just wish you were here to see it. I think Momma does too. I heard her crying last night, when she thought we three were asleep, me, Ty, and Quee. Why'd you have to leave? You said you wanted bigger and better things, but what's bigger or better than your family?
---
Search the Neopian Times


---
Great stories!
---------
---------
---------
---------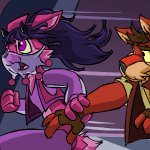 Once a Scarab: Part Five
And all they had was this useless mirror. He muttered, "You'd think King Jazan could have given her some sort of magic weapon or something useful."

by saphira_27
---------
---