Your questions answered!


Read the answers to the most commonly asked Neopets questions this week in the Editorial section. Each week the most popular questions will be answered by one of the creators of Neopets, so keep checking back to stay updated.


---
Quote of the Week
"You are being sent to an island! Yes, an island, alone, where you shall do nothing but tell Princess Fernypoo how pretty she is! It seems she's suffering from low self-esteem lately, and you shall exist to remind her that it could be worse!"
---
| | |
| --- | --- |
| There are currently 48 Kacheek colours available – from the popular white, plushie and royal, to the totally edible chocolate, jelly and strawberry, and the spooky zombie, Halloween or mutant – every Kacheek of every colour are treasured and loved by their owners. So, if you are an owner of one of the 16,701,422 Kacheeks out there, or if you'd just like to join in the celebration, take this quiz and find out what Kacheek colour best describes you! Happy Kacheek Day! | You followed all of the selling guides, but you still aren't getting the offers you want. Perhaps it's time to go to the source: those buyers. I'm no experienced Trading Post seller, but I am an experienced Trading Post buyer and as a buyer, I know the hassles of buying on the Trading Post. The more hoops that buyers have to jump through, the less likely they are to buy items. Learning these hassles as a seller can save you hassles of your own and get that item sold... |
Creating Brynn, Xandra, or Hanso




Most of you probably know Brynn, Hanso, and Xandra from the Faeries' Ruin plot, but have you ever wished Brynn, Hanso, or Xandra could be your neopet? Well, then you've found the right article. I am going to tell how to make Brynn, Hanso, or Xandra. Your neopet that you're making will NOT be THE same exact one, but you could make it seem that way...
---
Other Stories
"Dancing in the Rain" by quillish
Elevya kicked up pillars of sand as she trod along Warf Wharf. She had moved to Krawk Island a month ago, but she still hadn't been able to settle in. "I wish I was still living in Shenkuu," she muttered to herself. She loved her owner, but Quill liked to experience the life of different cultures. As if they even have any culture here!
"Gallery of Imperfection" by alyiousa
They did not hear her approach, but here was Queen Fyora in the flesh and who had apparently overheard all of their mocking of her doll! Alyiousa tried to stutter out an apology, but all that came out were unintelligible noises. She finally got to meet her hero and she had managed to insult her!
"Tea with Thade" by kristykimmy
Thade appeared at that moment, blocking the library door. Chummy screamed and tried to flee. Yanli stroked the creature and tried to soothe it. "Hi there, sir! I'm Yanli and I'm lost. Would you tell me how to get back to the Spooky Pets shop?" Yanli explained to Thade. "Pphears, fi oyu voels ym zpluze," Thade said...
---
Seeking A Kacheek?


This week's issue is brought to you by: Kacheek Seek
Search the Neopian Times


---
Great stories!
---------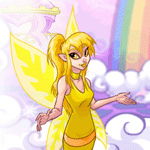 An Unexpected Spin
People get irritated when landing on certain spots on the wheel, but what happens when it's the Faerie's biggest fan?!

Art by roxanna203



by whitesnowickle
---------
---------
Dancing in the Rain
"You know that the skies have become too dangerous for the boy to remain here. He must find a loving owner in Neopia."

by quillish
---------
---------
---