Your questions answered!


Read the answers to the most commonly asked Neopets questions this week in the Editorial section. Each week the most popular questions will be answered by one of the creators of Neopets, so keep checking back to stay updated.


---
Quote of the Week
Just so everyone knows, Morphing Potions and Healing Potions aren't the same thing.
---
| | |
| --- | --- |
| I realized the worst had happened; he had turned Invisible. Despite such a horrible thing happening to my once beautiful Purple Flotsam, I made the best of it. I continued to nurture and pamper my pet. Most everyone who passed by turned their nose at his invisibility. I was determined to turn MayorMasyon into an admirable Neopet. Now, as the proud owner of an Invisible Flotsam, I have found some ways to turn your pet into someone who will reap love and... | I believe creating "Super Neopets" is the way to go. Anyone can have a nicely colored and decorated Neopet at the snap of their fingers, but it takes time and dedication to build up a Neopet in such a way as to maximize his or her potential. So with this, I bring to you a list of things that I believe all owners should do with their Neopet(s). Admittedly, these things may not be easy to do for those owners who have four pets, and for those I would recommend following through with... |
Name That Morphing Potion!!




Hello there, we see you've stumbled upon our humble little game. What game you ask? Well, a virtual item scavenger hunt, of course! What's that? You want to know what type of items? We are pleased to announce that the theme of this particular scavenger hunt is the treasure of Kauvara's Magic Shop... morphing potions! Now, if you are bored and willing to play our game, we are delighted to be of service to you! First off, let us give some...
---
Other Stories
"A Purple Lesson" by applegrl27
I took a deep breath, tried not to laugh, and began to walk towards his window. "...Really?" I asked, offended. "And how exactly do you know I am evil?" He swallowed hard. "Purple light. It means you are bad; it means you are a Dark Faerie..." I began to laugh at him, trying to keep in mind that he was still a child. "Look, kid, just because we are born with different energy as a different type of Faerie does not mean that all Dark Faeries are evil. And what's wrong with..."
"Hello!" by capricornhunter
"Hello! Would you be interested in pur-" SLAM! Fernie jumped back from the porch in shock. Well, it wasn't really shock, seeing as he had received the same response at least twenty-six times that day. And, for the twenty-sixth time that day, he considered re-knocking. Maybe the wind had just blown the door shut. Oh, who was he kidding? He was a total failure at this job. The speckled Bori turned around, lifting the heavy weight of the unsold...
"For Amy" by allison_kitty11
It happened one weekend I had spent at the Neolodge. Sometime in the middle of the Month of Sleeping, I had decided I needed to get away for a few days. It was the middle of the neoschool year. The days seemed to be flying by tediously, and I was growing jaded with my monotonous schedule. Although it was the middle of winter, it was still extremely warm on Mystery Island, where I lived with my family. As much as I loved the sun and beach, I found...
---
Search the Neopian Times


---
Great stories!
---------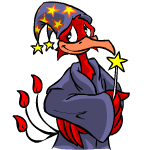 Ammonia Method
"But Kyrugg," he whispered, "I can't solve it."

His words hit me harder than you might expect. Never in my three years of being acquainted with him have I known him to say those words.



by cactusthorn2151
---------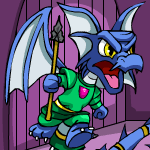 Guard Duty: Part Four
Avant stared at him incredulously.

"Bagguss?" he questioned. "Do you insult my cookery!? You know, I studied under Chef Boulgar himself! Use Bagguss, how ridiculous!"



by herdygerdy
---------
---------
---------
---