Your questions answered!


Read the answers to the most commonly asked Neopets questions this week in the Editorial section. Each week the most popular questions will be answered by one of the creators of Neopets, so keep checking back to stay updated.


---
Quote of the Week
Wisdom is something that can't be, well, it's never complete. It's something that we have to acquire, and it's safe to say that no one, not even you, will ever completely obtain.
---
| | |
| --- | --- |
| You're here because you're brave enough to accept the mission with Geoffrey Chia and take down those nasty Chia Bombers (with an awesome reward of a secret avatar at the end). It's a tough task, but with my guidance, I am confident that you will prevail and drive those Bombers away! Before you jump right into the game, we should go over the basics... | As Neopets celebrates its Twelfth Birthday, we invite you to take a stroll down memory lane and explore with us the Top Twelve Events in Neopian History. The entire history of Neopets actually covers a very large span of time, going all the way back to the BN era (Before Neopia). However, the intent of this article is not to delve into every aspect of... |
Behind Capara's Cards




It would be fair to say Capara has seen the prime of her stardom come and go. The love Neopia once felt for the card game Cheat! has dwindled in the face of more efficient methods of money making, such as the thrilling Stock Market, or the ever-popular option of opening a self-run shop. Yet Cheat!, although not as popular as it once was, still holds a special place in the hearts of many, best known for its array of colourful, idiosyncratic players. As I stand in the lobby of the AstroVilla Hotel...
---
Other Stories
"Cold Shoulder" by hazellauretta
"That's it! I've had it with you." Keion's yellow button eyes shone with the light of anger. "I'm leaving!" He spun around and disappeared into the dark hallway, his heavy footsteps echoing in the kitchen, where his owner and little brother stood in shock...
"Funding or How I Ended Up in the Meepits' Employ" by kristykimmy
I sighed as I looked over the job listings in the paper. My stint as a freelance journalist had gone disastrously. I had been at it for over a year now and what little success I had managed was marred by all the...
"A Violation of the Contract" by lightnsoundshow
Someone had let her in, but Isaac didn't know who had. Still, he greeted her without missing a beat. "My name is Alicia," she answered, smilingly. "I've come to your office to bargain." She was a pink Aisha, dressed formally, but her eyes...
---
Search the Neopian Times


---
Great stories!
---------
---------
---------
---------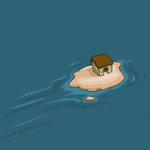 The Divergence of Krawk Island
Gracie nearly fainted in surprise. On the water's edge was a pinkish, slimy and dotted... well, they weren't sure what it was. But as they drew closer, they could see that the dots were suction cups, and it was HUGE.

by sheik_30999
---------
---