Your questions answered!


Read the answers to the most commonly asked Neopets questions this week in the Editorial section. Each week the most popular questions will be answered by one of the creators of Neopets, so keep checking back to stay updated.


---
Quote of the Week
"I can only help those who wish to be helped." With every word, the Faerie shrank a few inches until she was back to her original size. "Goodbye," she added...
---
| | |
| --- | --- |
| Skeiths. The poor things are always looked down on with disdain at best and outright cruelty at most. They come from the same proud, fiery line as the (in my opinion) far overused Draiks, and are closely related to the cheerful middling Scorchios. Why are they so not loved? It's the chubs, obviously. People see the wide stomachs and immediately decide that Skeiths aren't worth their time. Folks, don't judge a Skeith by his middle. You'll be making a dire mistake. | With its warm flaky crust, sweet tangy sauce, and deliciously gooey cheese, pizza has found its way into the hearts of Neopians all across the globe. Pizza can be bought or sold from shops, collected in galleries, fed to Kadoaties, tossed around your Neohome during food fights, or, most importantly, eaten! From its simple crust-sauce-and-cheese beginning, pizza has grown to include literally all food groups (and even some not-so-edible toppings). Therefore, should you... |
A Pet for Every Board




Have you ever wondered, if each Neoboard were asked to pick a pet to represent itself, which pets they would pick? Every neoboard chat has its own personality – whether friendly, competitive or just a little bit crazy. To help Neopian chatters across the great board divide, here are some ideas on what pet each board might pick as its mascot...
---
Other Stories
"Learning Curve" by maraqua_berry
"It's a bottled faerie!" he exclaims, clearly too excited to wait for Jenna to realise this herself. Jenna looks a little closer, her yellow paw clutching it tightly. There is a distinctly purple glow emanating from the container and if Jenna looks closer still she can see a tiny little faerie inside, slumped against the glass looking utterly bored but otherwise unruffled by Jenna's inspection. "Benji," Jenna says slowly, because Benji obviously has a death wish. "This is a dark faerie..."
"Another Ill-Fated Faerie Festival" by mystie06
This year, the Festival was not being held in a garden, where anyone could wander by and cast a spell on the faeries, but in the grand ballroom of the palace. The large windows of the ballroom had been specially enchanted so that the faeries inside could look out and see the beautiful gardens, while those outside the windows looking in would see only their own reflections. Security in and around the palace was on high alert, and the guards in and around...
"Hostile Takeover" by a_greenparrot
"I'm innocent!" he cried as he cowered in fear. He then realized who he was talking to, and saw that she was no ordinary neopet. She had the form of an Usul, yet she seemed to be made of pure darkness. It was like he was staring into the void of space, yet she only seemed partially there. As if she was simply a two-dimensional shadow that was now standing on its own. "Are you the super evil genius?" she asked icily. "Uh..." Jimmi paused as his mind raced to catch up. "Yes, yes, I am. Jimmi Chumpchange..."
---
Search the Neopian Times


---
Great stories!
---------
---------
---------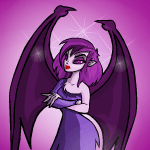 A Thousand Years Apart
What she saw made her jaw drop, and almost brought tears to her eyes.

There in the small clearing lay a baby Pink Xweetok.



by saeryena
---------
---------
---