Your questions answered!


Read the answers to the most commonly asked Neopets questions this week in the Editorial section. Each week the most popular questions will be answered by one of the creators of Neopets, so keep checking back to stay updated.


---
Quote of the Week
Sappy had to admit, he didn't feel the best either. Extended cookie baking could get to a guy.
---
| | |
| --- | --- |
| As the days grow colder and the leaves acquire their seasonal golden hue, there are few things nicer than a little something sweet to warm you on even the chilliest of days. In fact, why settle for just a little something sweet when you could have an entire celebration? The Month of Gathering is host to easily the most delicious festival in all of Neopia—the Chocolate Ball! In order to prepare for this scrumptious occasion, I've compiled a mouth-watering list of Neopia's finest pets and petpets to give you a view of the tasty festivities! | Over the years, there have been several new paint brush colors released. While each proves more fascinating than the last, one cannot deny that the lab-ray color only pets are the most interesting colors of all. Why would you want a boring old starry Gelert when you could be the proud new owner of a pea Chia? The edible pets are some of the most fun, interesting, and downright silly pets of Neopia. There is only one problem when it comes to edible pets: how to customise them. People always have trouble finding the perfect customisation... |
Must Have NP Wearables




It can take years to build up the perfect closet. In the four years since customization was brought to Neopia, thousands and thousands of wearables have been released. As a result, die-hard customizers have been forced to find room for excess clothing in their SDBs, or else wade through hundreds of dresses and backgrounds whenever they change their Neopets' outfits. However, there are, of course, essentials that should always reside front and center in your closet. Whether you're new to...
---
Other Stories
"Moving On" by allison_kitty11
Very few remembered the name of this nearly abandoned road, and the few families that still lived there were not a social bunch. Located at the very end of the road was an old, worn down wooden neohome that looked as though nobody had lived in it for years. However, if one looked closely, they would notice in the old grimy window, a small blue furry face was gazing out of it, watching the street. Of course, nobody ever noticed this little lonely pet as she waited by the window...
"Real Freedom" by ketchup547
So I was getting the boot. Seeming to sense my realization, Lila, my owner, pushed her thin glasses up, a look of satisfaction on her pale face. "Leave your scarf here." A cold fire started inside me as I took off the thin brown scarf she'd given me, placing it beside my bed---oh, sorry, section of ground. I also removed that astronomy club thing she'd given me so she could use me to get the avatar. I stood up, looked her square in the eye, and said: "You're a terrible owner."
"Just Imagine" by sugargirl_kitty
"Look, Koda is talking to his imaginary friend again. What a loser!" insulted Mikey. The bullies both start to laugh. But this was Koda's chance to finally prove Milo's existence. "Milo is not imaginary! He's invisible, I told you before. And he's the best friend I've ever had, right, Milo?" There was no reply. "Milo? Hello? Answer, Milo." There was still no reply. Koda's face flushed, realizing Milo would not answer; he was no longer standing beside him. Mike and Russo began to laugh...
---
Search the Neopian Times


---
Great stories!
---------
---------
Anyone Can Do It
It all started years ago when her owner became a Neopian and saw the adorable dog-like creature that was a Poogle.

by assionpay
---------
---------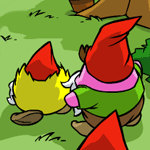 No Good Deed
"Good morning, Mr. Mendell!" I greeted brightly, as an elderly brown Bori cracked open his door.

by regeneration
---------
---