Your questions answered!


Read the answers to the most commonly asked Neopets questions this week in the Editorial section. Each week the most popular questions will be answered by one of the creators of Neopets, so keep checking back to stay updated.


---
Quote of the Week
Most of the stories of Werelupes and wicked faeries roaming the forest were just that — stories — but every once in a while, they turned out to be true, and even the most fearless denizens of the Woods weren't willing to take such a risk.
---
| | |
| --- | --- |
| In my opinion, the starting point is the most important thing in the Ti–Key board. This is because it is not very symmetrical, as some of the others are, for example Chocolate and Springtime. The best houses to get here are Neopia Central and Lost Desert. This is because both lead to a straight path through all the keys straight to the door. The order would be: Yellow, Red, Green, Blue, White and then straight to the door. Of the two houses, I prefer Lost Desert. Why? It's very simple! If you roll a 2, you get 200 NP, whereas everything else is the same. So this is a nice advantage to think about. Another thing is, of course... | Ah, the tenth month of the year has now arrived. And we all know what that means; that's right, it means Halloween is just around the corner! Halloween is a favorite for many, especially those from Haunted Woods. Halloween brings trick-or-treating, jack-o-lanterns, delectable candy, costumes, and all things evil! With Halloween soon approaching, it's time to start choosing costumes, stocking up on yummy candy for those candy crazed trick-or-treaters who will be knocking on your door, decorating your Neohome with all your favorite decorations, and last but not least, showing off a wonderful Halloween themed avatar! |
Comprehensive Storytelling Guide




I hope to combine all the good information out there on one of Neopia's finest contests and shed some extra light on the mysteries of not only entering, but winning the Storytelling Contest. This article is divided into two parts for easier digesting. This week, I'll cover the basics of the contest, the overall plot diagram of the entries, characterization, and tone. Next week, I'll dive into more detail about progressing the story, making your section stand out, and a few extra tidbits...
---
Other Stories
"Hidden Talent" by alex313
Iggy and I looked at each other. On the one hand, a job sounded an awful lot like work, something we both studiously avoided. On the other hand, a job would ease the summer boredom, and it would certainly stop James from acting like he was so much more mature...
"The Lost Snorkle" by icanhaskaila
Today has NOT been a good day. I have no idea where I am, what is going to happen to me, or who my kidnappers are. All I know is that I am not safe. I was minding my own business, playing some games with my owner and a giant Grarrl came and took me down...
"Chasing A Game" by aroeai
It was not that they would deny her. But she was slender and a girl, so they thought she could not play with them without getting hurt. Maybe they were partially right, but Issi's gentle whine made it clear: it did not matter; she wanted to be there. Wanted to be with the...
---
Search the Neopian Times


---
Great stories!
---------
---------
---------
---------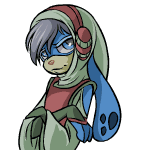 True Heroes
"You know she's in hiding. She's the Zafara Double Agent, after all. I don't think she'd go around advertising it."

by shelbymcb85
---------
---