Your questions answered!


Read the answers to the most commonly asked Neopets questions this week in the Editorial section. Each week the most popular questions will be answered by one of the creators of Neopets, so keep checking back to stay updated.


---
Quote of the Week
I was woken up by a countdown. By the time Kaerna's voice had reached 4, I was wide awake, and dashed into their bedroom, hoping desperately that they were just playing yet another game of "Pretend you're the Cybunny Scout". Of course, any hope failed when I noticed the enormous rocket ship protruding out the side of the house.
---
| | |
| --- | --- |
| In Kreludor, a machine stands between the Kreludan Mining Corporation and Kreludan Homes. Every day, Neopians shove Neocola tokens into its slot, only to find items of doom instead of refreshing drinks. However, who could be behind this evil contraption? Dr. Sloth? The Grundo population? Fyora? (Hey, who said it couldn't be possible?) | It's the Month of Sleeping! So what am I going to write about, I wonder? Those things you sleep in... BEDS. Yes, this is a bed review. A selection of beds I am going to find and sleep in (and depending on how good Neopia's beds are, I could be doing that for a while) and then tell you all about. I just hope you guys will stay awake long enough to read it... |
The Pompadour Plunger




Sir Pompadour thought it would be a crime to get his gorgeous head of hair wet, and so had enlisted the help of some Maraquan petpets to do the dirty work and fetch his treasure for him. But, heh, since this was a newly released game, one would expect the Neopians who are in fact controlling the petpets would need some kind of guidance. Good thing you stopped by to read this article!
---
Other Stories
"A Cracked Bottle of Sand" by fluffylopbunny
I sat there, watching the others get picked up and chosen for their pretty colors. Sure, they were blue, green, red, purple, orange... even rainbow; they were beautiful. No one would want to pick a plain old thing like me. No one cared for what I once held, or what I used to be. The sun was high over Neopia Central...
"Worth a Thousand Words" by kittengriffin
Dr. Death nodded absently. "She's worth a thousand words."

"Not Neopoints?" The Grundo reached a finger through his cage, tapping the sign on his door. "Everyone else is up for those."

"We get enough of those," Dr. Death said, turning to the cages on the other side of the aisle...

"Grundos, Rocks, and Other Things" by crazy_holly_ii
The orange Grundo of Spacerocked! looked at his missiles. Two rocks, that was fine, but instead of a third rock, like any self-respecting sling-shooter would need, he had... a book. A book wasn't going to go very far, but at least it was better than an empty Neocola can. The Grundo sighed...
---
Roll Out The Red Carpet


This week's issue is brought to you by: The Neopies
Search the Neopian Times


---
Great stories!
---------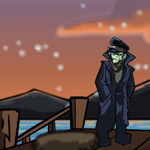 The Captain's Son: Part Three
Rourke sighed and recited the entire story of how he knew Havelock and of how he had kidnapped Scrap. Professor Fairweather's face turned a shade paler...

by winterhome
---------
---------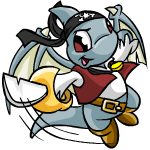 The Ruby Chest
"I'm leaving today, Tunqar, with the crew. We're gonna explore Neopia. I've been looking forward to it for months, but now..."

by fluorescency
---------
---------
---