Your questions answered!


Read the answers to the most commonly asked Neopets questions this week in the Editorial section. Each week the most popular questions will be answered by one of the creators of Neopets, so keep checking back to stay updated.


---
Quote of the Week
"Oh, that's just great. We're trapped in this tomb with no food and little water, probably never to see the world outside again! But hey, at least we have this rubber duck!"
---
| | |
| --- | --- |
| The lab ray has long been stigmatized as a lazy way to train, but no one can doubt that it helps. Lab ray data varies from study to study but in general a year of labbing is good for adding about 200 hit points and 70 strength stats to your pet, while taking away a handful of defence stats and 10 or 15 levels. The hit points alone will save you anywhere from 1,600,000 neopoints a year in codestones to 15,000,000 NP if you feed Sneggs... | Your goal is to fly from Faerieland to Terror Mountain. But of course, it's never as simple as it sounds — the skies are infested with birds that don't have the common sense to avoid hitting a ship, and you'd think Queen Fyora would do something about those pirate ships. But nope. Which is, presumably, why you're here now. Or maybe you're wondering how some users manage to get over 3,000 points when you're struggling to... |
Dos and Don'ts of the Art Gallery




This article will outline some tips and tricks that may help you out when trying to get a piece that you've created into the art gallery. 1. Do not limit yourself to digital art! Many people are discouraged from entering the art gallery because they are unable to purchase sophisticated graphics software. However, you should never be discouraged from creating art the good old fashioned way! Just take a peek at the art gallery and you'll notice that there are many hand-drawn....
---
Other Stories
"The Perfect Colour" by elly042
Then someone tapped her on the shoulder. She spun around again, still seeing no-one. "Err..." she began. But the voice, coming from to her left, answered. "Yes, people don't often understand. I'm invisible, you see! My name's Vilmori, nice to meet you!" The voice was friendly, and sounded quite excited. Jatalle was a little bit confused...
"A Giant" by juultje300
Perhaps she was the queen of all giants. When Gwen peeked through the window, when the Skeith was not home, she saw a huge cage. A cage that big could only be used to hold little children in that she kept to bake in her cakes. There was always a cake or a plate of cookies sitting on the table. Gwen could smell it outside. It smelled delicious but she knew better...
"A Lesson in Battle" by dlandwehrs4816
He darted forward, Sword of Skardsen in his hand. In a series of nearly impossible to follow moves, he disarmed the baffled Skeith, and easily ran his hit points down to zero. "Maybe you should go pick a fight with someone you can handle. Looks like Punchbag Bob over there is open." His opponent stood slowly, embarrassment obvious...
---
Favored By The Winds Of Fortune


This week's issue is brought to you by: Cloud Raiders
Search the Neopian Times


---
Great stories!
---------
---------
---------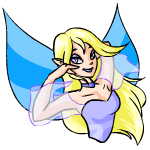 From Dunce to Dancer
Dancing. Estelle shuddered. She had never tried dancing, but then again, she had never tried a lot of things, for fear she would fail.

by blackwell
---------
---------
---