Your questions answered!


Read the answers to the most commonly asked Neopets questions this week in the Editorial section. Each week the most popular questions will be answered by one of the creators of Neopets, so keep checking back to stay updated.


---
Quote of the Week
After all, they are potatoes. They're not exactly the most aerodynamic crop ever cultivated.
---
| | |
| --- | --- |
| Although there are few things wrong with Neopia, and most of those things are Doctor Sloth's doing, there is one fault that sticks out so blatantly it makes you wonder if even sore toes would be up to the job of describing it. This fault is so obvious I shouldn't even have to tell you, but I will anyway. Do you know, in Meridell Castle, where Skarl's throne is? Well, I'll let you in on a secret. Skarl's... | On our quest to find victuals that make foods classified as "gross" seem like Ambrosia, our eyes have watered, our stomachs have churned and fellow travellers have accused us of insanity after seeing our questionable food choices. It has all been worth it, though, as without further ado I can now present to you the Top 10 Most Indigestible Foods in Neopia. I strongly suggest you avoid... |
Why Pet Rocks Rock!




They are more than just a Petpet! Pet Rocks are useful for many things. You can use them as a doorstop, paper weight, stepping stone, etc. In a hurry, they could also be used a weapon against all colors but ghost! And if you are, say, stranded on a remote isle somewhere off the coast of Mystery Island with nothing to record the number of endless days you are there, your lovely pet rock can be of service yet again!
---
Other Stories
"Life of a Mediocre Gamer" by ginny_invisible
Hi. I'm Abigail. Sound familiar? Probably not. Or you might be all, "Oh. Abigail. She's the sister of that famous games master guy? AAA or something?" Yeah. Of course. Only known because of my oh so famous, oh so intelligent brother. So smart, in fact, that his head is...
"The Wooden Meepit Totem" by mangodan
Ever since he had received that prank kit for his birthday, Bame had been intolerable, always playing tricks and scaring people. But this was the last straw! She had been saving all week to get this blouse, and now it had been ruined in just a few seconds! She gulped her tears down and stomped off, ignoring...
"Mr. Meepit and the Staff of Time" by doody_duty
Some believe it was the work of a Faerie who was tired of giving quests and decided to make everyone sleep for a while, while others like to think it was the nefarious work of Doctor Sloth. The truth is that we may never know what caused the events that started the first major adventure of Mr. Meepit...
---
Search the Neopian Times


---
Great stories!
---------
---------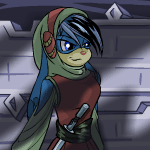 Outsider Within: Face of Evil - Part Seven
"I am from a place far from here that you have likely never heard of. Darigan Citadel is where I live now. I have engaged in many forms of business during my time here, mostly odd jobs, mercenary work..."

by tashni
---------
---------
---------
---