Your questions answered!


Read the answers to the most commonly asked Neopets questions this week in the Editorial section. Each week the most popular questions will be answered by one of the creators of Neopets, so keep checking back to stay updated.


---
Quote of the Week
"I'm done for! I'm over! I'm not brave! I shouldn't have tried to be brave! I'm just a food product!"
---
| | |
| --- | --- |
| Aaaaaand, welcome to today's episode of "So You Think You Can Cook"! Today's topic: The famous Faerie Festival! Now, every year, the Faeries hold a grand celebration to honor, well, themselves! Rumor has it that they're particularly giving this time of year, so if you meet one, don't be afraid to go say hi! Unless it's a dark Faerie. Then run. Anyway, the Faeries have always blessed Neopets with magical abilities and what-not, but in my opinion, the best gift a Faerie could give me is some delicious Faerie food! | Chocolate--it's sweet, delicious, and ooey gooey. You can hardly resist it; just looking at a square of chocolate is tantalizing. Or is it? As impossible as it may seem, there ARE some chocolates that might not suit your taste... or anyone's, to be exact. So here's the real question: To eat or not to eat? So the two of us, chocolate_fudge7 (username entirely coincidental) & princesspinky379, have taken on the task of eating countless chocolates in order to find the best--and worst--chocolates in Neopia... |
Neopians for Darkness




I'm a Faerie. I live in Faerieland. I like reading and writing, and, uh, that is... aw, heck. I'll just spit it out now. I'm a Dark Faerie. Let me guess. You're squirming in your seat now, right? Gotta be wondering what a Dark Faerie could want to say that would interest you. After all, we're a bunch of scheming, nasty, manipulating baddies. Malicious, cruel, yadda yadda yadda. Is that what you're thinking? If it is, I'd kind of like to tell you to go away, but if you did, I wouldn't get a chance to clear things up...
---
Other Stories
"The Survivor" by lupe_hunter_7
I remember when the gypsy caravan arrived on our street. It was warm and sunny, just a typical summer day. Like the rest of the residents living on Rainbow Lane, I wondered why a caravan had chosen to come here, of all places. I went out of my Neohome, curious to see what would happen next. A few seconds later, three girls, a Pink Aisha, a Red Wocky, and a Blue Usul, came out from the back of the caravan and began setting up their shop. All three of them wore the same patched up clothing...
"Falling Rain" by mutedsanity
Kass made tick-marks in various places as the blade traced a path along the map of Meridell that only he seemed able to discern. A perfect birds-eye view, as he could see for himself now if he were to lean out his window. Which was not an action worth recommending. Floating high above it all, each modest dwelling and green patchwork of field looked as though he could crush them all under his thumb like insects. Precisely his intent. Where Darigan had lost, Kass would not. Could not. He was strong...
"A House, A Home" by saphira_27
"Here we are! Crater Valley!" Marielle groaned as she stood up – Nally's weight had caused her legs to fall asleep. Edda stretched – uncomfortable after sitting for three hours. She looked out at their new home, taking a deep breath so she could get enough oxygen in the thinner air. The houses were fairly small and boxy, all either orange or purple, as most things on Kreludor were. The people, as expected, were mostly Grundos, but there was a mix of other species as well. Edda stretched her wings out...
---
Wings Included For Easy Shipping


This week's issue is brought to you by: Faerie Furniture
Search the Neopian Times


---
Great stories!
---------
---------
---------
---------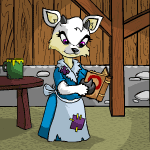 The Book: Part Two
Maria had abandoned her home, her job, her entire life, on a whim. Just so she could get another look at the magic book. She scowled at herself for being so impulsive.

by herdygerdy
---------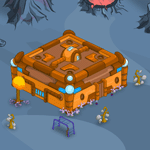 A House, A Home: Part One
"There's open space here, which is a lot more than you can say for Neopia Central. Come on! It's a whole new life – a splendid adventure story – four sisters moving to the moon!"

by saphira_27
---