Your questions answered!


Read the answers to the most commonly asked Neopets questions this week in the Editorial section. Each week the most popular questions will be answered by one of the creators of Neopets, so keep checking back to stay updated.


---
Quote of the Week
"For years meepits have existed on the surface of Neopia, secretly training ourselves to be elite! Then we trained the younger generation, and, at last, we have a meepit army! Several have seen through our plot, but few truly believed in our malevolence! That is all about to change!"
---
| | |
| --- | --- |
| Pets love to be pampered and spoiled to the fullest extent. Who doesn't? There are nearly endless possibilities in which you can make your pet feel like a superstar. Your pet wants to stand out; to be an individual. Anyone can make your pet's dream come true. You don't need to be a Neomillionaire; even 3,000 NP can be enough! You just need to know how to do it!... | Enjoy the trading cards but hate playing the normal power decks format because you don't have 10 of the rare holos you want? Well, my family has come up with 3 new ways to play. First off, know this about our collection. We have one complete TCG collection for playing. That means we have one of each card, period. Here is some advice in playing with your cards... |
Birthday Gifts!




What will you do about gifts? Typical birthday gifts include codestones, bottled faeries, Battledome items, petpets, paintbrushes; the list goes on and on. However, these items can run you up over 100,000 + neopoints! Per birthday boy/girl! This is a poor person's guide to making your friend's birthday gifts special and unique (not to mention cheap)...
---
Other Stories
"Serendipity" by nelle8119
Crouching in a shadowy, deserted alley, a certain small red Lupe was on alert. He had spotted the lone form outlined against the Desert's blood red setting sun just minutes ago. Good. He had a mission, and he was determined to do it. He would not fall short... The Lupe winced, remembering last time he got an assignment... Well, that was last time! It would not happen again, he promised himself...
"Trifling Wonders" by spotlightstarzafara
As night fell upon the seas, and as the gorgeous red sun sank into the sea, the trio slowly grew into their swaggering lethargy. When welcome sleep fell on the trio, they retired under deck and left Norley to his peace. Ah, at last. He was in the cramped and filthy kitchen, hardly more than a closet space, with its rotting dew-stained wood and the everlasting smell of burnt timber. He had just finished...
"Saga of the Pink Uni" by maltese51191
Mom wanted her to take charge first, which would mean she would have to start working in less than a year. And for about five years, Emma had dreaded that day. The truth was, Emma hated clothes. She'd rather go barefoot than wear a pair of high-heeled shoes, and she'd rather shiver than put on one of Starry's scarves. When the two Unis had been little, it had been Starry who'd tried on each single piece of...
---
Levity Can Be Uplifting


This week's issue is brought to you by: Fun Images
Search the Neopian Times


---
Great stories!
---------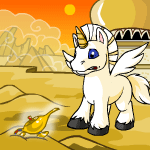 Three Wishes: Part Nine
"I can sense you, little spies. You are trying to escape me." The Master's voice, now twice as horrible with disembodiment, clawed its way into Sylkon's mind...

by rachelindea
---------
---------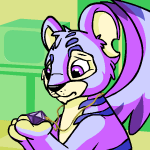 Lucky Me: Part Eight
"Well," Anthony finally said while walking to the back door, "I have some work that I must attend to, so I'll be back soon to bring you all some lunch. Play nice, you guys..."

by soccer266redy
---------
---------
---