Your questions answered!


Read the answers to the most commonly asked Neopets questions this week in the Editorial section. Each week the most popular questions will be answered by one of the creators of Neopets, so keep checking back to stay updated.


---
Quote of the Week
"I always knew you'd fly like the Beekadoodles," he commented absently, his mind wandering, "but I never figured you would soar like the wild Skree."
---
| | |
| --- | --- |
| With Xweetok Day approaching at a great speed, it's about time somebody decided to poll Neopia on their favourite colour options for the Xweetok. This my friends, is my job. Throughout this article, I will be talking to average Neopians just like yourself and polling them on what their top five favourite Xweetok colours are. I will also be giving my own thoughts on Neopia's top picks... | Supposedly, everyone who is able to create a guildless board and read the guild advertisement is literate. There is no "semi-literate". In response to a guild's "literate requirement", an average person would make sure they can read what is posted and simply be able to respond; however, a Neopian would think, 'Well, my font is tiny and black, my avatar is cute... yes, I believe I'm literate...' |
Analysis of a Neopian Economy: Golden Sun Chalice




On November 10th, Issue 317 of the Neopian Times was released. A relatively common occurrence, and one that may have gone almost entirely unnoticed had it not been for one particular Editorial question. I am, of course, referring to the infamous Golden Sun Chalice question. For those of you who may have not read it, or perhaps don't want to dig out the now tattered and worn...
---
Other Stories
"Ceedee" by kyrmia
She just had to reach Adee, she had to! Adee would tell her it was all okay, that she'd been imagining it... She nearly bolted out of the room; she had heard something. It sounded like something that was eating something - the monster had Adee! Ceedee's heart flew into her throat...
"Moving On" by prehistor
"Don't worry, I'll write lots. You'll be great at your new job," encouraged Sacha, feeling sadder and sadder as she let it sink in that her friend was really leaving. Leaving Neopia Central, leaving Uni's Clothing, leaving her home. Leaving Sacha...
"The Food Shop Owner's Goal" by calman49
The Aisha was different. She was so shy, and she only spoke in whispers. The first time the Chia had met her, he had scared her so much with his loud voice that she ran out of the shop, forgetting her burger that the Chia had made...
---
Search the Neopian Times


---
Great stories!
---------
---------
---------
---------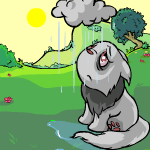 She Smiled
"Sweetheart, it's just a color! You will look adorable with those big sappy eyes and rich Grey fur..."

by treekofreako
---------
---