Your questions answered!


Read the answers to the most commonly asked Neopets questions this week in the Editorial section. Each week the most popular questions will be answered by one of the creators of Neopets, so keep checking back to stay updated.


---
Quote of the Week
I calmly shot back, "Way to overuse the caps lock, Sir Caps Lockington." Let this serve as evidence that one should never try and exchange insults with me, as my razor wit is too sharp to handle.
---
| | |
| --- | --- |
| "What does Gadgadsbogen have to do with Gadgadsgame?" I hear you ask. Well, Gadgadsbogen celebrates the strange happenings of Mystery Island, when every year a number of new fruits mysteriously emerge from the soil on the Island to replace the Island's older fruits. Gadgadsgame is in fact a tribute to this festival... | Your goal is to navigate the unforgiving terrain and return to safety in Kreludor, while avoiding obstacles and mini fungi, and if that wasn't a bad enough situation, you only have a certain number of moves as well (remember, the ship suffered damage!). In my guide, I'll cover the basics and mechanics of the game play, so you can... |
Woolly Wonders




Have you heard the expression "the woolly wonders"? I am convinced you have. And you might have wondered what it was referring to. The answer is simple – the babaa. But maybe you already knew this and what you really were wondering was what a babaa really is. If that is the case, you have come to the right place...
---
Other Stories
"Coughs, Colds, and Cures" by biogirl1991
Shoyru, Aisha, and Usul all looked around the waiting room before making their way to the front desk. Naddien, who had been elected spokesperson by her sisters because she was the eldest, cleared her throat and called to the nurse working at the desk. "Excuse me? Our owner's sick," she began explaining...
"Not Just Any Aisha, THE Desert Aisha" by texanna91
She was an Aisha, but so were many other Neopets. She was good at games, but never good enough for other Neopets to really acknowledge her. When she informed her owner of this, in a sad, dejected way, her loving owner saved for weeks and then bought Kara a paint brush. That was when everything changed...
"First Day at the Swashbuckling Academy" by yoyote
They sailed into the harbour of Krawk Island. The land was cluttered with little dark roofed houses, and great black ships lined the shore. Cap'n Threelegs' Swashbuckling Academy was the largest of the houses, with smooth white walls and gleaming square windows. A salty expectation filled the air...
---
Are You On the Ball?


This week's issue is brought to you by: Wingoball
Search the Neopian Times


---
Great stories!
---------
---------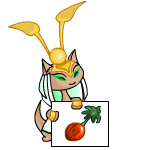 Not Just Any Aisha, THE Desert Aisha
Kara was never really known for anything. She was an Aisha, but so were many other Neopets. She was good at games, but never good enough for other Neopets to really acknowledge her. When she informed her owner of this, in a sad, dejected way, her loving owner saved for weeks and then bought Kara a paint brush. That was when everything changed...

by texanna91
---------
---------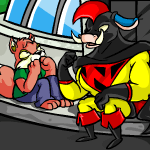 The Hero
Tory jumped and spun around to face the owner of the new voice. Standing in front of him was a tall, muscly Moehog, adorned in a red and yellow outfit. Tory gaped...

by katiesheffield
---------
---