Your questions answered!


Read the answers to the most commonly asked Neopets questions this week in the Editorial section. Each week the most popular questions will be answered by one of the creators of Neopets, so keep checking back to stay updated.


---
Quote of the Week
"So, Sloth... Any final words before we submit you to the evils of the lab ray, transform you into a pretty Ballerina Usuki, and make you dance for us all night long?"
---
| | |
| --- | --- |
| Have you ever been to the Altador Colosseum to watch a game of Yooyuball? Or maybe cheer on your favorite team? If so, then you've most likely noticed that insane screaming blue Techo. Yep, he's been to every game and every practice ever held at the Colosseum, and he generally makes quite a show. Most people are living constantly in terror because of those eyes, myself included. I decided to separate fact from fish... | Gravity really has a lasting effect on people living high up in the air. At least Faerieland has the odd faerie to save you as you plummet. So, just what is the best way to leave the Darigan Citadel? No one knows. But, to be useful and annoying, I have compiled the ten WORST ways to leave. Enjoy! NOTE: The author of this article takes no responsibility for any of the following: maiming, personal injury, mind damaging experiences... |
Fashionable Names




Believe it or not, your pet's name helps in determining his or her future. In fact, your pet's personality can even grow from either complying with or dissenting the implications of the name you gave him or her (don't get what I mean? I'll be explaining more as I go on). You might be thinking that with 175,129,281 (and counting) pets out there all with unique names, it's pretty difficult to come up with a decent name that hasn't already been taken...
---
Other Stories
"The Darkest Faerie's New Job" by bookworm_kate347
I was sitting on the sill of my large window, flung open to invite in the glorious rays of heat and light. For days I had become increasingly frustrated with being cooped up in my home, with nothing better to do than avoid chores and argue with my pets. However, now that the skies had finally cleared, I was unable to make up my mind as to what to do first. Bam! The door banged against the wall...
"Adventures in Petpetsitting" by broadwaybaby986
I couldn't think of any way for a Xweetok like myself to make Neopoints. About a week passed. I found out that my Momma's friend Viv was going to vacation in Mystery Island with her pets for a few days. Momma told me that Viv was worried because she didn't know who would take care of her petpets. That's when I had my brilliant idea. "Momma, can't I take care of Viv's petpets?" I asked. "And maybe..."
"A Dicey Situation" by perseph4981
But one throw had turned into two, the antes had started to get higher, and before she knew it, she was 21,540 Neopoints in the hole and time was starting to run out. She had to get home soon or her older sister would start to wonder. Elandriela was the oldest by far and would spend at least two hours lecturing her on work ethic and gambling and the dangerous company she was keeping and did she know the history of Krawk Island...
---
Urn a Good Profit and Save Vase


This week's issue is brought to you by: Osiri's Pottery
Search the Neopian Times


---
Great stories!
---------
---------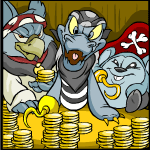 A Dicey Situation
"Nah, let'er stay, Grimmy! Arrr, but I love a loser!" cackled the grizzled, one-eyed Eyrie seated on her left...

by perseph4981
---------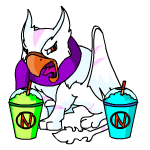 Super Slushies
"We have huge batches of each flavour brewing all the time," said Mr. Slush, the owner of Happy Valley's Slushie Shop, "That way, whenever we have run out of a flavour, we can restock instantly..."

by viista
---------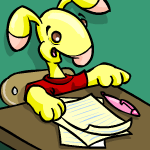 The Pink Pen
My pencils and pens were nowhere to be found. I looked around my backpack once more, again finding nothing but paper...

by snorklie_snoutis
---------
---