Editorial
The steampunk blumaroos seem to be going through a lot in life, the expressions keep changing on their own. It is quite funny but can you please fix it so that they look like the rest of the blummies.
Ahahahaha… Oh, ahem. Yes, of course we will get this fixed!
Dear Editor, In an editorial in 2015 (issue 669 to be exact), you indicated that you would look into retroactively granting the Site Spotlight avatar to previous winners, since we can only win that Spotlight once per account. Is there a chance you could move this forward? I've taken a note to ask again in another 4 years but hopefully that won't be necessary… hehe. I will take advantage of this to tell you that you guys are doing great work with what seems to be a small but mighty team. I realize that our demands are ceaseless and span the gamut from enormous and impossible to annoying absolute minutiae that a fraction of the population cares about (such as this request). You guys always respond with patience and understanding in the face of nonstop demands. So, THANK YOU for all you do. We are grateful, though we do not always show it.
This is very high up on our fabled list right now, and you can expect to see it happen pretty soon.
Hi! There are still users waiting for word about TNTs decision regarding the Zapped! Perk. Can you provide any updates to us yet about zapping our petpets lab ray exclusive colors? Thanks!
This was going to go into our intro for this week, but since you asked - After careful evaluation, the team has decided that making the requested changes to the perk is much too problematic. There is nothing further that we can do at this point, and we apologize for the unfortunate turn of events.
I love the new Sunset Glow Filter! If you make any similar items in the future (and I really hope you do!), would you pretty please consider zoning some as a background item instead of foreground? As a foreground it tones down pets and other items I'd prefer to stand out. Partial color filters would also be a dream come true! I've been using Hook Line and Bait Garland as a makeshift color filter for years, but finding ways to hide the boat is troublesome.
Sure will do for next time!
Usukicon was on Tuesday and there was no release of a goodie bag or any new usukis!? What is going on, what is a con without merch? I'm just panicking, not angry but I was definitely looking forward to some new usuki dolls. Any ETA on their arrival?
Our apologies on that we had one art asset missing therefore we couldn't release until it was ready. But it did go out the next day so you should be able to find it now.
Hi. Thank you for bringing back the Random Contest! I have a question: Am I supposed to design a themed capsule and the 5-6 items plus the bonus that go with it? Or am I supposed to design 1 item or 1 capsule? Thanks.
So you can submit your ideas for a capsule or the items themselves. You can do both as well. You can submit one entry with all ideas combined if you like. But the committee may just choose one of the many items you designed.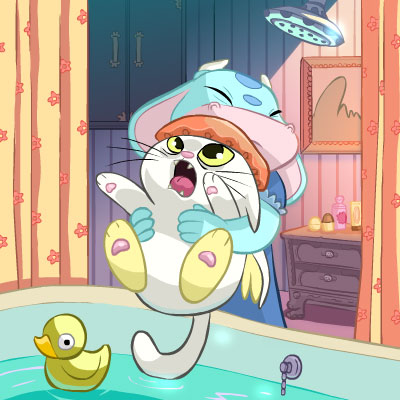 ---
Need more help?
If you have a question that you think should be answered, click here and you can use our submission form. The most common/bizarre questions will appear here next week.