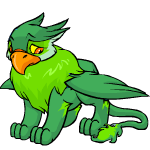 The Power in a Name

by imogenweasley

--------

A green Eyrie raced through the pouring rain, his beady eyes frantically studying the view in front of him. His home was a few blocks from where he was currently at, and his life depended that he arrived there as quick as possible, or else the consequences would be really terrible.

This Eyrie was no common Eyrie. He had no name. He had been raised by a group of earth faeries from the day he was born. The faeries had took him in and looked after him with love and care, but they had refused to give him a name because he was not one of them. Instead, they had created a very rare magical gem that kept the Eyrie alive, because a Neopet, just like a gray faerie, wouldn't subsist without a name.

The Eyrie had to make a promise to the faeries to carry the gem with him everywhere he went. The substance inside the glass little round gem was the essence of the Eyrie himself. But lately things hadn't gone right at all.

***

One day during his usual stroll around Faerieland, a group of dark faeries, enemies to the earth faeries that had raised him, surrounded the Eyrie trying to cheat him into giving them his gem. The Eyrie knew better than to trust them and he ran as fast as he could, but the faeries beat him in number and they had magic, so they cornered him and stole the gem.

"If you want to see this again," a faerie threatened , "you better meet us at your house when the day falls. We know who you are, and of course, we know where you live." And they all flew away, cackling evilly.

The Eyrie felt how, slowly and painfully, he was losing all the strength he had once had. Normally it would be easy to go back flying to his house on Meridell, but the way he was feeling now did not helped. He was miserable, and he should better get going, or he would never arrive on time.

***

So there we was, wet, tired and miserable. His home was a couple of blocks away now, and yet he felt it had never been so far. He tried to fly, but he was too weakened to do so and the rain falling made every inch of his body ache, but he wasn't giving up.

The Eyrie was desperate. He didn't know if he would be on time. The heavy rain had darkened the sky creating the illusion of being later than it really was. His thoughts were revolving on his mind. First: The dark faeries didn't want the Eyrie's gem. It was useless to them, but they were surely up to something else and he had no idea what this might be, he'd have to wait to find out; and second: What would happen if they never gave him his gem back? Would he… disappear? Both were horrible thoughts but the Eyrie couldn't get them off his mind.

When he finally arrived to his home he was soaked. He turned the lights on looking for any hint that could tell him if the faeries were or had been there. He didn't have to wait for long. A second later the lights turned off again and he heard someone moving inside the house.

"So…" A really cold and unfriendly voice was heard. "You came. I'm surprised you managed to actually do it."

The Eyrie shivered.

"Someone turn the lights on!" said the voice sounding very authoritative.

The lights were turned on, and the Eyrie couldn't help but emitting a loud gasp. He was shocked to see Jhudora standing in front of him. In his own house. In Meridell.

"We came here to make a deal with you, boy, so listen carefully."

The Eyrie wasn't able to produce a response, but Jhudora didn't seem to care one bit about it.

"It's a little interchange, you see, we want a really worthless information, and if you tell us what we want, we'll give you this," said Jhudora holding out the Eyrie's gem.

"M-My… gem!" the Eyrie stammered. He tried to reach out for it, but Jhudora closed her hand in a very firm grip and then she pocketed it in her robe.

"No…" she said quietly. "First you tell us what we want, and then you get your gem."

"What do you want?" said the Eyrie, scared.

"Simple. Tell us where the earth faeries who raised you hide," demanded Jhudora.

"No…" said the Eyrie rather weakly. The earth faeries didn't really hide, almost everyone knew where to find them. Everyone except the dark faeries of all kinds, and he'd be a traitor to his family if he told them now.

"What did you say?" asked Jhudora.

"I said NO," answered the Eyrie firmly and quite more confident.

"No? What, do you want to disappear?"

That simple sentence aroused a lot of emotions inside the Eyrie, he didn't know what was happening inside him, but he must had been losing his mind, because he said almost unwillingly "No. Ok. I-I'll tell you where they live. They… You can find them in… in…"

At that precise moment a loud bang was heard. Someone had broken into the house.

"You can find us here!" an unexpectedly defiant voice said. It was the leader of the group of the earth faeries. They had arrived.

"Ha!" said Jhudora mockingly "You think a couple of little green faeries can beat ME?!"

But it was too late. Another earth faerie was performing a spell that made the gem get out of Jhudora's pocket and fly directly at the faerie's hand.

Jhudora was outraged "FINE! I never needed that stupid gem!" she shouted. "And I never needed this stupid Eyrie to help me! I just like to see you suffering but I am much capable to find your hiding place by my own and I will," she said with a nasty scowl. "This hasn't ended yet." She added sourly and the moment later she, and all the other dark faeries, had vanished in puffs of purple smoke.

When the smoke vanished and the view was clear the Eyrie started crying. One of the youngest faeries in the group approached him and whispered in his ear "It's all right, they're gone."

"It's not that…" said the Eyrie sobbing slightly. For once we wasn't ashamed at all for showing his feelings openly. "I… I almost betrayed all of you and you are my family, the only ones I have in the world. If it weren't for you I wouldn't even be alive, and that's how I pay you?" said the Eyrie miserably.

"We forgive you," said the faerie leader. "I have lived enough to know in which circumstances you were. That dark faeries provoked you, they're pure evil."

The Eyrie looked up to the faerie leader, then looked at every faerie in the room in turns and finally said just two words "Thank you."

"There's something else" said the faerie leader. The faerie that had the magical gem gave it to the leader. She took it and pressed it against the Eyrie's chest where his heart was. It was a strange feeling. The gem was melting with his body.

"There you are," she said, smiling. "Now it's part of you and no one will be able to take it away. But you must have a name, What would you like to be called?"

THE END

Author's Note: I really hope you enjoyed reading. I want to send a BIG thank you to Blubbeh (blubblub317) who wrote the first paragraph of the story. Without him this story would have never been written.