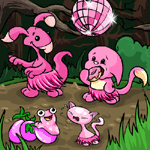 10 Lesser-Known Pink Things to Wear for Fyora Day

by swordlilly

--------

10 Lesser-Known Pink Things to Wear for Fyora Day

Fyora Day is the perfect excuse, I mean reason, to flaunt the dignified colour of pink (which isn't childish or frivolous in the least). The colour of flowers, candies, and everything threatening, pink is a royal and respectable colour, worn by one of Neopia's most powerful heads of state.

When looking for pink items to add to one's wardrobe, the common temptation is to simply put in the word "pink" or "Fyora" and hit the search button. There are some pink things, however, that are not so easily found. Your correspondent has taken the time to research these lesser-known pink things, which she will now present to you so that you, too, can go forth and spread Fyora's creed of pink.

1. Magical Sparkling Happiness Faerie Flower

This pretty flower restocks at Neopia's Gift Shop and can usually be found within the range of 15,000 Neopoints in user shops. Easy to hold and sweet to smell, it is a perfect fit for spring-themed and summer-themed customisations. Here is a Cybunny modelling this flower:
Base pet: Green Cybunny
Other items used: Faerieland Garden Background, Flower Petal Foreground, Cybunny Sweet Girl Wig, Pretty Spring Cybunny Dress, On the Go Cybunny Shoes, MME8-S3: Pretty Swaying Flowers
2. Candy Heart Necklace

This tasteful necklace (pun intended) restocks at the Chocolate Factory and usually sells for around 3,000 Neopoints in user shops. Subtle and neat like a string of pink pearls, it can add a touch of brightness to an otherwise somber outfit:
Base pet: Custard Blumaroo
Other items used: Christmas Shop Window Display Background, Frozen Cherry Tree, Classic Street Lamp, River Rocks Foreground, Delightful Mug of Hot Cocoa, Dark Roots Blonde Wig, Rosy Cheeks Face Paint, Sparkly Golden Shirt, Bomber Jacket Shrug, Neovian Blumaroo Gentleman Trousers, Mystery Island Blumaroo Tail Ring, AAA Host Shoes, Chocolate Bar Handbag
3. Enchanted Rose Garden

This wonderfully detailed, fragrant arch was given out by the Advent Calendar in 2019. At the time of writing, its market price is around 5,000 Neopoints. It works really beautifully as a floral frame to bring out the liveliness of the Neopet in the center:
Base pet: Baby Wocky
Other items used: Spring Topiary Garden Background, Dyeworks Red: Baby Bun with Heart Headband, Baby Pink Contacts, Dyeworks Orange: Baby Spring Jumper, Autumn Baby Dress
4. Moehug

This soft Moehog plushie restocks at the Neopian Gift Shop and can usually be bought from user shops for about 4,000 Neopoints. A well-placed Moehug can contribute to the warmth and cosiness of indoor customisations:
Base pet: Checkered Aisha
Other items used: Secret Nook Background, Chariot to Dreamland, Cookies and Coffee Trinket, Spiky Multicolour Wig, Fyoras Eyeshadow, I *Heart* Lord Faerigan T-Shirt, Comfy Purple Culottes, Torn Pink Gym Socks, The Ultimate Book of Magic
5. Heart Print Dress

This comfortable summer dress can be bought from the Clothes Shop in Neopia Central. In user shops, it's usually priced at around 200,000 Neopoints. It's the perfect dress to wear outside on a sunny day:
Base pet: Island Kacheek
Other items used: Raspberry Patch Background, Pick Your Own Foreground, Apple Tree, Sun Shower, Kacheek Farm Girl Wig, Adorable Freckles, Red Fur Jacket, Candy Heart Necklace, Basket of Berries, Kacheek Farm Girl Shoes
6. Faerie-esque Tresses

This lovely pink wig restocks at the Neopian Clothes Shop and can also be found in user shops for close to 12,000 Neopoints. Complete with a purple headband and decorative butterflies, it is a must-have for any aspiring faerie pet:
Base pet: Christmas Bruce
Other items used: Nostalgic Faerieland Background, Nostalgic Faerieland Archway, Lovely Bruce Jacket, Pretty Pink Bruce Sweater, Lovely Bruce Skirt, Bruce Tooth Faerie Shoes, Bundle of Books
7. Soup Faerie Kitchen Background

This warm pink background was awarded to Neopians who participated in every day of the faerie quest event in 2015. Currently, its market price is around 780,000 Neopoints. Filled with the smell of fruits and spices, with a set of wooden spoons in the foreground, this kitchen is an ideal environment for Neopets who like to cook and bake:
Base pet: Blue Flotsam
Other items used: Flotsam Chef Hat, Flotsam Chef Jacket, White Top Chop Trousers, Ummagine Platter, Plumpy and Balloons
8. Easter Cake

This delicious cake was given out as a prize in the 2016 Festival of Neggs. It can now be found in user shops for around 17,000 Neopoints. It is a lovely companion piece to any party-themed customisation:
Base pet: Pea Chia
Other items used: Birthday in the Park Background, Streamers Garland
9. Picket Fence Foreground

This trim white fence with pink flowers restocks at the Ugga Shinies shop in Tyrannia. In user shops, it's usually priced at around 2,000 Neopoints. It fits best in garden-like customisations, where the Neopet appears to be smiling across the fence:
Base pet: Red Usul
Other items used: Mystical Little House Background, Ivy Macrame Planter, Cropped Auburn Locks, Light Faerie Eye Shadow, Curious Usul Shirt, Perry Usul Skirt, Usul Blacksmith Shoes, Silver Usul Bow, Flower Teapot
10. Candy Cane Pirate Hook

This dangerous-looking pirate hook was given out by the Advent Calendar in 2013. Its current market price is 1,000 Neopoints. Rose-colored, shiny, and absolutely threatening, this hook is perfect for Neopets who wish to exhibit their aggressiveness and fighting prowess:
Base pet: Pirate Pteri
Other items used: Sinking Pirate Ship Background, Pirate Lights Garland, Tower of Christmas Presents, Suave Pteri Wig, Flying Pteri Tan, Pirate Pteri Eye Patch, Pirate Pteri Striped Scarf, AAA Host Shirt and Jacket, Brass Gear Belt, Flying Pteri Trousers, AAA Host Shoes
I hope you enjoyed my listing of 10 lesser-known pink items that can be worn by Fyora-loving Neopets. Though none of them have the word "pink" in their names, they all boast that stately colour toted by our beloved faerie queen. Now, what are you waiting for? Go forth and sprinkle some pinkness into the grey roads of Neopia!