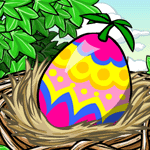 Neggs: One for Every Occasion

by resplendencie

--------

Neggs: One for Every Occasion

Are you tired of sending greeting cards? Bored of the plain text neomails? Maybe you're looking for the perfect item to gift to someone to congratulate them on reaching All-Star in the AC! Well, look no further! Here you can find various different neggs, one for every occasion! They're the perfect gift to send a greeting or celebrate a special occasion.

Congratulations Negg

Your best friend fed their first kad! Your AC team member reached the rank All-Star! A member of your guild achieved a new avatar! There are so many milestones being reached and goals being achieved here on Neopets each and every day, and they are all worth celebrating. This Congratulations Negg is the perfect way to send your heartfelt "Congratulations!" With it's bright colours and cheerful balloon pattern, this negg conveys just the right amount of enthusiasm for their success. It'll definitely brighten up anyone's event inbox.

Happy Birthday Negg

Happy Birthday to you, Happy Birthday to youuuu, Happy Birthday dear…… Hooray, today is the day! It is finally your best friend's birthday! Perhaps you've already picked out the perfect gift off their wishlist. Maybe you are still rushing over to the Gift Shop to find a cute card. Or… maybe you're just looking for a new way to say Happy Birthday? Your friend is sure to receive quite a few greeting cards and maybe even a slice of cake or two. Cupcakes? How common. But what about a negg? This Happy Birthday Negg is a unique way to celebrate their special day! With it's bright blue bow and colourful confetti pattern, it's filled with all the cheer and happiness you need to wish someone a Happy Birthday.

Happy Anniversary Negg

Each anniversary is a special milestone and deserves to be celebrated as such! Whether it is your best friend's 20 year anniversary on Neopets, or someone's 5 year anniversary in your guild - this negg is the perfect item to mark the occasion. Don't let that price tag turn you away, though. With that extravagant sparkling gem and luxurious lavender colouring, I'm quite sure it's worth every neopoint. Just imagine the look on their faces when they receive this stunning negg! A special anniversary surely deserves such a special negg.

Smiley Negg

Is someone you know having a bad day? We all have some days now and then that are a little more grey than others so you're probably looking for a way to cheer them up. Well, look no further than the Smiley Negg! It's cheerful bright yellow colour and wide cheesy smile is sure to lift some spirits and put a smile on their face. How can you be down, when looking at such a cheerful negg? You can't. That's the point. So go on, send this negg and spread some happiness around!

Sweet Heart Negg

Is there a kind person in your life you would like to appreciate? Maybe it's a sweet individual you met on the boards, or maybe a talented artist who filled a graphic request for you? There are so many sweet and kind individuals in the community here on Neopets and what better way to express your admiration, than with a Sweet Heart Negg? This soft pastel yellow negg with it's bright red bow will sure to make any heart go "awhhhh." Every sweetheart deserves some sweets, and who knows? This negg might also give you a few sweet treats!

Super Negg

There are many amazing individuals who are superheroes in their own rights. Did someone give you tips on achieving that one tricky game avatar? Is there someone you look up to and admire? If you're looking for a way to show your awe and appreciation, this Super Negg is the one for you. This bold blue negg with it's daring red cape and yellow emblazoned logo embodies all that is good and great about our heroes!

Cupid Negg

Oh, it's that time of year again. Yes, you know what I'm talking about. The day where all Neopians rush to the shops and clear out the shelves of chocolates and flowers. It's Valentine's Day! What better way to give your valentine something special, than with this Cupid Negg? This soft pink negg with it's delicate little wings fits the occasion down to a T! Oh look, it has even been pierced by Cupid's arrow.

Floral Easter Negg

Ah, Easter. Arguably one of the most important holidays here because it celebrates these amazing neggs!! Let's celebrate the season of spring with this Floral Easter Negg. It's darling blue-green hue and delicate flowers are the perfect way to wish someone a lovely holiday this Easter and celebrate the new season. As always, don't forget to take part in the annual Festival of Neggs where you might have the chance to discover a few new neggs!

Witchy Negg

Trick-or-Treat! Tired of handing out the same old gummies and chocolates? Do you have your costume picked out yet? That's right, it's Halloween time!! This Witchy Negg is just the item for wishing someone a Happy Halloween. With it's black and orange colour scheme and pointed hat, this negg strikes just the right balance between cute and spooky!

Candy Cane Negg

It's the holiday season! As you put together your wishlist and shop around for gifts to your loved ones, don't forget about the Candy Cane Negg. This beautiful red and white striped negg is sure to make a lovely gift this season. It has just the right amount of festiveness to get even the grouchiest grinch into the holiday spirit. You can wrap it, box it, or even use it as a stocking stuffer - it sure is the perfect size. What a way to wish someone happy holidays!

Now, there you have it! 10 different ways to send a message or celebrate an occasion with a special negg.