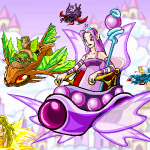 Neopets Kart Racing

by abc94abc

--------

Neopets Kart Racing

Have you ever wondered what it would be like to see all of Neopia's most important personalities compete in go-kart racing? That's the question Lord Stardan posed recently when he challenged Neopia's most avid racers to a cup world tour around the planet best locations. If they win, they get to keep home safe, but if they don't.. well let's just say Neopia's ruling class won't be calling the shots anymore.

Let's cut to Neopia's possible roster of competitors. Some of these have already confirmed they will be participating for the fate of their planet, some have yet to answer the invitation.

1. The Space Faerie - Mira is always working hard, protecting Neopia from space invaders such as Dr. Sloth. Upon receiving the request to resolve this galactic conflict in the most civilized way, she accepted without hesitation.

Stats

Kart name - Kreludor Comet

Speed - ⭐️ ⭐️⭐️⭐️

Turn - ⭐️

Acceleration - ⭐️⭐️

The space faerie it set up to be one of the fastest racers in the galaxy, but her turns can be risky at times, nonetheless I'm sure she has some faerie power up her wings.

2. Fyora the Queen - Neopia's not so benevolent ruler... *cough* I mean Faerieland's most fair beauty ruler and the epitome of goodness herself will be racing to boost her ego... I mean to protect Neopia and all of its peasants, I mean neopets, from the evil clutches of some alien aisha who calls himself "Lord". So with that out of the way, let's look at her stats.

Stats

Kart name - Bumpy cloud

Speed - ⭐️⭐️⭐️

Turn - ⭐️⭐️⭐️

Acceleration - ⭐️⭐️⭐️

Now, she may not be the fastest when it comes to raw speed, but she is pretty well balanced and will turn where Mira will be stuck hehe. Long live the Queen!

3. King Altador - Another one of Neopia's tyrants, I mean rulers. Good old King Altador accepted the request on behalf of the twelve rulers of Altador. He will be representing the land, despite backlash from some Darkest Faerie fans.

Stats

Kart name - The hunter

Speed - ⭐️⭐️⭐️⭐️

Turn - ⭐️⭐️

Acceleration - ⭐️

Similar to the Space faerie, this one is pretty fast, but his acceleration leaves something to be desired, but it makes sense that he starts off as slow, after all, it took a while before he could grasp the Darkest Faerie's real intentions. Luckily this isn't a race to save Altador from her.

4. Edna the Witch - She has yet to answer to the obligation... *cough* I mean request from Lord Stardan, but there were reports of a kart outside her tower, so we decided to take a peek to see if it was true...

Stats

Kart name - Unknown

Speed - ⭐️⭐️

Turn - ⭐️⭐️⭐️⭐️

Acceleration - ⭐️⭐️⭐️

She is certainly not the fastest of the bunch, apparently she thinks safe and slow wins the race. Then again these witch types are tricky, who knows what trick she has under that pointy hat. Stay tuned.

5. Jhudora - When the news broke out about Jhudora being on the competition... let's say the general public didn't receive it very well. The "The Royal daily" reported that Fyora had to intervene with a group of Neopets who were protesting on the streets of faerieland after finding out Jhudora's admission to participating. She had to remind them who the real enemy was...

Stats

Kart name - Green smoke

Speed - ⭐️⭐️⭐️

Turn - ⭐️⭐️

Acceleration - ⭐️⭐️

Some think Jhudora's stats are fake and that she already concocted something to make her kart the fastest of the galaxy, but do we really have that much of a reason to not trust her? Apart from some dark faerie equals bad tropes. What exactly has she done? Yes, she touts intimidation, has a high tempter, surrounds herself in green smoke and has a beef with Illusen, but those things are hardly evil... some celebrities are just polarizing like that.

6. Garin - Due to King Kelpbeard's problem with breathing on Neopia's surface, he requested Garin take his place in the competition. You remember this young pirate right? Let's take a look at his stats.

Stats

Kart name - Black Pawkeet

Speed - ⭐️

Turn - ⭐️⭐️⭐️

Acceleration - ⭐️⭐️⭐️⭐️

Not very fast, but excels at acceleration. Great for beginner drivers, after all driving a kart is not the same as steering a ship.

7. Illusen - Of course, if there's Jhudora, there has to be Illusen. One has to wonder what is going on between the two of them. Apparently, only one of them received an invitation and requested the other got to participate, but we don't know which one.

Stats

Kart name - Glade

Speed - ⭐️⭐️

Turn - ⭐️⭐️⭐️

Acceleration - ⭐️⭐️⭐️

Once upon a time Illusen aided those soldiers and refugees who wandered onto her secret glade in Meridell and once again she wants to help them, this time by racing and taking matters into her own wings.

8. Lord Darigan - Long gone are the days of war. With the citadel reformed to its former glory, Lord Darigan is not one bit pleased with this other Lord's request or shall we say threat to take it away from him.

Stats

Kart name - Cellblock

Speed - ⭐️⭐️⭐️⭐️

Turn - ⭐️⭐️⭐️

Acceleration - ⭐️

He is one of the fastest racers, we would expect no less from the Lord of the Citadel. Still, he is lacking some good acceleration skills. He said in an interview last week that there are still some improvements being made to his vehicle. We'll see.

9. Tiki Tack Man - Mumbo Pango was very upset when he heard the news that someone was trying to take over Neopia. So he decided to send one of his best racers to the competition. Tiki Tack Man may be a man of few words, but he is a demon on the race track.

Stats

Kart name - Tombola

Speed - ⭐️⭐️⭐️

Turn - ⭐️⭐️⭐️

Acceleration - ⭐️⭐️⭐️

Much like Fyora, he is very well balanced, but it takes more than just kart stats to win a race and that's what Tiki Man it's all about.

10. Aristotle A. Avinroo - Better known as AAA and as masters of the game room, it's no surprise that will take on the mantel to race for the sake of his ego or perhaps he does care about Neopia after all. Abigail and Chadley wanted to participate as well, but their request was denied because the number of racers for the competition was already full. Guess they will have to sit this one out and cheer from the sidelines.

Stats

Kart name - AAA

Speed - ⭐️⭐️⭐️⭐️

Turn - ⭐️⭐️⭐️⭐️

Acceleration - ⭐️⭐️⭐️⭐️

Perfect in every metric, but will that be enough to win? It takes actual skill to win races after all. Hopefully, his heart is on the right path.

11. Taellia - The Snow faerie is no stranger to racing competitions. She did participate in cloud races once before, but some are questioning if that will be enough.

Stats

Kart - The ice chandelier

Speed - ⭐️

Turn - ⭐️⭐️⭐️⭐️

Acceleration - ⭐️⭐️

It's one thing to save lost neopets on the mountains and it's another to save Neopia via kart racing. Some say she is biting off more than she can chew, but time will tell if her critics have an ounce of truth in their opinions.

12. Roxton A. Colchester III - Originally it was Moltara's governor who received the invitation, but he is very busy, so he asked if Roxton could take his place. Roxton, who doesn't like the spotlight at all, accepted the offer faster than the speed of light.

Stats

Kart name - The discoverer

Speed - ⭐️⭐️

Turn - ⭐️⭐️⭐️

Acceleration- ⭐️⭐️⭐️

13. Acara Roberta of Brightvale - Brynn is too busy with Hanso these days, so Roberta stepped in to take her place. She helped stop the Darkest Faerie once before. How hard could it be to stop some baddie once again?

Stats

Kart name - To be announced

Speed - ⭐️⭐️⭐️

Turn - ⭐️⭐️

Acceleration - ⭐️⭐️⭐️

Tormund also received an invitation, but he denied the request citing some "family matters" as a reason to not participate, but he will be cheering Roberta from the sidelines no doubt.

14. Kauvara - As a representative of Neopia Central, she couldn't say no. With the help of some of her best potions, she plans to enhance her karts performance.

Stats

Kart name - The potion master

Speed - ⭐️⭐️

Turn - ⭐️⭐️⭐️⭐️

Acceleration - ⭐️⭐️

She said it is still a work in progress...

15. Jazan - You may remember him from being slightly crazy over Princess Amira, turns out he was under some kind of spell. After Razul was defeated he had a kingdom to rule, and sometimes that means defending it. While Nabile stays at home to take the reins, he will be taking care of Lord Stardan.

Stats

Kart name - Qasala

Speed - ⭐️⭐️⭐️

Turn - ⭐️⭐️

Acceleration - ⭐️⭐️⭐️⭐️

Jazan is sure to have great starts, but will that be enough to push him over the finish line in first place? Time will tell.

16. Captain Loryche - The public was divided on whether or not an active member of another sport should participate in racing as well. Nonetheless "It was the leader from team Tyrannia who received the invitation and despite disproval from some actors, it is within her rights to participate or lend her space to someone else if she wants to" said a spokesneopet for the NRF (Neopia Racing Federation). Even Lord Stardan agreed with the statement.

Stats

Kart name - Giant Omelette

Speed - ⭐️

Turn - ⭐️⭐️⭐️⭐️

Accelaration - ⭐️⭐️⭐️⭐️

Just like Tyrannia's altador cup team used to be a powerhouse in the sidegames, it seems it applies to their stats as well. Being somewhat slow in speed, but excellent at the other two.

17. Captain Tuan - After celebrity chef Bonju turned down his invitation to race, it was Captain Tuan who took on the mantle of the saviour.

Stats

Kart name - The Cyodrake's Gaze

Speed - ⭐️⭐️

Turn - ⭐️⭐️

Acceleration - ⭐️⭐️⭐️⭐️

According to Captain Tuan he has a couple of secret ingredients direct from Chef Bonju's kitchen that will make his kart accelerate so fast that will not have to worry about the competition for the rest of the race, but according to NRF guidelines that is not possible.

18. Lord Stardan - He sent a hologram to all of Neopia saying that he is the champion of all planets, but one. Upon his request, the Neopia World Tour Cup is being organized, and all neopians and aliens aishas alike will be able to watch it. He made one last statement, acknowledging that upon victory, Neopia will be his for the taking.

Stats

Kart name - Galaxia Champion

Speed - ⭐️⭐️⭐️⭐️⭐️

Turn - ⭐️⭐️⭐️⭐️⭐️

Acceleration - ⭐️⭐️⭐️⭐️⭐️

The NRF filed a complaint against Lord Stardan for breaking the guidelines on "Stat Limits", Stardan argues that his stats are the equivalence of Neopia's standards on his planet.

Chef bonju and Ilere of the Woods denied the invitation to race, one saying that "He didn't have time for games" and Ilere simply denied a request for comment.

Upon complaints from NRF (Neopia Racing Federation) that Kiko Lake residents weren't represented in the roster for the upcoming competition, Lord Stardan said that they are as inexistent as the so-called "Jelly World". Public opinion is divided on the issue, some saying that Kikos are overrepresented in other sports such as the Altador Cup and that this is just more Kiko hypocrisy. Jelly world fans also wanted to send a representative, but the NRF denied their request as there is not enough proof of Jelly Worlds existence. While Lutari Island is continuing its tradition of not participating in Neopian worldwide sports.

This is a developing story, updates may be added at a later date.

Onceler, reporter for the Neopian Times.

Copyright 2021.