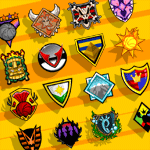 AC Coverage: Catching up with the Players

by arcanemon11

--------

In an effort to provide the dedicated fans with more information regarding your favourite annual sporting event, the Altador Cup, we sat down with several players for a brief interview about how they have been preparing for this season.

We met just after a full day of team scrimmages prior to the start of the season on the Cup's practice fields in Altador. Timu "The Paint Brush", Centre Defender from Team Shenkuu, waves at several of her former Altador teammates before joining the press conference. Meanwhile, Teylor Nix, Left Forward from Mystery Island, dashes over and is first to take his seat on the interview panel, a testament to his speed in the arena. Swooping down from a particularly tough scrimmage with the Darigan Citadel team, Luvea Trivon, Left Defender for Lost Desert, takes her place next to the imposing, Gordo Gunnels, Left Defender for Brightvale, who is eying the gummy training Yooyus with interest. And after a quick stop to grab some Chia treats, Minae Mitora, goalkeeper of the defending Terror Mountain team, takes her place for the panel discussion.

Interviewer: Thank you for agreeing to meet with me today for a quick interview for the fans!

All: You are welcome!

Interviewer: The Altador Cup seems to be getting all the more competitive each year. What goals have you been working on in the offseason in preparation for the XV cup?

Minae (Terror Mountain): As defending champions, I feel like my team and I have been practising up a storm to help prepare for another tough season. Prytariel has been a great leader, keeping us motivated to improve. I have been working on my speed and taking a lot of in-goal practice time to help with this.

Luvea (Lost Desert): Leera and I have really been working on my scoring and being able to read goalkeepers and defenders. It has been a while since I joined the team, but I am still working on my experience anticipating the other team's moves.

Teylor (Mystery Island): I'd really say learning to step up in tight matches has been my go-to area for improvement. Thankfully, I have a very supportive team who is willing and patient with me while I work on developing this skill.

Gordo (Brightvale): Passing... I guess. It takes some time getting used to a new team as well. I am finally starting to get comfortable with the Brightvale team after transferring from Roo Island several seasons back.

Timu (Shenkuu): I'd echo Luvea. Mirsha and I have really worked on getting my scoring! I am pretty adaptable, so the transition to Shenkuu wasn't a very difficult one, but I have been working on putting my creative and crafty style into points on the board.

Interviewer: Thank you all for your honesty! When thinking about preparing for a big match, what is your go-to pre-game meal?

Minae (TM): *licks lips* Tigerbuggle Chia treats. I was actually just having some before this interview… *laughs*

Luvea (LD): Oh, I am so lucky to be on the Lost Desert team! We have access to so many good pre-game meals! I love having some chopped cheops salad with a side of grilled ummagine chips. Definitely gives me the fuel I need!

Teylor (MI): You can't go wrong with some twirly fruit stew and a sprinkled doughnutfruit! They definitely give me the boost I need on game day.

Gordo (B): *laughs nervously* Definitely not the training gummy Yooyus…. Uh, what was the question?

Timu (Sh): I am partial to chokato dumplings! They are my weakness. But If I have a particularly tough tame the next day, I usually opt for squibble berry salad and tofu satay.

Interviewer: All this food talk has me hungry! Tell me a little about how your teams like to bond and have fun.

Minae (TM): There is nothing like a snowball fight to bring you and your teammates together! But afterwards, we all like to rewind with a treat from the Ice Cream Cart. It's a really fun day.

Luvea (LD): We love playing card games and exploring the dunes around the city! Derbi is a champion Geo player… One of these days I will beat her! *shakes fist and laughs*

Teylor (MI): Nothing like a Tiki Tour around the island to see the sights! Uh, but otherwise, we have some pretty intense training hiking the Mystery Island Volcano! It's a tough climb, so we really rely on one another and our strengths to get all the team members to the top.

Gordo (B): Sometimes we like to go over and bother the Meridell team. But otherwise, we really enjoy the tours of the Brightvale Glaziers. They have some amazing windows with lots of history on display.

Timu (Sh): Some of us really enjoy meditating at the top of the waterfalls here in Shenkuu. But we all really enjoy the wonderful hiking. There is nothing quite like walking through the mists to a mountain peak overlooking the town together. Like Teylor mentioned, it can be a tough climb, so we are all in it together.

Interviewer: You guys all seem to really enjoy your teams and teammates. That is so great to see! Now, when it's an important game day, what is your pregame routine?

Minae (TM): I have been known in the past to stop by the Chocolate Factory… But now I usually stop by the scratch card kiosk and get a scratchcard for good luck. I wait until after the game to scratch it! *laughs*

Luvea (LD): *smiles* I like to do some visualization and meditation out in the sand dunes. It really sets the tone of the day and gets me in the zone for the game. *laughs* But like Minae, I have a teammate who likes to spin the Wheel of Extravagance before games.

Teylor (MI): Volgoth and I really enjoy running drills before a game. It helps us get in sync so we can dominate on the field.

Gordo (B): Not much. Generally, I take a nice stroll around the friendly streets of Brightvale before I head over to the stadium.

Timu (Sh): I do a walk around the bridges of Shenkuu and repeat a personal mantra of mine. Then I usually like to sit at the top of the waterfall and centre myself before heading to the stadium. *exhales peacefully*

Interviewer: Well thank you all for your time and answering all our questions today! The fans will be excited to watch for your progress over the next couple of weeks. Please stay tuned for continued coverage of the Altador Cup XV.