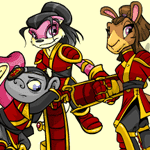 Gear up for your trip to this year's Altador Cup

by prada_prince

--------

What to pack for your trip to this year's Altador Cup

So Altador Cup is just around the corner and Neopians from all across Neopia will head over to The Colosseum for a month's fun of ballin', cheerin', slingin' and shootin'. So, what exactly do you need to pack and bring from home for your trip to Altador? And if you're not much of a fashion avid, this guide will suggest 1 or 2 props or gadgets to bring on your trip to join in the festive cheer. After all, you're going to be in Altador celebrating the cup season for a good month. That's a long trip away from home and you've got to be prepared. We've compiled a list of wearables, accessories, props and gadgets that you can get at your local shops to prepare yourself.

Altador | Cool Comfort at Magical Marvels

Let's begin this guide with a shop at the home team's turf itself. Altadorians may not need to pack large suitcases since the event is happening in their city. But you'll need to slip on something comfortable cause you will be moving and travelling from place to place a lot. Visit Magical Marvels and grab yourself a Mystical White Cloak. Made from one-piece silk fabric, it's the perfect material that offers great shade and comfort from the sunny weather of Altador.

Brightvale | Beauty and Brains at Brightvale Books and Armoury

Brightvalians visiting the west coast are mandated to prepare for this long journey by first dropping by Brightvale Books and stocking up on fine reading material and other scholarly literature. Studies published by the Brightvale University have found that knowledge is best acquired when clothed in the finest fabric Brightvale has to offer. Pick up a fitting Green Velvet Cape from Brightvale Armoury to show your support for the Brightvale Wizards while looking good swishing your way through throngs of other "uneducated" supporters at the Altador Cup.

Darigan Citadel | Self-care at Darigan Toys

Darigan darklings don't usually have time to play dress up or be all fancy. It's the land of rugged territory. Let your horns, spikes and wings live free. For this festive occasion, why not drop by Darigan Toys and grab a Toy Darigan Beauty Set. It comes packed with all the beauty supplies you will need; a mirror, shine products and brushes. Now you can gloss up your horns and spikes and comb out your unruly fur and hair. Gotta look good with the whole of Neopia watching you while you cheer on your team at the Altador Cup.

Faerieland | Treasure hunt at the Hidden Tower

We're not going to disclose the location of the Hidden Tower, but if you know where Fyora's famous tower is at, drop by and pay her a visit. We recommend purchasing the Glittery Faerie Dust. Brush this dust on your face, body or clothes to look extra sparkly and glittery. You'll definitely shine and gleam like a beautiful faerie with all that sparkle.

Haunted Woods| Spook the competition with Haunted Weaponry

We strongly recommend being prepared for a change in the weather and humidity with below-Haunted Woods-normal rainfall and thundery showers being almost non-existent in Altador. Why not bring the weather with you! Head down to the Haunted Weaponry and pick up a spooky Cloak of the Deep Forest. Disclaimer: We can't guarantee an exact replication of the almost permanent darkness experienced daily in the Haunted Woods though.

Kiko Lake | Treats at Kiko Lake Treats

As a traditionally small, tightly-knitted community which heavily relies on the tourism sector, the annual Altador Cup unequivocally diverts tourists during the month-long tournament. Stock up on some Kiko Lake Cookie(s) or grab a Bag of Kiko Treats before heading South-west to cheer on the Kiko Lake Yooyuball team. Don't forget to show your support for the local F&B establishment during these trying times by placing your orders at Kiko Lake Treats, to go.

Kreludor | Try the Neocola Machine

There's not much for you if you're living in Kreludor. After all, you're probably a grundo just living your carefree days watching comets and novas whiz through the galactic skies. But before you jet off in a hurry to Altador for the annual cup, make sure to drop by the Neocola Machine and get a pair of Kreludan Grundo Slippers. You must at least have some purple and orange on you if you're gonna be cheering Kreludor on. It's also a good thing that these fuzzy slippers are going to keep your feet comfortable with all that walking.

Krawk Island | Shop at Krawk Fashions

Krawk Fashions has been around for a long time and it's the to-go place to get your 'Krawk Couture' game on. Red and white have always been favoured for pirate folks. So, grab a Pirate Paint Brush to give your pets a good pirate makeover! Dress them up in pirate shirts, bandanna scarves, eye patches and gold earrings. It's the complete pirate look for any Krawk Island supporter.

Lost Desert | Gear up with Sakhmet Battle Supplies

No annual pilgrimage to Altador for the Altador Cup will be complete without firstly gearing up at Sakhmet Battle Supplies. Remain cool while looking recognisably stylish in a Fancy Desert Headdress, an ancient symbol of wealth and status. While you're there, you might be tempted to pick up a Good Luck Ankh for Team Lost Desert's opponents because they're really going to need it this year. OhhhHHHhhh desert burn!

Maraqua | Accessorise at Maractite Marvels

The pearls and shells in Maraqua are of the best quality you can get. Well-known for high craftsmanship of their jewellery pieces, drop by Maractite Marvels and get yourself the elusive Enchanted Maraquan Necklace. It comes in many different styles and you can customise the pearls and shells to your preference. It's truly a unique piece of jewellery to show off that Maraquan spirit!

Meridell | Visit the Grumpy King

The land of a simple life, most citizens of Meridell live their lives farming or mining. When visiting the famed city of Altador, you might want to dress up a little more. Leave your overalls and pitchforks behind. :P Perhaps take a trip to the Meridell Castle and see King Skarl. If you manage to catch him and impress him with a joke, he might just award you with a King Skarls Robe. Now that bright red robe is going to be just what you need to make a bold statement at the cup.

Moltara | A trip to Cog's Togs

Hidden deep below the surface, into the crust of Neopia, Moltarans are usually decked out in gear-based apparel. Suit up on the latest gears, cogs, brass, and if you're especially keen, buckles, and shout your order over at Cog's Togs. As an act of unwavering solidarity and objectively questionable support for Team Moltara, Moltarans have come together and have decided to wear the Compass Bracelet throughout the duration of this year's Altador Cup.

Mystery Island | Browse Tick Tack Merchandise

Nothing says Mystery Island vibes like a grass skirt. The Tiki Tack sells a bunch of grass skirts in many different colours. From pink, yellow to red, pick one that suits your personality. Our preferred recommendation is to opt for the Green Grass Skirt. After all, green's the staple Mystery Island team colour.

Roo Island | Merch Shopping at Roo Island Souvenirs

King Roo, at the advice of Advisor Broo, has declared that all Rooligans must stop by Roo Island Souvenirs and "pick up a Blumaroo Mirror to ensure that you are smiling whenever Team Roo Island is in action at the Altador Cup". This mandatory order extends to all non-travelling Rooligans. Travelling supporters are further "reminded" to bring along their personal King Roo Paintings whenever travelling abroad.

Shenkuu | Shade the competition with Wonderous Weaponry

While you're used to the cool and crisp mountain mists in Shenkuu, Altador is quite different in that it's sunny and bright. Gear up with the right accessories before you head over to Altador. We couldn't just settle with one item at Wonderous Weaponry so we picked Parasol of Unfortunate Demise and Black Fan of Shenkuu. These two items will keep you cool in the heat of the competition.

Terror Mountain | Cheap discounts at Igloo Garage Sale

Residents of Team Terror Mountain have been on a high the past year celebrating the recent AC success. Sensibly deciding against changing the winning formula this year, supporters of Team Terror Mountain will be sticking to last year's ritual of visiting adorable couple Mika and Carassa's Igloo Garage Sale and buying the first random items which come into sight, before heading south for the Altador Cup. Similar to last year, Mika and Carassa aren't complaining and have respectfully declined to comment.

Tyrannia | Protect yourself with Tyrannian Weaponry

Travelling supporters rejoice at the thought of travelling to Altador every year, primarily to get away from the year-round scorching heat on the Plateau and the unbearable humidity in the Jungle. Head down to Tyrannian Weaponry and grab yourself an exclusive Omelette Shield to protect yourself from other rowdy supporters while fervently cheering on Team Tyrannia. Moreover, you never know when you might feel peckish so this egg-straordinary dual-purpose accessory would surely come in handy during the festivities.

Virtupets | Galactic Defense at Space Armour

Travelling to and fro Altador from Virtupets® Orbital Space Station #4 requires almost five months, each way, by jetpacks, and the previous travelling supporters from ACXIV have only recently returned a couple of weeks ago. This year, the travelling group of "volunteers" are expected to brave an even larger wave of fuzzles (possibly evil) (possibly from beyond the stars) on their journey to and from Altador. Please report to Space Armour to pick up your strong, low-density, highly corrosive-resistant metallic armour of choice. We recommend checking out the classic Arm Shield or Roboto Shoulders for first-time travelling "volunteers". More experienced "volunteers" might be keen on upgrading to the Deep Space Armour this year.

And there you have it, folks. A complete guide for everyone all over Neopia to get ready in preparation for the annual Altador Cup. We look forward to seeing all your beautiful faces in Altador very soon!