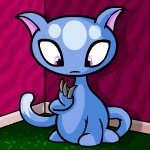 10 Reasons Why A Kadoatie Should Be The Next Queen

by applepowder

--------

While most citizens of Faerieland are hoping that the next Queen of Faerieland is someone experienced in dealing with many Neopets like Naia or Bree, or strong like Aethia or Mira, I think those may not be the best idea. What would be a good idea, though, would be choosing a Kadoatie to be the new ruler of Faerieland. Why would a Kadoatie be a purr-fect ruler? This is what I'll explain here, in full detail.

1. Other Faeries all have something to do

Whether it's studying, managing a shop, hosting games or helping to rule other lands, most Faeries already have important tasks to attend to and are far too busy take on such a demanding position. Plus moving jobs and having new titles is such a hassle!

If Aethia is named Faerie Queen, for instance, she'll have to find a new General for Faerieland's armies, a new Faerie Weapons shopkeeper and will also probably have even less time to figure out the riddle of the twin swords of flame and ice.

2. Kadoaties are used to giving quests, sort of

Besides the timing and the not giving Neopets any sort of benefit by fetching them items thing, the Kadoatery is full of Kadoaties who ask for specific things from time to time. And they can be very persuasive too since there are lots of people who go to the Kadoatery just to feed them every day.

Maybe Kadoaties don't have any sort of power to give Neopets abilities or physical attributes - even ones that have been painted Faerie - but if one is the Faerie Queen, that sort of thing can be delegated to other quest-giving Faeries. Even if they aren't, Neopets should be proud of helping the Faerie Queen, even if no reward is given!

3. Kadoaties can't be painted Royal, and even if they could, they can't be painted both Royal and Faerie

It will be hard to impersonate the new Faerie Queen if she's dressed uniquely! I mean... there's the possibility of magical impersonation... or someone else making similar clothes for their Kadoatie... but, uh, let's ignore that?

4. Queen Fyora wasn't a strict ruler, anyways

It's not like it was Queen Fyora's job to check if the jobs at the Faerieland Employment Agency are fair, or if the Rainbow Fountain is working. I'm sure many faeries arranged meetings with the Queen for advice and that rulers from other lands negotiated border issues with her - especially now that Faerieland is on the ground - but Queen Fyora was never one to overregulate things, so maybe Faerieland doesn't need a ruler that can use complex words. Not that Fyora's wisdom wasn't appreciated, but shaking things up is also a good thing, you know?

5. Sweet Kadoatie merch!

Fyora has a lot of items that were made in her honour, such as Fyora Day Cupcakes or Fyora Collectable Charm. I'm not saying we should just replace those, or even replace Fyora Day instead of making a new holiday, but... imagine how cool it would be to get more Kadoatie-themed stuff every year! How about a Kadoatie Queen Doll or Kadoatie Queen collectable card? Both Faerie Queen and Kadoatie item collectors would surely welcome this outcome.

6. A Kadoatie would have everyone's best interests in mind, obviously

Some Kadoaties can be greedy, loud and spoiled, sure, but they can't be evil. It's just not in their nature. The worst a Kadoatie Queen could do is cry because the lights are off, or because they want someone to get them Kadoatie Biscuits to eat. They surely can't become supervillains or power-hungry tyrants. (Just regular hungry tyrants, at most.)

Kadoaties can't string anyone along with false promises, either. After all, they prefer playing with string themselves! But, seriously, have you ever seen a Kadoatie promise anything? Probably not, which means they can't make false promises anyways.

Having a Kadoatie as Queen would probably also increase food imports, decrease cruelty against petpets and cease all complaints about Kadoaties. These are all positive things!

7. Kadoaties are good negotiators

Kadoaties are famous for their, um... unique crying. A ruler that is a Kadoatie wouldn't give in to a villain's threat to harm Faeries or other citizens and could discourage anyone that would forcibly take the Kadoatie from the throne from doing so. Unreasonable requests from subjects or thieves trying to steal from the Hidden Tower could also be easily be dealt with.

I bet no leader would like to displease a Kadoatie, either. What would you rather do, pet a Kadoatie and make them happy, and or have to deal with their crying? I bet most Neopian leaders think the same.

8. A Kadoatie as a ruler of Faerieland would help the cause of Petpet Neopian Domination

Faerieland is a really important and powerful kingdom, and the Great Meepit Society has been looking forward to an opportunity to-- oh, I shouldn't be writing about that? Oh, nevermind! On to the next reason!

9. Kadoaties are cute!

I mean, aren't they? Eheheheh... please don't be angry? So, yeah, what can also help in negotiations is their charm! And what is more charming than a cute smiling petpet arguing that Faerieland should get Meridellian stone for lower prices or that more Faerieland Team souvenirs should be available at the Altador Cup Prize Shop?

Their happy mews can surely make citizens of Faerieland happy, too. And after all Faerieland has been through, people who live there certainly deserve some cheering up!

10. Everyone loves Kadoaties!

Do you want a ruler with a 100% approval rate? How about an adorable petpet who can annoy villains into giving up their plans (while making them look bad for making such an innocent creature cry)? A ruler that can be demanding, but also nice and playful, and that could never be truly evil? A Kadoatie should be your best choice.

So, that's it! I hope this gets more people behind this wonderful idea, which surely didn't come from Meepits or anything like that. N-not that Meepits wouldn't have amazing ideas that should be respected, of course! What I mean, is, um, this is a completely legitimate position to have and we should all campaign to make this happen, so we can finally welcome our new Kadoatie Queen.