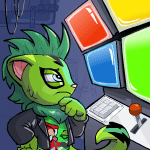 The Secrets TNT Doesn't Want Us to Know

by calcious_lalo

--------

Many of us are aware that behind Neopia there's a team of hardworking people bringing us stability and moderation whenever it's needed, along with a bunch of mischievous Meepits waiting for a chance to submerge everything into chaos and bugs… a lot of bugs.

However, there's also a lot of stuff TNT is hiding for us, so users don't get an advantage over other players. That's why I, a veteran, decided to uncover some of the most-sheltered secrets TNT never speaks about: Random Avatars that are not exactly random, game secrets, literally millions of NPs, and much more!

*Avatars*

There are a couple of avvies that even after years of playing seem to be out of reach for unlucky Neopians. The discarded Grundo plushie, Buried Treasure, Hidden Tomb, to mention some. They are always shown as "Random" but there's obviously some coding behind it and I'm certain I have discovered some of it.

For the Grundo plushie, it is obvious. There's a set number of Neopoints you must get in order to get the avatar. Apparently, the last 2 numbers are enough to give you the avatar so if, for example, your set number is 28, you'll receive your avatar regardless of winning 2128 NPs or just 128. There seems to be a way to check that number and your set time to receive it in the source code of the page, but I'm still uncertain of the method.

For the Snowager, it seems that you need to be MASSIVELY blasted in the nighttime to get it, but you can take advantage of the Living with Less boon before it's too late and have a better chance to have it!

The hidden tomb is the most difficult of all. The way I got it may need optimization, but it's also bound to a certain prize. In this case, you don't necessarily have to get a "Eureka!" as some people have reported getting it from "EEP!" events. It's related to receiving either an Eo Codestone and/or a Skull at daytime.

Buried treasure is also mostly known by the community to be related to your own coordinates. So, you may want to try a single coordinate until you receive a price and then switch to another if you didn't receive the avatar. It's a bit slow, but eventually, users seem to get it. The treasure is known to drift along the board, so be sure to check the forums to see where it's currently at!

Last but not least: the kings. The Grumpy and Wise old kings are avatars (and trophies) so random to obtain, most people don't even aim for them. Little they know these kings are easier to please than expected.

For the Grumpy Old King you need to use the following combination:

"What do you do if *blank* fierce Peophins *blank* has eaten too much *blank* tin of olives?"

After this, is a free choice but I have noticed that the shorter the answer, the better your results are. For example, I got my Avatar by just saying "They don't!" and it was good enough to even get me to the silver trophy.

Hagan works similarly. You need to make your sayings short and concrete. Long complicated nonsense never works for me, but short direct phrases with a lot of *blank*'s? yup, that's the cheese. Try it and you'll see!

*Game Secrets*

One of the most rewarding trophies relies on the Kadoatery. If you still haven't tried to feed a Kadoatie, you should know there is a time, late at night, when all the Kadoaties start crying at once. They don't like being alone, separated from their owners, so at night they scream even if they are already fed. But this may be a good thing, though! The cries drive away so many players it is easier to feed a Kadoatie at that time. Of course, you still need to be fast, but it relieves a bit of tension… in exchange for the unbearable noise. This tip alone may be enough to make you reach that shiny trophy so why not give it a chance if you feel like staying up late?

Dice-a-Roo is an old, once very popular game, especially between Blumaroos. While it may look a bit simple, you may have noticed there's a Blumaroo passing by telling you that there's a secret sixth dice. For as long as Dice-A-Roo existed, it was wondered if that's just a prank from our TNT founders or a reality. It is real.

Almost two years ago, Neopian user "discrete_findings999" uploaded a board in the neoforums saying he knew the way to reach the Golden Dice. It's said to win a lot of attention in just a few minutes. However, it didn't last longer than 10 minutes before a moderator took it down. Allegedly, the dice was able to reward users with paint brushes, as discrete_findings999 claimed to get a Woodland Petpet Paint Brush from it. However, their account was frozen shortly after, before giving any explanation of their methods and never telling if they got frozen due to the attention they got or for other reasons, but their name became a legend, admired by just a few players.

But the saddest tragedy comes from "reactive_agraman", the user who deducted how to get ONE MILLION NEOPOINTS from Coltzan's Shrine. It was stipulated before that visiting the shrine at 12:34 would give you better prizes or maybe the luck to get a million Neopoints, but, according to his theory, visiting the Shrine at exactly 12:34 would not be enough if you don't bring 4321 Neopoints in hand. He demonstrated it with screenies in their user lookup, but the account was not only silenced, as people started to abuse the trick almost instantly, but also the method was either changed or removed completely.

You are still more than welcome to try any combination of Neopoints and time but is highly advised to keep the secret to yourself. Who knows, maybe one of the richest Neopians has figured it out already!

*Secret prizes*

We all know many codes in Neopets' merchandise will give you access to the Space Faerie and exclusive prizes, some of them worth millions of NP's. As a rule, every code is void once it gets claimed so everyone just tosses them away. If only they knew there was still more to do with their codes… To start with, have you ever tried to claim it backwards?

Claiming backwards was a curiosity that started more than a decade ago. It only worked with a certain kind of code and gave users a glitched item with no specified use. After consulting that in editorial 210, TNT discouraged users to try that method and made the items unable to be traded, it was a unique occasion and restricted to each user. Or so they said. Current TNT moderators may be unaware of this special treat from ancient ages so newer codes may have been excluded from this rule.

There's so much merchandise coming, and comic con codes being distributed that it's likely one of them may be able to be reverse claimed! So, don't just throw away your codes, they may hide a couple more secrets than you think!

*Retired Secret Games and… The most secret shop of Neopia*

To end this edition of my Top Secrets collection, I must clarify this is just a theory and may have also be retired in the transitions. In the early years, secret or mirror games could be accessible by editing the number id from each game. Older games have lower numbers, and mirror and newer games had more than a thousand. For example, Turmac Roll is 366 and Brucey B Slots is 1121.

Before the transition, many games would be accessible from this trick, meaning it made easier to get the 'Top Gamer' avatar by just playing with these numbers, as many games were not listed anywhere. However, although this was widely known for games, not many are aware this works for shops as well!

Shops also have ID numbers used to identify them easily. As they are fewer shops than games, their ID's only go a bit beyond 100, but the secret lies in the gaps left by numbers not associated with any shop.

Now, let's take a look at the following numbers NOT associated to any shop:

6, 11, 19, 28, 32, 33, 52, 64, 65, 109 and 115. Ending the list of shops in 117.

Before the discovery of Moltara, Ugga Shinies was the last shop with 117, and there was nothing from shop ID 109 to 116. Why was that?

Well, in 2009, as part of the Neopian 10th anniversary, shop ID 2009 was intended to open as a special event, including rare Petpets, wearables, and discounted morphing potions to users 5 years or older. However, the shop didn't work properly and had to be redirected to individual shops numbered from 109 (the main entrance) to 115, for a total of 6 shops and the hub. Sadly, though, the shop never opened officially as it was said to be too risky for Neopian economy.

The coding to these shops still existed, however, and although it didn't open in year 10, several users reported being able to enter a mysterious shop with no stock on it in the Anniversary of the 11th day. When some items showed up, you were technically able to purchase them, and the Neopoints would be subtracted from your hand, but the items, as they were never activated, wouldn't show up in your inventory.

It was pointless to ask any questions about it in the Editorial, as TNT refused to make any clarifications in that regard, letting it fade as just a rumour. Some others say that Shop 109 was actually a Petpetpet game similar to the habitarium, but they were most likely lying.

As the years kept passing by, access to that mysterious shop was lost and any screenshots that could prove its existence were eventually taken down with the ageing of the internet. Nowadays it's coding is likely gone and replaced with the newer shops from Moltara, but it's our duty, as older players, to keep these legends alive. Letting everyone know there was much more lore to the site than it may seem.

*Final myths*

There are some extra rumours that I could never confirm were included in this site. Some come from simply unreleased items to unknown berries on Pick Your Own to some random avatars yet to discover… others go totally crazy affirming there's a Jelly Word (you can easily refute that by visiting this link: //www.neopets.com/jellyworld/ ) or that Dr. Sloth is still plotting something in a hidden star from the Kreludian wastelands, but I prefer not to fall for gossips and only include concrete facts in this guide.

*Closing Words*

Neopia is a vast land covered with secrets sometimes too amazing to believe. This place has much more to offer than the eye can see. Exploring Neopia has become my delight for years, and I believe it'll keep on bringing surprises for all of us.

Now that all these secrets are handed to you, I can only guess what the results will be, TNT keeps all this from us so we don't fall in chaos and keep everything interesting and exciting to discover, so they are not to blame. Just use this knowledge wisely, and refrain from making it go widespread. Remember: Do not post any of this in the Neoboards or Neomail.

The reason I'm sharing this with so many readers is to make sure this won't disappear in the case I'm unable to come back in the future. I managed to slide this to the back page of this issue of the Neopian Times without the knowledge of TNT so it's likely this won't last for much and will be substituted by yet another Tourist Brochure to visit Mystery Island or a Negg review.

Be sure to let all your friends and everyone you can about this article, and with high enthusiasm explain them how you fell for yet another April Fool's joke from all the editors of the Neopian Times.

Happy April Fools Day!